MSU QB battle still unsolved with Rutgers looming
EAST LANSING–The Big Ten football season is just over three weeks away, and Michigan State recently started padded practices on Wednesday. Head Coach Mel Tucker and his new-look staff were hard at work over the shutdown as they tried to get as much of their new offensive system installed over Zoom calls with players as possible.  However, around East Lansing, all eyes are on the quarterback battle. 
In a recent Zoom call with media members, offensive coordinator Jay Johnson didn't have much to say in terms of who might start at quarterback when Michigan State opens the season on Oct. 24 against Rutgers.  As of right now, Payton Thorne. Theo Day and Rocky Lombardi are all in contention for the coveted starting QB spot.  
"Right now, the most veteran guys, Rocky (Lombardi), Payton (Thorne) and Theo (Day) are the guys that have been getting all the reps," Johnson said. "Quite frankly, I've been moving all three of them together, tracking them everyday. They're almost very very equal right now… I've seen some good things, but then I've also seen some inconsistent things." 
While there hasn't been much separation, Coach Johnson said that he thinks that he will have a better take on where the quarterbacks are at in "about a week or two" now that the Spartans are getting into the meat of their practice schedule with two scrimmages looming. 
While no one has claimed the starting QB job yet,  Johnson mentioned that he hopes that the quarterback battle will be resolved sooner rather than later. According to Johnson, the only way the competition could extend into the regular season is if there "is not a clear picture" presented to the staff and the team. 
All three quarterbacks seem to have a good shot at winning the job at this point. "There's a lot of unanswered questions," Johnson said, "but right now I really want to look at all of them, and look at all of them somewhat equally since I'm the new guy on the block." 
By far, the most experienced of the three quarterbacks is Rocky Lombardi, a redshirt junior who has appeared in 16 games over the last two seasons, including three starts in 2018. He threw for 738 yards and three touchdowns in 2018 including a 318-yard passing explosion vs. Purdue.
Theo Day is a redshirt sophomore who appeared in two games in 2019, but only has three career pass attempts.  He was a highly-rated 3-star recruit out of Dearborn Divine Child (Dearborn, Mich.) in 2018. Day, who received playing time against Penn State in 2019, was unceremoniously  benched after botching a play call against the Nittany Lions.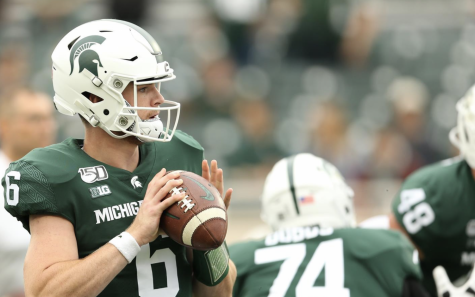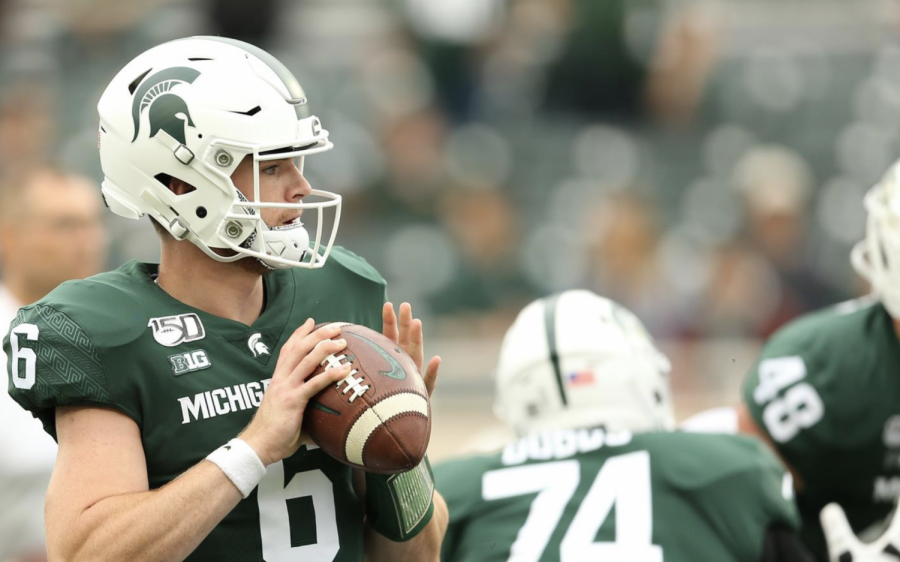 Payton Thorne is the wildcard in this competition. He is a redshirt freshman who was the top-ranked quarterback in Illinois coming out of high school. He also played in high school with Jayden Reed, a wide receiver transfer from Western Michigan, who was a freshman All-American in his only season with the Broncos.  
As of right now, it's anyone's guess as to who will start under center for MSU in less than a month.