Stearns: Protracted layoff gives Tucker the chance to put his stamp on the MSU football program
EAST LANSING- What is the one element that anyone will tell you there isn't enough of in a day?
Time.
When you are a new football coach at a Division I program, hours upon hours are usually spent orienting yourself with the players, training personnel and other staff members who play a large part in determining the overall success of a team. Between watching film, hiring a new coaching staff and becoming adjusted to the new climate of the school environment, time quickly becomes of the essence. Now, imagine all of these paramount responsibilities being thrust upon you a month later than every other newly-hired coach. 
Michigan State's Mel Tucker found himself in this unfortunate position.
After Mark Dantonio unexpectedly resigned on Feb. 4, the Michigan State football program was in a world of turmoil only a month before spring practice was set to begin. Combined with the immense and far-reaching impact that COVID-19 had (and continues to have) on the collegiate football landscape, it is hard to remember any coach in recent memory that found himself in such an impossible situation. 
Despite being thrust into a tumultuous position, Tucker managed to fill his new staff with qualified and capable coaches on both sides of the ball who not only excelled at other major Power-5 schools but also had outstanding reputations in regards to recruiting. Ever since getting hired as the head man in East Lansing, Tucker simply hasn't had enough time to etch his mark on the Michigan State program.
Not until now, that is.
With the Big Ten announcing its postponement of fall sports, Tucker and the rest of his coaching companions finally have enough time to slow down, relax a bit, and emphasize the importance of excellence in the weight room as it pertains to constructing an overall program mentality of resolve, persistence and grit. As silly as it may sound, it is true that in order to build a program mentality that makes being emotionally and physically healthy a priority, a commitment to excellence in the weight room must be fostered.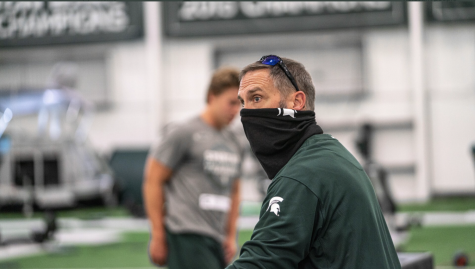 Too often under Dantonio, the Michigan State offensive line struggled to impose its physical might on lesser teams (108 rushing yards on 40 attempts against Tulsa in last season's opener comes to mind). Simply put, the fact that Michigan State hasn't registered more than 25 points per game since 2015 is absurd. Earlier in his time as head coach, Dantonio was a master at creating a rugged, blue-collar identity that trickled all the way down to every position group on the field. He was able to turn 3-stars into 5-stars on the offensive line, which was a major reason why Le'Veon Bell and Jeremy Langford both ran for over 1,500 yards in a single season. Bell ran for 1,793 yards in 2012 while Langford accumulated 1,522 rushing yards in 2014. 
It would be unfair to attribute all of Michigan State's struggles on the offensive side of the ball to a lack of conditioning on the offensive line, but over the past four seasons, the third-and-longs became more prevalent as the sustained success on the ground dwindled. Since 2016, Michigan State hasn't been in the top 90 in points scored per game; in three out of the last four seasons, the Spartans have been rated No. 105 or worse out of 130 Division I teams from an average points scored per game perspective. 
With the announcement on Aug. 14 that Tucker would be sending his players back to the weight room for the foreseeable future, a new memo was issued throughout the program—complacency and an overall lack of excellence will no longer be tolerated. Simply put, any player, regardless of starting experience or past achievements, can lose their job if they don't live up to and abide by a specific standard both on and off the gridiron.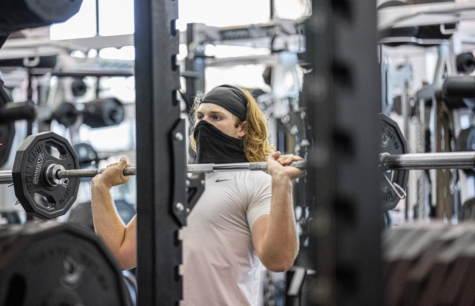 Michigan State is littered with experience on the offensive line—nine players, not including Jordan Reed, have starting experience. Tucker and head strength and conditioning coach, Jason Novak,  have the opportunity to, without loyalty or bias, examine and evaluate each lineman's commitment to excellence in the weight room and create a starting group of five that simply refuse to get pushed around and physically dominated at the point of attack. 
The journey of rebuilding the MSU football program will be a slow and arduous process, but if Tucker can recreate a sense of accountability within the program once again, then his first year as the Spartans' head coach should be viewed as a resounding success.