Tony Martin remembered in emotional remembrance service
EAST LANSING – "Long Live Tony."
Those are the words currently painted on The Rock on Michigan State's campus, accompanied by a pair of track spikes, a few roses and candles in memory of Tony Martin. 
The 19-year old Michigan State track and field athlete was shot and killed at a gas station in his hometown of Saginaw this past weekend along with a 22-year old who has not been identified.
As the crowd surrounding her got bigger and bigger, Asya Reynolds knew it was time to start talking. After thanking everyone for coming, she struggled to say what she wanted to say, but eventually, she was pounding away like spikes on a track. 
"I just wish there was something we could do to change what's going on in the world," Reynolds said, fighting back tears as she addressed the crowd. 
Reynolds is a redshirt senior on the team and was one of the organizers of the event, bringing spray paint for The Rock and balloons for her track and field teammates. 
"It's just so heartbreaking," Reynolds said after the memorial. "I know his future was bright."
The team was damaged and vulnerable. It had lost one of its men in a year already plagued by so much grief and agony. The athletes looked to their head coach, Walt Drenth.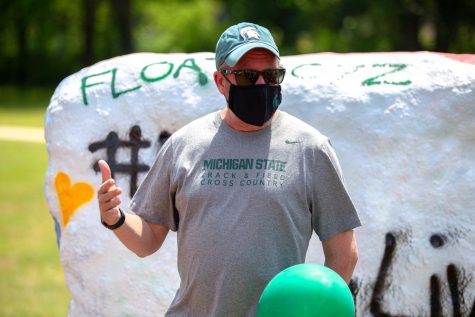 Drenth staggered to The Rock sporting sunglasses and a hat, complemented by his Spartan facemask. He talked about how unpredictable times have been lately between the COVID-19 pandemic and the Black Lives Matter movement. With his voice quivering, he delivered one final message to his team.
"You are here for a reason," Drenth pleaded. "Please understand that."
One of the coaches that worked closely with Martin, Yolanda Johnson, talked about how he was determined and confident on the track but shy around people he wasn't close with. 
To get a good idea of what Martin was like as a person, all you have to do is ask his teammate,  Xzavier Odom.
 Odom stepped up to the rock to share his condolences, but he also shared some lighthearted stories, talking about how Martin was a big J. Cole fan and how he tried to start his own clothing brand. After stepping down, Odom went in detail about what Martin was like off the track. 
"People don't know how funny Tony really was," said Odom. "Just playing music and fooling around, it was just the best."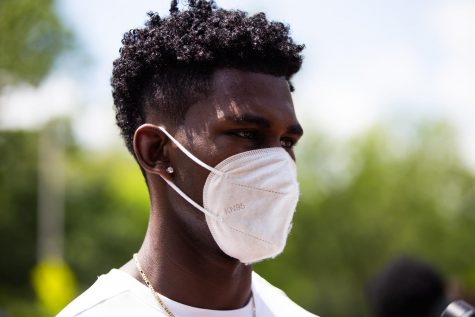 Teammate Jonathan Fife also talked about how great of a person he was. 
"When he was around us, you saw the joy in him," Fife said. "At the end of the day, he's living through us now." 
Before people were invited to speak about Martin, balloons and markers were passed around. Some people wrote a personal message while others wrote down a memory they shared with Martin. Odom wrote "Fly Boys" on his balloon because they were both jumpers and he wants Martin to "fly high", he said.
To close out the memorial, a prayer was said and the balloons covered with memories of Martin were released into the blue sky. The candles at the base of The Rock were lit, hugs were exchanged and The Rock sat alone. A reminder those who pass by what Martin meant to his teammates. 
Tony Martin's name might be painted over as soon as next week, but he will not be forgotten, his teammates and others made sure of that.