New recruit and preferred walk-on Logan Murray plans to blaze his own trail in choosing to come to MSU
EAST LANSING — Everyone has their own path.
When you are from Flint, you make sure to build your own.
Flint Powers head football coach Jerry Todd knows this sentiment better than anyone. 
"There is more than one road that's gonna lead you to your goal," Todd said, as he talked about 2021 MSU football commit and offensive lineman Logan Murray. Todd is a former walk-on who worked his way onto the team at MSU back in the 1980s. 
 "I could've gone somewhere on scholarship," said Murray. "But at the end of the day, I wanted to make my own story … I thought MSU was the best fit. I grew up looking up to people like Mateen Cleaves and Courtney Hawkins." 
Murray is from the Flint area, he attended Flint Powers Catholic high school, and his mother has worked as a social worker in the area his whole life. 
He dreams of using his time at MSU to go into business, with the hopes of coming back to help youth in his hometown. 
That's why he chose MSU—the Flint connection has always been strong. As a young kid, he saw the work that people like Cleaves and Hawkins have done in Flint; this inspired him to follow a path of his own.
"It's a great education at MSU," said Murray, who said that getting his degree at State on top of playing for the school he loves allows him to "give back to orphanages in Flint and the boys and girls programs in the city."
"It's been a dream of his to play at MSU," said Todd. "Great kid, great teammate, loves the game and loves the grind … he's way more talented than I ever was."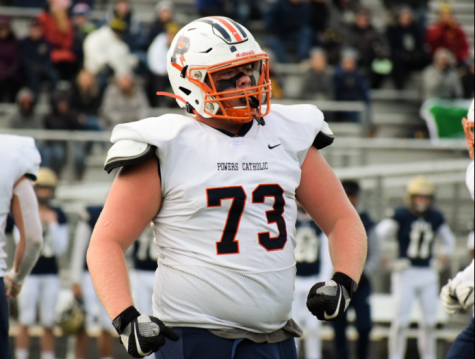 He may be the only commit that is a walk-on in the now 13 player class of 2021, but that won't stop him because "If given the opportunity, he knew he could turn that into something more," said Todd. 
It always is about the next challenge for Murray, who admitted that scholarship offers from Syracuse, Liberty, and Western Illinois were great, but the 6-foot-3, 305-pound offensive lineman is ready to work.
Murray usually plays guard, but knows he can play on defense as well.
"It's not easy, but I think I can work my way on scholarship," said Murray. "I'm looking at the depth chart, and they've got six or seven interior linemen, and they'll have less when I get there."
He's still got another year of school left, but made his decision immediately after MSU offensive line coach Chris Kapilovic asked about his future plans, and Murray responded by saying that that he was "so down."
For now, he's focused on improving his game and working on his footwork, especially since the fall is so uncertain for high school athletes – he's solely focused on coming to MSU as the best player he can be.
"I'm coming."