Here is where these MSU football players signed following the 2020 NFL Draft
Six Spartans from the 2019-2020 roster have signed as undrafted free agents
This article was last updated at 4 p.m. on Sunday, April 26
First it was defensive tackle Raequan Williams, signing with the Philadelphia Eagles shortly after he went undrafted in this year's NFL Draft. 
He joined fellow Spartans in the NFL cornerback Josiah Scott, who was picked in the fourth round by the Jacksonville Jaguars, and then defensive end Kenny Willekes, who was picked in the seventh round by the Minnesota Vikings.
The day after the draft is a big day for undrafted free agents who miss out on being drafted. Especially if they are trying to keep their dreams of playing professional football alive and prove doubters who didn't draft them wrong. 
Here are some of the members of the 2019-20 Michigan State roster who have signed as UDFAs following the NFL Draft. 
Quarterback Brian Lewerke signs with the New England Patriots
Per his agent Mike McCartney on Twitter, Lewerke has signed on to become a Patriot, joining former MSU quarterback Brian Hoyer and Auburn alum Jarrett Stidham on the roster. 
Lewerke, who was a three-year starter for the Spartans, had an up and down career for most of his time in the Green and White. He joins a roster who is missing likely Hall of Fame quarterback Tom Brady, who departed for Tampa Bay this offseason, despite winning the AFC East once again. 
The Phoenix, Arizona native threw for 17 touchdowns and 13 interceptions this year for the 7-6 Spartans, while finishing his career as the all-time leader in total offensive yards from scrimmage after a strong showing in a New Era Pinstripe Bowl victory over Wake Forest.
A big difference between him, Stidham and Hoyer is his ability to run the ball. Lewerke showcased mobility and speed at the position that is coveted in today's NFL. Lewerke will likely make the team, unless the Patriots sign another quarterback with a similar skill set, i.e.. Cam Newton.
During his sophomore campaign, which is widely considered to be his best of his three years under center, he rushed for more than 500 yards on the ground and scored five touchdowns while throwing for 20 scores and seven picks. 
That season alone is what placed him on many draft boards, as poor offensive line play and inconsistent receiver play worsened over the next two years.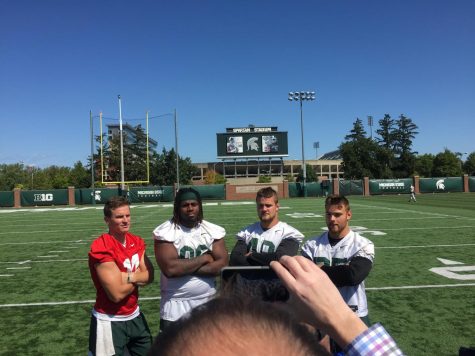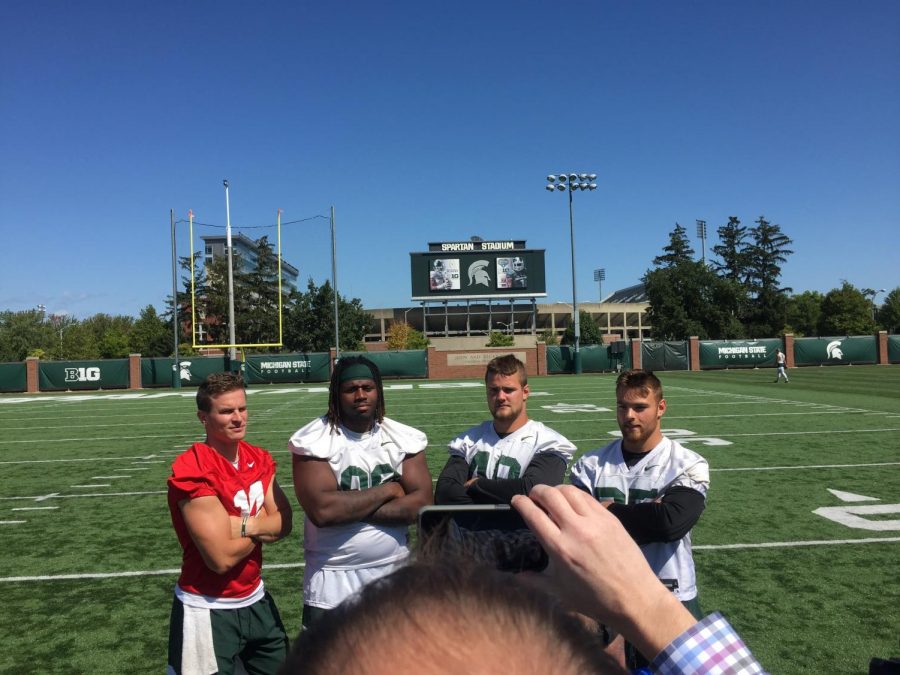 Linebacker Joe Bachie signs with the New Orleans Saints
Bachie was suspended for the final five games of his career at MSU. A three-year starter, Bachie was considered the best player on the defense for much of this past season and during the Spartans' 10-3 run in 2017.
With strong tackling skills and the ability to make game-changing plays in coverage and against the run, it is questions about Bachie's speed and ability to cover NFL-level tight ends from the middle linebacker spot that likely crossed him off of draft boards. 
But as an undervalued prospect out of high school, he became an all-Big Ten performer for much of his career and surpassed 100 tackles in a season twice, while on track to do so a third time before his suspension this past season. 
The Saints also list former Spartan Andrew Dowell on their roster as Bachie joins the likes of Kiko Alonzo and fellow Big Ten backer Zach Baun to compete for time and a roster spot heading into next season.
Wide Receiver Darrell Stewart Jr. signs with the Green Bay Packers
One of the most charismatic and consistent performers for the Spartans – when healthy – during the last three years, Stewart was the best receiver for MSU this past season until an injury late in the year against Penn State derailed what likely would've been a 1,000-yard season. 
After expanding his route tree, which he said during the previous offseason was a big priority, Stewart exploded against Western Michigan early in the year for 185 yards. 
The performance was one of the three 100+ yard games for the senior, as he finished the year with 697 and four touchdown catches. Without the injury against Penn State, Stewart may have gone as high as the third or fourth round.
Green Bay has been known for turning undervalued prospects into impact receivers since the Brett Favre era. Donald Driver, the Packers' all time leader in receiving yards, was a seventh round pick. 
Stewart will also have the opportunity to grow alongside former foe quarterback Jordan Love out of Utah State as he battles for a regular season roster spot.
Defensive Tackle Mike Panasiuk signs with the Las Vegas Raiders
Panasiuk was an impact player during his senior year, which many contribute to playing on a defensive line that was among the most talented in the Big Ten. 
But Panasiuk grew immensely during his time with the Spartans, and during his final year as an interior defensive lineman, he totaled nine tackles for loss, two sacks and 36 total tackles. 
At 6-foot-4, Panasiuk has the size to compete at the NFL level, but will need to become more active along the interior if he ever wants to be an impact player at the next level. He showed the Raiders something this offseason and in 2019, proving his worth to be signed as an undrafted free agent.
Related: Josiah Scott gets drafted in fourth round of NFL Draft by Jacksonville Jaguars
What Panasiuk does have going for him is that his best performance of the season came against the best team in the Big Ten and College Football Playoff runner-up Ohio State.
The senior had 3.5 tackles for loss, seven total tackles, five of them solo, one sack and a forced fumble against an offensive line that had multiple NFL draftees and caliber players on the inside and tackle spots. 
That will bode well for Panasiuk as he performed on the biggest stage. If he can build off a strong senior season, he could become a contributor in the league, but only time will tell. 
Wide Receiver Cody White joins former teammate Felton Davis III in Kansas City
What many thought was a premature exit after several uneven years as a wideout at MSU, turned into his first pro contract – with the Super Bowl Champion Kansas City Chiefs.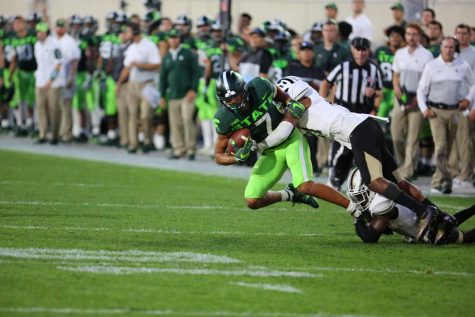 White joins former Spartan teammate Felton Davis III in Kansas City as a member of a receiver group that has probably the best quarterback of the last ten years and Super Bowl MVP Patrick Mahomes throwing them the football.
The reality is, few undrafted free agents stick around in the NFL, but White has the tools and physical gifts to succeed at the next level. He will only have so much time to do so, as injuries often plagued his career at MSU, which he ended early despite the opportunity to come back and possibly play his way into a draft pick in 2021 after a strong finish to the 2019-20 season. 
Following an injury to Stewart against Penn State, White led the team in receiving yards and averaged 104.6 receiving yards per game over the final five of the season. He also scored four of his season's six touchdown catches during that same stretch.
It ended with him leading the team with six touchdown grabs and 922 total receiving yards, both career highs. So in reality, White may not have had a better opportunity to leave as Lewerke was departing as well. 
Center Tyler Higby joins the Spartans in Minneapolis 
The Houston native and senior offensive lineman played in 43 games during his career, with 30 starts. 
Injuries often bothered Higby, especially this past year, when he only played in seven games with four starts. Primarily at left tackle, a big position of issue for the Spartans in 2019. 
Thankful for this opportunity to be a Viking! Excited to get to work✊🏾💜 #skol

— Tyler Higby (@tylerhigby77) April 25, 2020
Higby did have a very strong junior year, as one of only two players on the offense that season to start all 13 games, playing 851 snaps at three different positions along the offensive line. This showcased his versatility to play either center, guard or tackle on either side of the line. 
That alone will make him someone who teams will want to stick around. Especially during the grind of the NFL season, the ability to be versatile and plug-and-play anywhere on the line is important to many teams. 
He primarily played at the guard spot during his career and at 6-foot-5 and300 pounds, Higby will likely be expected to play the position in the NFL, too. 
You can follow Joe Dandron on Twitter @JosephDandronMI or email him at [email protected].