Courtney Hawkins leaves Flint Beecher to coach at MSU, but he's still just a phone call away
The former Bucs head football coach Courtney Hawkins was a role model for the young people of Flint.
FLINT — "It's got to be da shoes."
That's what Mars Blackmon said in that late '80s Nike advertisement with Michael Jordan.
That's what Mike Williams' first encounter with former Flint Beecher athletic director and football coach Courtney Hawkins was all about.
Not football cleats.
Basketball shoes.
Williams is the varsity basketball coach at Flint Beecher High School, who won five MHSAA Class-C state titles from 2012 to 2017. But his first memory of Hawkins is from a phone call when he was still coaching junior varsity.
"Four years before he came in (as athletic director) he had a nephew on my team. The nephew was telling me that his uncle played in the NFL and could help us with shoes," said Williams when thinking of his first encounter with Hawkins.
Beecher High School is uniform, straight down to the laces.
"The first time I met him was over the phone, about the shoes. It developed into a mentorship. He puts everybody ahead of himself."
It has always been about giving back to others for the new first-year wide receivers coach at Michigan State. 
"Coach Hawkins is not just an exceptional coach, but an exceptional human being No. 1," said Williams. 
"He puts everybody and everything ahead of himself."
That's what it always was about since Hawkins went to Beecher, MSU and then the NFL where he spent eight years with the Tampa Bay Buccaneers and Pittsburgh Steelers. 
That was why he came back to serve as athletic director and head football coach for the Buccaneers – who he once tore up high school fields across mid-Michigan for in the late '80s before setting the single season receiving yards record at MSU.
"Just to have the opportunity to come back to my alma mater, to run up the tunnel once again, in competition," Hawkins said last week in a teleconference. 
"It's something that just thinking about and talking about gives me goosebumps, so I am just super grateful, working hard, can't wait to pour into these guys and we're going to put a great product on the field."
He's been a role model for the young people of Flint for decades. 
So good to be HOME💚💪🏾 #RELENTLESS https://t.co/m4LjUKlFRp

— Courtney Hawkins (@CoachHawk_5) February 20, 2020
Now, Hawkins leaves a position as head football coach at Beecher that he held for 14 years as he enters the college ranks for the first time.
It was his next challenge. Like Williams said, he's just 45 minutes away from his hometown of Flint.
"I wanted another challenge. I mean I had a great time doing what I was doing but it was just something, something that's fun and inside of me to do. I love college football," said Hawkins. 
"I played it at the highest level. A lot of people ask what was the most fun? By far college was the most fun."
That's why he came back.
An opportunity to work with 18, 19 and 20-year olds is something the former second-round pick relishes as a chance to pour his faith, leadership and intensity into a group that could do some damage in the Big Ten.
"Like I've told a lot of people, a lot of people can't write this story," Hawkins said.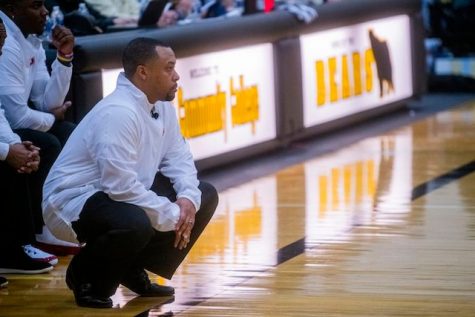 A two time All-Big Ten first team selection and member of the 1990 Big Ten championship squad, Hawkins said it was a "no-brainer" when MSU head coach Mel Tucker gave him the call.
Even as he departs Beecher High, his legacy is everlasting in the eyes of Williams.
"One of the final things I remember leading up to his last days, I remember him telling me we were gonna do some special things at Beecher," said Williams. "I don't think he knew he was going to get the job … but the opportunity presented itself. He's definitely deserving, we are going to miss him at Beecher."
"That's a relationship that will last a lifetime."
Beecher's high school program went from making the MHSAA football playoffs once from 1993 to 2006, to making it to the postseason 11 times from 2007, his first full year as head coach, to 2019.
"He totally changed the attitude and culture of the program," said Williams. "He set the bar for the football program again and we don't expect it to fall off."
Williams' final memory was akin to his first. 
Hawkins, the same guy he called about shoes for a JV basketball team, just wanting to put others first.
Williams said that Hawkins will "always be a resource" for the community of Flint. 
"The relationship with Flint has been awesome; you had the era with the Flintstones, and Coach (Tom) Izzo still has a huge presence in the city of Flint and when he comes to basketball games, that's one of the buzzes around town." said Hawkins.
"Michigan State has a treasure in him," said Williams. "The guys who get to play for him will definitely benefit, I see him as an asset that cannot be replaced."
You can follow Joe Dandron on Twitter @JosephDandronMI, email him at [email protected]