Balley: Whether in East Lansing or the NBA, Tillman's future is bright
A Michigan State men's basketball campaign that looked to finish with an exciting and deep run in the NCAA Tournament was cut short, and now the Spartans have taken another difficult hit… maybe.
Junior big man and Grand Rapids native Xavier Tillman Sr. announced on Tuesday that he would enter his name for the 2020 NBA Draft. The key detail is that he did not sign with an agent, therefore allowing him to pull out later this spring or summer should he choose to.
In other words: Tillman could still return to Michigan State for coach Tom Izzo in 2020-21.
We've seen players do this forever, as it's the safest play for college athletes to test the professional waters. It's quite simple… enter the draft, work through the combine, get a grip on your status and then make the final call. 
As far as his scouting report goes, Tillman has undergone an impressive transformation over his three seasons as a Spartan. During a freshman season in 2017-18 in which he only saw about nine minutes per game on a squad led by Miles Bridges and Jaren Jackson Jr., Tillman averaged 2.8 points and 2.6 rebounds per game. 
Tillman's sophomore season saw him take the monumental leap in his growth as a player, as is often the case in college basketball and specifically Michigan State basketball. The injury bug struck then-junior forward Nick Ward, and Tillman stepped up in a major way. His 10 points (including 60.5% from the field) and 7.3 rebounds per game were impressive enough to earn him Sixth Man of the Year honors in the Big Ten conference. His production, along with the star power of floor general Cassius Winston was crucial in the Spartans' run to the 2019 Final Four.
With Ward declaring for the NBA Draft the subsequent summer, the big man minutes opened up for Tillman. Of course, with a heavier workload and more pressure came higher expectations.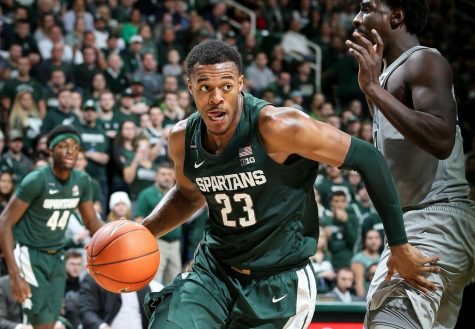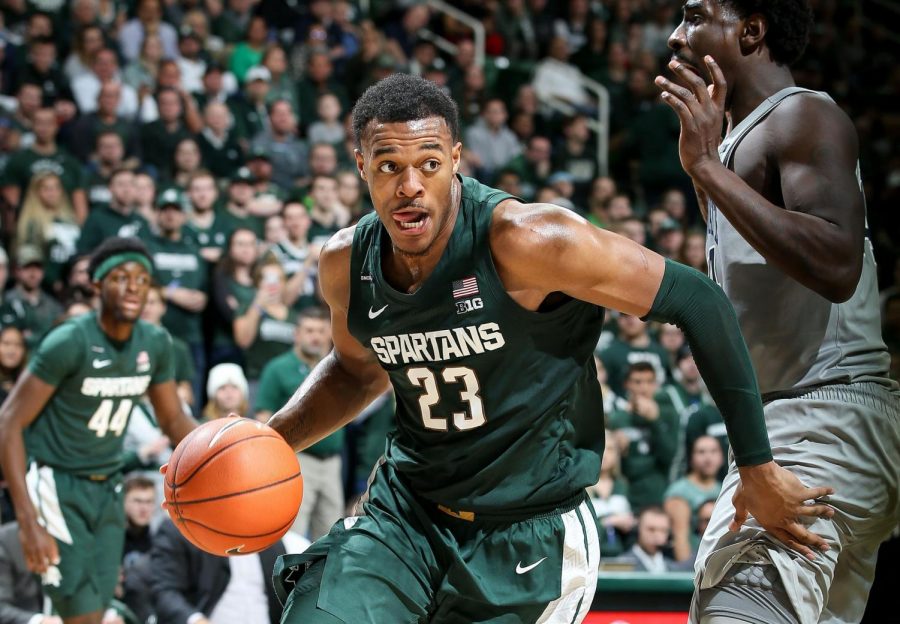 Tillman's junior season got off to a bit of a shaky start, as the Spartans struggled to find their toughness and familiar relentless identity. After a season that saw Izzo's squad win eight in a row as well as drop six out of ten, the Spartans found themselves peaking in prime time. A five-game winning streak, the latter four each coming against AP top 25 opponents, propelled the Spartans to a share of the Big Ten regular season title. Tillman finished the season averaging 13.7 points (55% from the field) and 10.3 rebounds, good enough for Second Team All-Big Ten honors. His versatile defense was on display as well, averaging 2.1 blocks and 1.2 steals per game to take home the hardware for Big Ten Defensive Player of the Year.
Unfortunately, that's as far as the sports world got before the COVID-19 pandemic took sports away from us.
To recap, Tillman tentatively finishes a college career with averages of 8.7 points and 6.6 rebounds per game, shooting 58.2% from the field. While not eye-popping numbers, his trajectory only went up as his three seasons progressed, and his leadership on and off the court has been invaluable.
What would Tillman hypothetically bring to the NBA table? Well, at 6-foot-8 and 245 pounds, he's the ideal small-ball center in today's NBA. We've seen teams like the Golden State Warriors and the Houston Rockets have success with a small-ball blueprint, the former getting three championships and five consecutive trips to the Finals out of it. Not bad.
His athleticism and poise on the defensive end would make him an essential asset on that side of the ball. And coming from a program like Michigan State, the cerebral elements are there for Tillman as well. If there's one area where he really needs to improve, it's shooting from beyond the arc.
A 27.3% mark in his college career is not a stunning number, but if you watch his shot, it isn't broken. Nonetheless, he'll need to polish that up in the coming months before hitting the combine, as having a respectable 3-point shot is darn near a prerequisite to play professional basketball nowadays.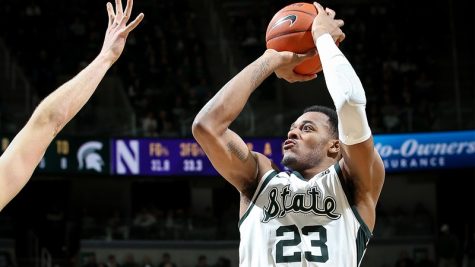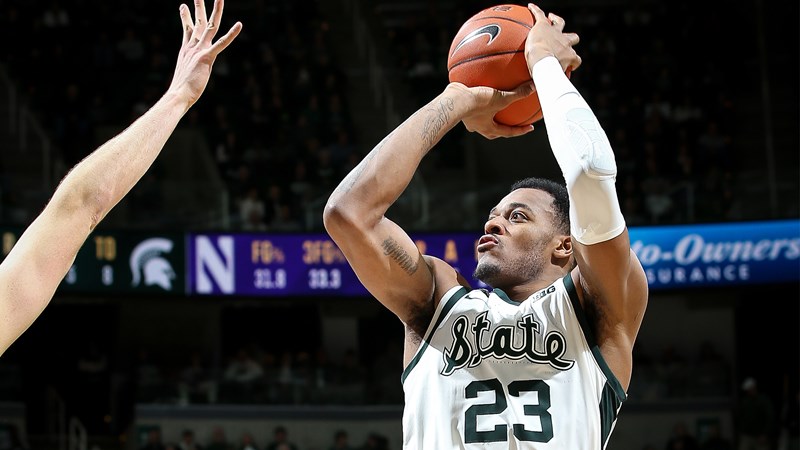 The path is there for Tillman. He knows success, having won the Big Ten outright in each of his three seasons at Michigan State as well as a Big Ten Tournament title. He has the drive, he has the versatility and he has much of the skill already. Now it's only a matter of maximizing that skillset, and that's the name of the game in any sport.
Should Tillman decide to return to East Lansing for his senior season in Green and White, he'll be the unquestioned leader of a team that may have lofty expectations, even after the graduation of Winston and others. The Spartans will undoubtedly look different in that aspect, but a team led by Tillman along with sharpshooting transfer Joey Hauser, athletic junior swingmen Aaron Henry and Gabe Brown as well as emerging star guard Rocket Watts could be somewhat of a sneaky force to be reckoned with.
If Tillman moves on, he'll be earning a paycheck in the NBA for his wife and two children, as his son Xavier Tillman Jr. was just born in February. If he stays put for one more run, he'll continue to support and represent them with all of his hard work and tenacity. Either way, the future looks bright for another Michigan State Spartan.
Trent Balley is a reporter for Impact 89FM WDBM who primarily covers men's basketball. Follow him on Twitter at @tbal91.