Show Review | Anti-Valentine's Day @ Mac's Bar
After painfully accepting that nothing was happening to either of us this Valentine's Day, Kyle and I along with one of our friends decided, "Fuck it, we'll just go to Mac's."
Arriving a half hour late, we were able to see the last bit of the ongoing talent show. We had no idea that it was a talent show. The venue was divided by homemade tapestries into booths for the artists, the bar and the organizer, Sometimes Art House.
As stated by their Facebook page, "Sometimes Art House is an art community based in Lansing. This is a supportive community built on increasing the representation of marginalized artists through local showcases and social media. We are a platform for female, POC, LGBTQ identities and people with/without visible disabilities to pursue their artistic ambitions. All artists are independent, but encouraged to use this platform to network and collaborate."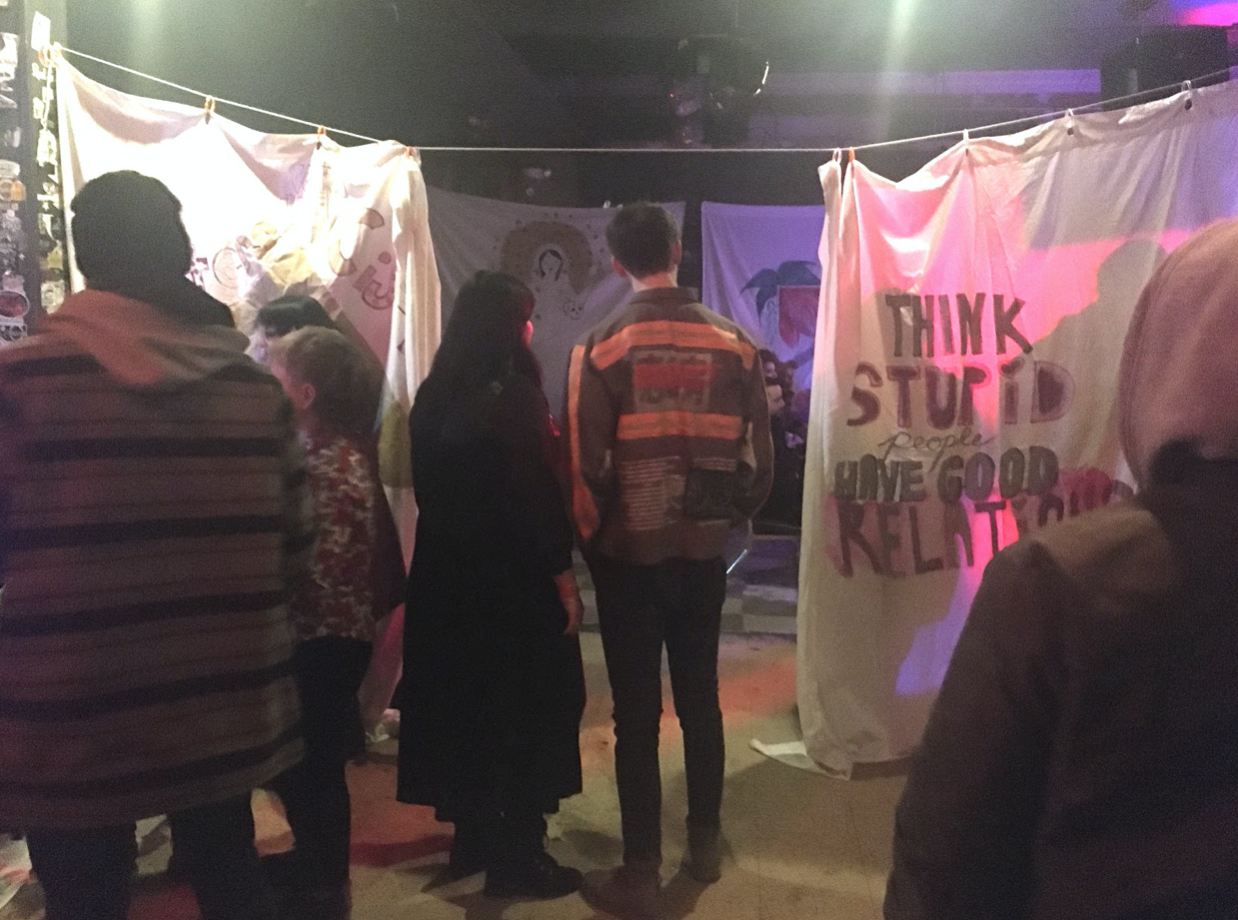 We grabbed a spot near the heating ducts on the left side of the stage, despite my joints politely suggesting such an ordeal may be a bad idea. The first comic we saw perform was Nicole; off the bat, she began the anti-Valentine's festivities. "I think you just get tired of playing with your own nipples. Fuck it, sometimes you wanna go hands free." With an uproarious crowd cheering her on, she began a condemnation of Valentine's Day. "When you have a spouse, it's like every day is Valentine's Day – you weird heteros!"
After the initial triumphs about love, she used her set to discuss waiting tables, DoorDash and the food service industry as a whole. Her employer didn't let her take the evening off, so she satirically exclaimed to the crowd, "I can't take the whole night off – that's why I steal from you." Following her spiel on the deep-seated issues of the industry, she began to deride humans as strangely possessive beings. 
After the long-winded comedy act, Whoopsie Daisy performed on stage their blend of pop-punk and noisey indie aesthetic.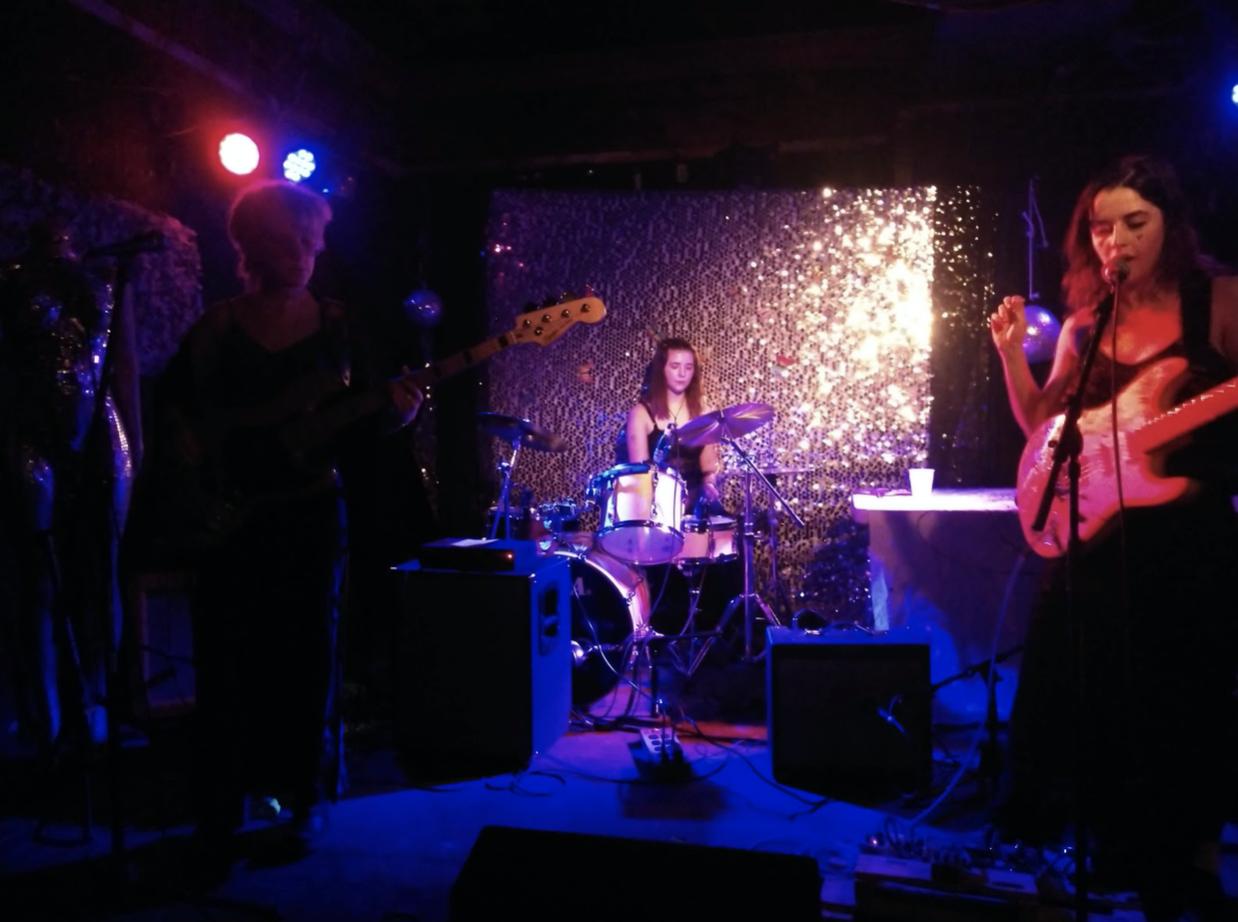 They opened with a cover of The Four Aces' "Mr. Sandman," an ode to an unrequited love in the back of your mind. Later, as the band played an original song titled "Grocery Store," one of the members yelled, "When you go to the grocery store to get a new beau, because the old one was trash." 
The fluorescent mindscape of a woman "shopping" for someone new brings the commercialized concept of love a whole new meaning. Conversely, their closing cover of Avril Lavigne's "Sk8r Boi" longed for the naive reminiscence of a youthful love. 
The drifting twang of reverb-washed chords and heavy bass of Whoopsie Daisy created a wonderful display of infatuation throughout adolescence to adulthood.
The star comic of the night was Rebecca, with her short-yet-poignant observational comedy.  She lampooned women's culture and safeway neuroticism, poking fun at The Bachelor and the media's ability to distract from current events."I don't really like The Bachelor because it doesn't really cater to my needs. They're going to a paradise island – I'm like the earth is dying!'" 
"I've got an idea called 'Doomsday Prepper Bachelor'," she said, feeding the un-confronted anxiety of a changing world. "I mean I'm not trying to trade a 40-year-old coochie for a can of beans."
"I can see it now! Over here we've got Gerald, who has been storing cans in his mother's basement for five years! Next we have Tom, who can breed only slightly radioactive chickens. Yummy! And finally, we have Blake! Well…. he has a big dick!"
Though, as if almost prophetic in a way to the "anti-Valentine's" sentiment, she does go on to give herself a little hope, saying, "I went through the drive-thru of a Taco Bell in my old town, served by this kid who was clearly gay. It gets better, it really does!" But then snaps back to reality saying, "I remembered I was in a Taco Bell drive-thru both physically and mentally."
She finished her set on a message of self love. "I have an adult job, but my dream job is being a focus group leader for Delta, but specifically for ladies." Women in the audience snickered on the warped floorboards. "Don't worry, we have all your 'needs' in mind during the engineering of our new shower head. Give us any feedback you have, we want to make sure this product is clitor-ically acclaimed." Her wordplay and attention to women's humor was top notch, and was articulated in a way where anyone would surely be in stitches.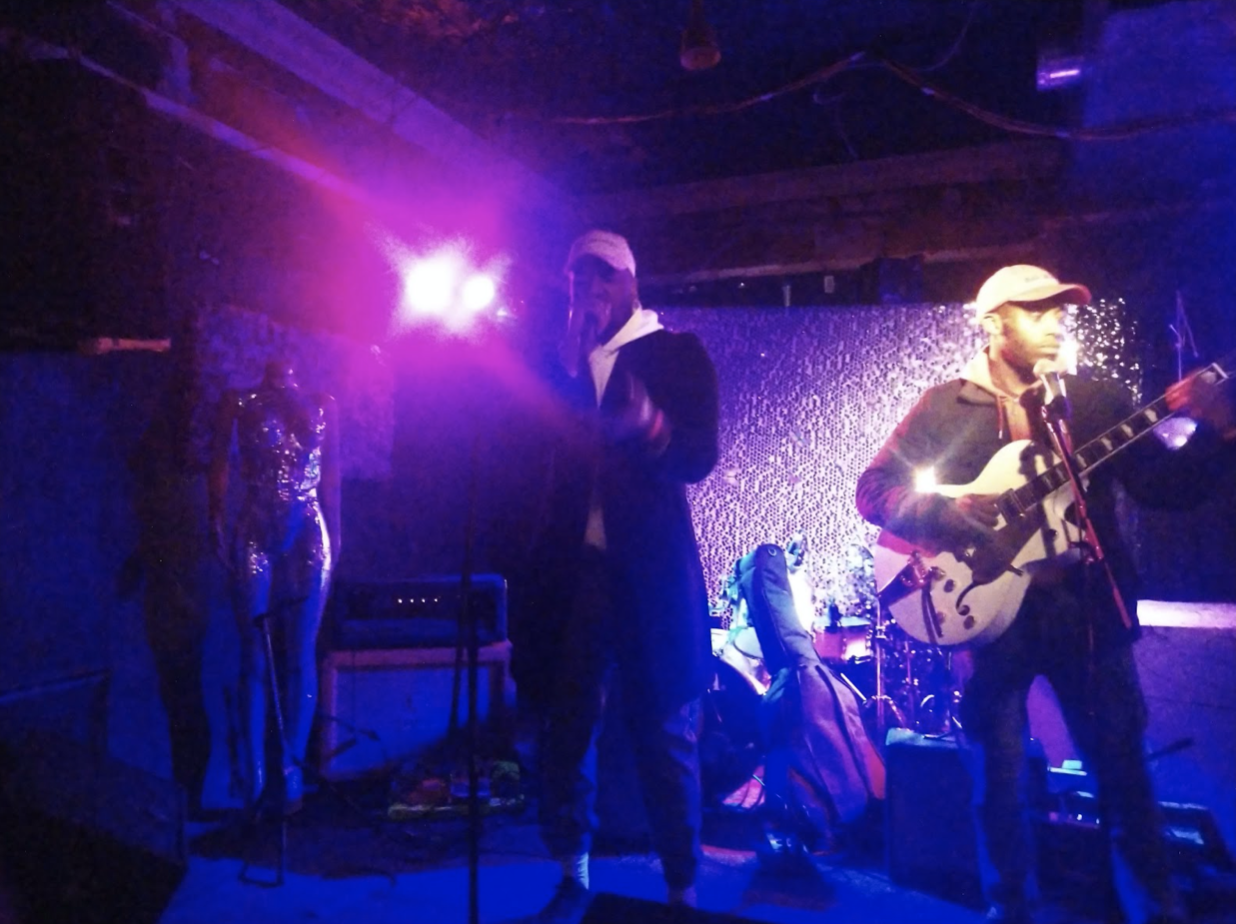 The simplest yet most nuanced musical act of the night was Jay Shack and Noirrr, a guitarist-poet duo.  They spoke on the inspiration behind an original song they performed: "We wrote this song for two people we thought would be a couple," they said. "But that didn't work out, so now we're dedicating this to all the couples and especially single people."
Their velvet voices created a riveresque dynamism reminiscent of Isaac Hayes. They lovingly profess that "you're so special" and akin to an equally sweet "Sunday Chocolate Cake." 
The slow plucking of a Gretchen guitar allowed the vocals to float freely between the infrequent strums and vibratos.  In an almost trance like infatuation, they slurred in tandem.
"When you touch me / When you tug me / When you fuck me / I see you skin deep."
The pair created a simple, emotive chorus built of nothing but their heartfelt love. "You know I love you, I really want to," they said while seemingly locking eyes with nobody and everyone all at once. 
Following the duo's performance, the most "loved" of the talent show was announced. In a unanimous vote by the judges, Jay Shack and Noirrr were crowned champions. The tone of their set was one of pure wholesome and admirable love. Somewhat ironic, considering that love was the very thing couples and singles had gathered to defy. 
Once the real show came on – at least according to the Mac's itinerary – the most animated performer of the night was drag queen Christie DaVinci. Equipped with a floral shirt and a leather cellophane jacket, DaVinci gave a show stopping performance of Janet Jackson's "Nasty."  
The sandy pops of the snare over Janet Jackson's raucous voice beautifully captured the vibrance of the '80s and of queer culture. The delivery of a powerfully intimate and confident show creates an anthemic ballad with the loudness of a Keith Haring mural and the power of a Detroit discotheque.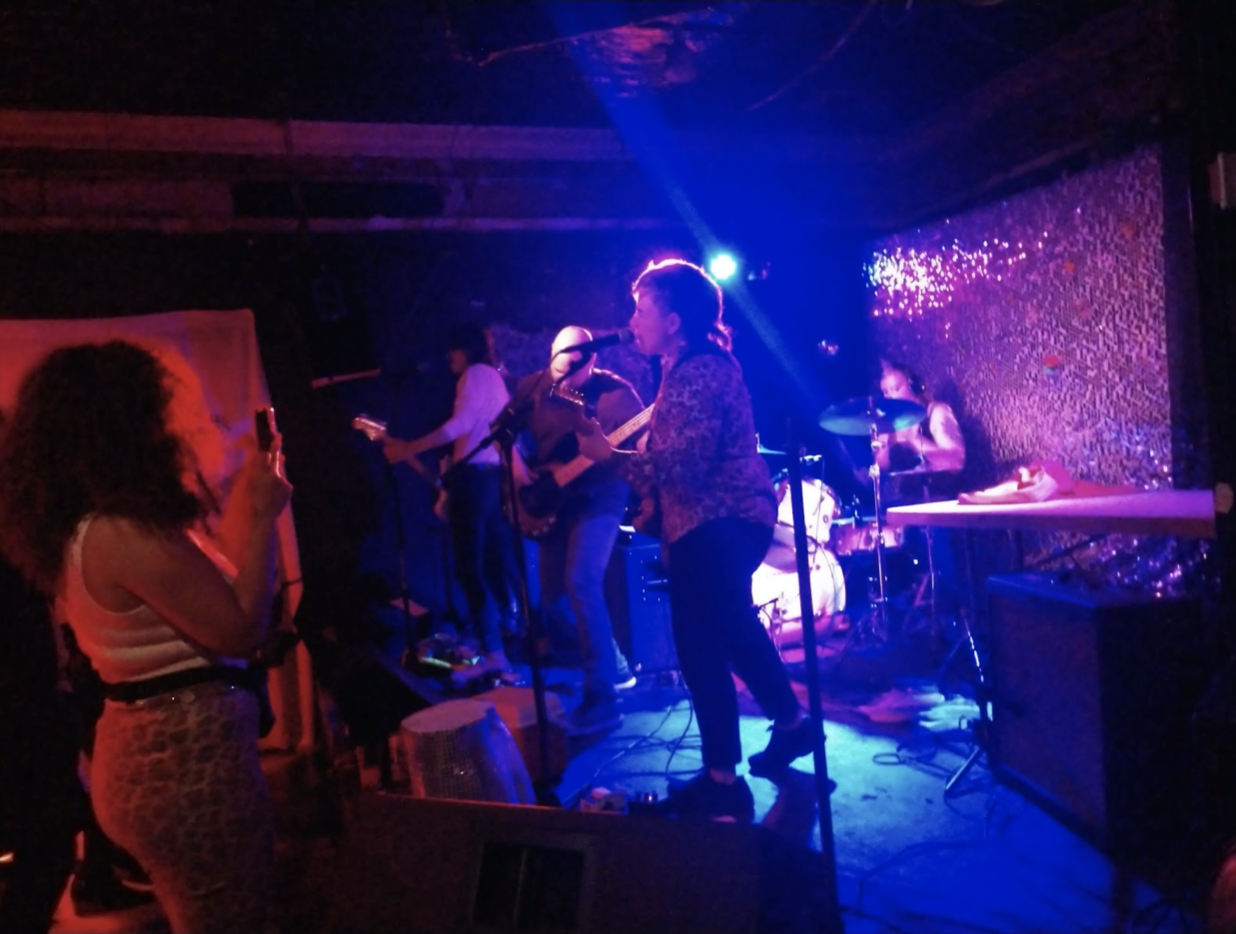 The Rodeo Boys opened with a riff-heavy bull buck of Weezer's "Hash Pipe." Both Mac's and the "fuck love" idea were perfectly encapsulated through the grimy guitar and sludgy vocals.
The Sprechgesang vocals add a contrast to the riff heavy strums behind them. Complete with energetic inflection, the strained voices create a manic howl that channels a groove reminiscent of even the most sole-swept basements in East Lansing. 
Mac's Bar, despite its opposite ethos, kept the sentiment of love alive and well. They created an idiosyncratic festival of condemnation, yet accepted all who choose to be a part of it. The community expressed love in many forms, and Macs has established itself as a vital space of expression in the Eastside neighborhoods of Lansing.