Finding Answers in Ambiguities | "Cut Me" – Moses Sumney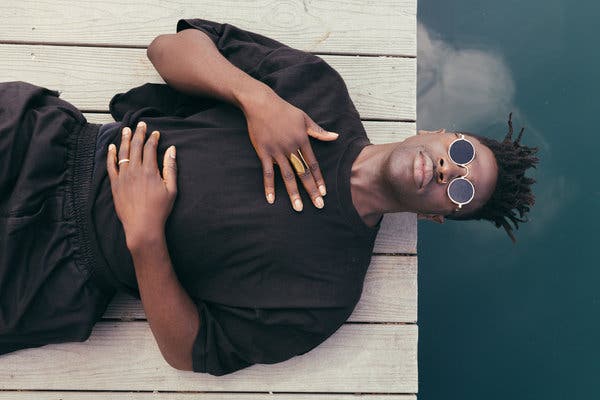 Defiantly genre-bending, Moses Sumney has always worked in an area that's difficult for most to categorize. His first album, 2017's Aromanticism, is about "lovelessness as a sonic dreamscape" that "seeks to interrogate the idea that romance is normative and necessary." It's a bold and explorative account of love in a way that's never been done before.  
The concept album constructs an alien world that forges a new vocabulary of sound and isolation intertwined with it. While Aromanticism sounds like the soundtrack of another planet, it reflects realities of human emotion and motivation. Sumney's creative synthesis of art rock, soul and classical tendencies combine to evoke a wholly modern listening experience.
"Cut Me," the fourth single from his upcoming double-album grae, is another example of his  otherworldly sounds. On the track, Sumney speaks on his relationship with pain and suffering. He  views them as inspiring and almost necessary to create and learn in life.
"Well if there's no pain, is there any progress?" asks Sumney in his soaring falsetto. Situated alongside a bouncy guitar riff and soothing saxophone, Sumney's lyrics traverse vocal registers better than many of his contemporaries.  This balance crafts a unique blend of vocal and instrumental arrangements that hover in the listener's ears for days.
grae will be split into two parts are which will be released separately later this year. The first twelve songs are scheduled to be released on Feb. 21. The following eight will be released on May 15.  
grae will introduce a new location of Sumney's making: "a post-human world, where the last remaining man is caught between beauty and brutality's battle to dominate the earth and his body," Sumney explained. Jagjaguwar, Sumney's record label, described the project as a "conceptual patchwork about grayness."
 Working and creating in unexplored areas has always been Moses Sumney's natural disposition.  "Cut Me" reveals yet another show-stopping step forward taken in his vision. I for one just feel lucky to be  brought along for the ride.
Feature image by Elizabeth Weinberg; retrieved from Music Musing And Such.