Head coach Mark Dantonio retires after 13 seasons with MSU football
Defensive coordinator Mike Tressel to serve as interim head coach for Spartans
EAST LANSING — After 13 seasons in East Lansing, Michigan State's head football coach Mark Dantonio has decided to step down. Dantonio made the announcement on Twitter Tuesday afternoon.
Dantonio followed his decision with a press conference on Tuesday to answer questions, the now ex-head coach was emotional as he addressed the media.
"It'll be about the relationships I made with my players," said Dantonio. "Very emotional day today when I told our football team … it was very sudden."
Dantonio said that his players and coaches found out at the same time when he decided it was time to step down.
Defensive coordinator Mike Tressel will serve as interim head coach for the time being. Tressel was named the sole defensive coordinator in 2018 and was previously linebackers coach upon his arrival in 2007 before being named co-defensive coordinator in 2014.
"At this point I don't want to complicate my life" said Dantonio at a press conference following his announcement. "My joy is with our players, my joy is coaching football, my joy is sitting in the film room watching film."
"I will always be a Spartan."
Dantonio spent 13 seasons with the Spartans. He went 114-57 over his 13 years, with a 2016 College Football Playoff appearance, 2014 Rose Bowl victory over Stanford and Cotton Bowl win against Baylor in 2015. Dantonio won his school record 110th game this past season, surpassing Spartan legend Duffy Daugherty, in a 31-10 win at Northwestern.
The news breaks silence around what staff changes would occur this off-season, with the head coach retiring.
Dantonio was owed a $4.3 million bonus if he stayed through this past Jan. 15 after an agreement was added to his deal with MSU following the 2016 season. The university is required to pay the amount to Dantonio on or before March 31, according to terms of the agreement and the Detroit Free Press in February of 2016.
The $4.3 million will be paid to Dantonio in full, MSU athletic director Bill Beekman said late Tuesday.
To all Spartans: Thank you for everything. You have truly helped my dreams come true. pic.twitter.com/uKkubvp1cW

— Mark Dantonio (@DantonioMark) February 4, 2020
Dantonio announced in his tweet that "My plan is to stay on within the university and athletic department in a role involving special projects" but that his family "must now become my priority at this time in my life". 
"Today marks one of the most difficult decisions that I have ever made here at Michigan State," said Dantonio in his announcement. "I would first like to thank our fans, alumni, and our administration; both past and present staff and especially our current and past players and coaches for all their support, hard work and dedication over these past 13 years. You have truly helped make my dreams come true."
MSU went 7-6 this past season after a New Era Pinstripe Bowl win against Wake Forest. The Spartans won three Big Ten championships from 2007-2019.
"Mark Dantonio has provided outstanding leadership for the Spartan football program for the last 13 years," said Beekman in a statement from MSU. "As the all-time winningest coach in school history, he's raised the bar for Michigan State football. He's mentored young men and led them to success on the field, in the classroom and in life, while serving as a great ambassador for Michigan State University. As we begin the search for Mark's successor, we will look for the right fit …"
MSU and Dantonio recently came under scrutiny in recent news after reports from the Detroit News brought the head coach's handling of the hiring – then firing – of former recruiter and MSU football staff member Curtis Blackwell into question. Blackwell's lawyers have alleged that Dantonio committed NCAA violations as well, according to an article from the Detroit News.
Dantonio retired just hours after the article was published online.
Michigan State will now be in search of a new head coach for 2020, with National Signing Day tomorrow. The decision on who will replace Dantonio will come, with Pitt head coach and former MSU assistant coach Pat Narduzzi and Cincinnati coach Luke Fickell talked about as possible replacements.
San Francisco 49ers defensive coordinator, a Dearborn, Michigan native, could also be considered with his ties to the Midwest.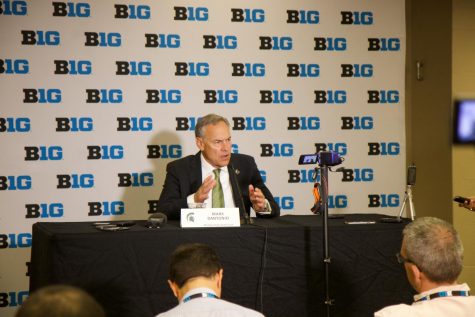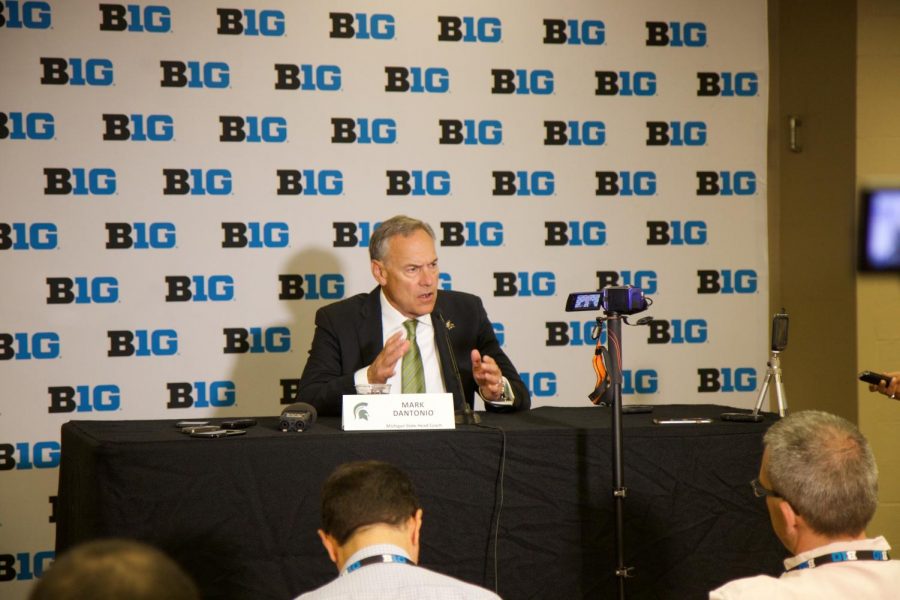 Dantonio has a 132-74 record over 16 seasons as a head coach at Cincinnati and MSU but the past two seasons proved trying for the head coach: 7-6 records in both 2018 and 2019 after a 10-3 record in 2017 that was capitalized with a win over Washington State in the Holiday Bowl.
Coaching search commences
MSU now is faced with finding a new head football coach for the first time since 2007 when Dantonio arrived.
Beekman said the search will he his second, the first being the rowing coach. No names were given out during Beekman's press conference as to who would replace Dantonio.
"I would say the first I've been in regular contact with president Stanley," said Beekman. "He'll be an important voice in that conversation. We've taken a page out of the playbook from the last search … two of the individuals on that will help us again."
Beekman said that MSU president Samuel Stanley Jr. will not be on the search committee. Men's basketball coach Tom Izzo will be a part of the search and Beekman said that "it will be a tight and quick process".
Dantonio's role with the athletic department was described as an ambassador, by Beekman.
For continued coverage of MSU football and Dantonio's retirement follow @WDBMSports on Twitter. Joe Dandron is a football writer for Impact 89FM. Contact him at [email protected] and follow him on Twitter @JosephDandronMI.