Takeaways from Spartans' 70-52 victory over Minnesota
It's been a rough stretch for Michigan State men's basketball as of late, losing two of their last three with both losses being on the road.
In the Spartans' defense, it's been hard to win the road in the Big Ten this season. The home team winning percentage in the Big Ten this year is just over .830.
Nonetheless, if you want to be one of the best, you have to win on the road. Especially when on paper, you should handily beat your opponent.
Michigan State's 70-52 win over Minnesota today wasn't the prettiest by any means. But in the grand scheme of things, the Spartans got the job done.
Here are my takeaways from the Spartans' win in Minneapolis.
Strong start, strong finish
In MSU's two recent road losses to Purdue and Indiana, there was one common factor – a slow start. In fact, that's been a common factor in all of the Spartans' losses this season.
Out of the five losses that the Spartans have had, they average being down by 11 points at the half. It's hard to win games when you put yourself in that big of a hole at the intermission.
The Spartans didn't let that happen in today's game though, as Cassius Winston and Xavier Tillman propelled the team to an eight-point lead at the half.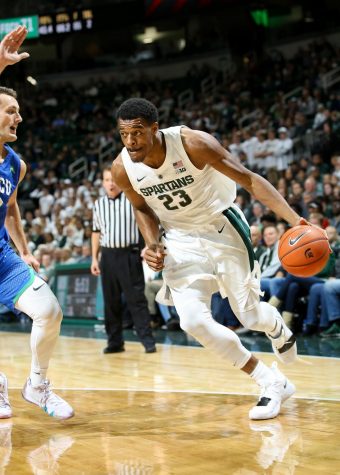 All around, the team looked solid. It didn't let the road atmosphere phase it, as it did against Purdue and Indiana. The Spartans were efficient offensively, and didn't let the Gophers get on huge scoring runs.
In the second half, they didn't look back. More players (not named Cassius) started settling in, which is important because Winston isn't always going to be on point every game.
The biggest thing that impressed me was the lack of scoring runs Minnesota got on. Even when momentum started to shift in the Gophers' favor, the Spartans made plays when they needed to. They didn't collapse on themselves and fold when things got tough.
Malik Hall is silently putting in work
When I look at freshman Malik Hall, he reminds me of former Spartan Kenny Goins. Maybe the jersey number and Hall's appearance plays a factor. But there's just something about his demeanor that reminds me a lot about Goins.
In 20 minutes of playing time, Hall recorded seven points and six rebounds. However, he did go 3-for-3 from the field, and sank his only free throw.
It's not a flashy offensive stat line, but his production goes unappreciated.
His defensive ability is better than most people think, and he showed that today. He was able to hang with the big boys down low for Minnesota. He didn't allow himself to get bullied, and stood his ground when he needed to. That's all you can really ask for from a freshman.
He looked comfortable out there defensively. I didn't see a lot of moments where he looked overwhelmed from who he was guarding. 
Being only a freshman, he still has some young player tendencies like silly fouls. By the time March rolls around though, I fully expect Hall to look like a seasoned veteran out there.
Need more help down low
Xavier Tillman recorded a double-double in today's 70-52 win, having 17 points and 10 rebounds. 
While this was great to see, my biggest question was the absence of Thomas Kithier and Marcus Bingham Jr.
Both players combined for 18 minutes, with Kithier having 13 of those. The most prominent stat between the two was the four silly fouls accumulated by Kithier.
These guys were supposed to be battling for the four position on the court, but as of late they've been seeing less and less action.
There's not much to talk about with Bingham, as he only played five minutes and didn't record a single stat besides two missed shots.
Kithier is a different story. He got decent playing time today, but looked out of place whenever he was out there. Granted he did make the only shot he took, finishing with a whopping two points. 
The sophomore only recorded one rebound, which is alarming considering he stands at 6-foot-8, the same height as Tillman.
Defensively, he wasn't much better either. He looked overwhelmed most of the time, which led him to have three fouls not even halfway into the second half. Kithier finished the game with four fouls, having the same as Tillman in not even half the amount of playing time.
While both Bingham and Kithier haven't been as productive this season, they're both young. Only being sophomores, they have a lot of growing to do both mentally and physically.
Contact Kevin McCormick at [email protected]. Follow him on Twitter at @kmccormick19.