Spartans shutout Wolverines to earn sweep
EAST LANSING – Michigan and Michigan State met again for the second time this week after Michigan State went to Yost Ice Arena in Ann Arbor on Thursday night and won 4-3 against the Wolverines. Spartan head coach Danton Cole also earned his 500th win as a head coach in Thursday's win at Michigan.
"That was a huge win for us," said captain Tommy Apap. "Then we come in here kind of hit the gas the whole game."
Game two was Saturday night in East Lansing and Michigan State took game two to complete the sweep by a score of 3-0. It was the first time the Spartans swept the Wolverines since November 2009.
Michigan led the game in shots 35 to 26 and led in faceoff wins 23 to 18 as well.
"I liked a lot of things tonight," said Cole "But mostly our battle and resiliency and the times we had to answer the battle."
Michigan squandered a 3-1 lead at home on Thursday, so they were expected to come out hot in the second game of the series to try and get the split. However, on Saturday, Michigan State emerged as the hot team. The Spartans came out and established possession in Michigan's zone—exactly what Michigan did to them to open the game on Thursday.
This paid off for the Spartans because they got a tip-in goal from Josh Nodler less than two minutes into the contest. Michigan State would kill off two penalties after that and take a 1-0 lead into the first intermission.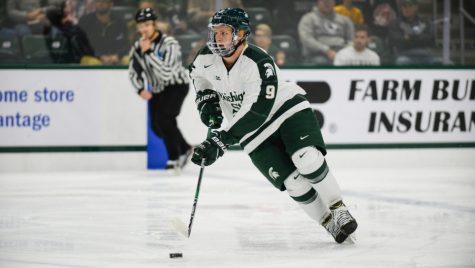 Michigan started the second with some decent opportunities, but none better than the one that was shut down by Jerad Rosburg. Michigan had a clear 2-on-1 opportunity in alone but didn't even get a shot thanks to the Spartan defenseman using his stick and body to not even allow a shot from it. The Spartans didn't even generate a shot in the second period until almost halfway through the period when Rosburg got a wrist shot on net just to keep Michigan goaltender Strauss Mann on his toes.
Michigan State extended its lead to two when Austin Kamer got the puck off a faceoff win and took an uncontested shot from the hash marks with 8:22 left in the middle period.
Michigan State then followed that up with a scrappy rebound goal two minutes later from Tommy Apap to make it 3-0 Spartans, the quick deficit caused Michigan to call a timeout and make a goalie switch from the sophomore Mann to senior Hayden Lavigne.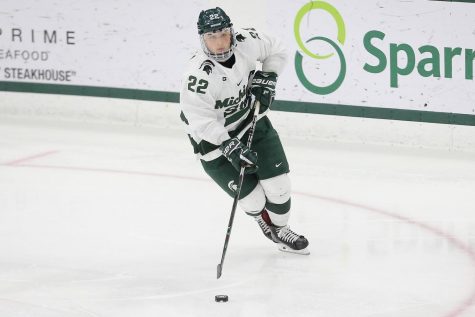 The Spartans would play solid defense the rest of the period, killing off more penalties and taking their 3-0 lead into the second intermission.
The third period started slow, and Michigan State let the game come to them to used the lead to their advantage. Michigan State neutralized Michigan's offense due to positioning their sticks and bodies well and not letting Michigan use their speed in space, which is what the Wolverines try to do every game. But Michigan State shut Michigan down completely in the offensive zone and kept them off the board to earn the win.
John Lethemon has emerged as the top goaltender for the Spartans this season and Saturday was another example why. He has had 38 saves in two of the three games before this contest to lift Michigan State to victory and had another stellar performance tonight. Lethemon turned aside all 35 shots and earned the shutout for his second win of the weekend.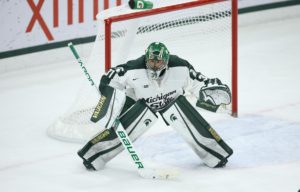 "Tonight he made it look easy," Cole said about Lethemon. "He was square and he was moving fast and he was ahead of the play."
After Saturday's win, Michigan State is now 3-1 in their last four games. Michigan's loss extends their streak of games without a win to seven—six losses, one tie.
Up next:
Michigan State (5-5, 3-1 Big Ten) hosts No. 4 Notre Dame at Munn Ice Arena on Friday and Saturday.
Michigan (3-7-2, 0-5-1 Big Ten) takes a break from conference play and travels out east next weekend to play New Hampshire on Friday and Saturday.
Contact Kyle Hatty at [email protected]. Follow him on Twitter @KyleHattyIN.