The Sci-Files – 11/10/19 – Doppsee the Pregnant Black Rhino at Potter Park Zoo
This week on The Sci-Files, Chelsie and Danny went to Potter Park Zoo to see Doppsee, the pregnant black rhino, get an ultrasound. While they were there, they interviewed a variety of people who interact with Doppsee and have experience in veterinary medicine. In this interview, you will hear the perspectives and knowledge of 9 different interviewees.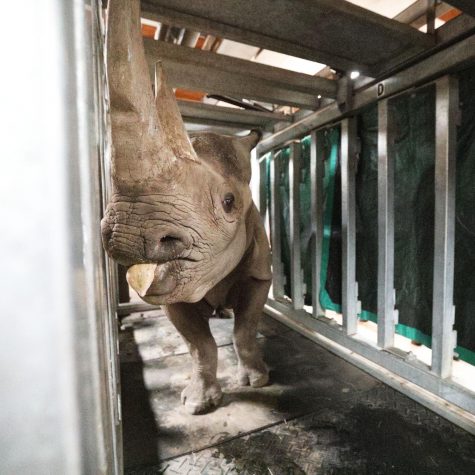 Doppsee is the 13-year-old female eastern black rhino at Potter Park Zoo, who is originally from Sedgwick County Zoo in Kansas. The male rhino at Potter Park, Phineus, traveled to Lansing from Caldwell Zoo in Texas in 2017.
Before the ultrasound, Chelsie and Danny discussed Doppsee's pregnancy with students in their fourth year at the College of Veterinary Medicine (CVM) at Michigan State University (MSU): Bethany Myers, Peter Fowler, Sumana Prabhakar, and Ashleigh Shoemaker.
Chelsie and Danny also spoke to Bridget Walker, a third-year student in the CVM at MSU. She began working at the Potter Park Zoo as a summer student under Dr. Ronan Eustace, the staff veterinarian and Director of Animal Health at Potter Park Zoo. She conducted a research project and zoo medical cases, which allowed her to visit Doppsee and monitor her pregnancy.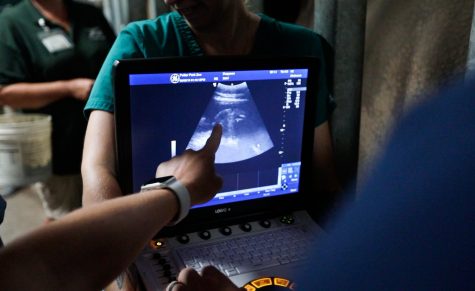 After viewing Doppsee's ultrasound, Chelsie and Danny spoke to the vets who conducted the ultrasound and the Potter Park Zoo Animal Care Supervisor.
Dr. Julie Strachota is a clinical instructor for the Department of Large Animal Clinical Sciences and resident for the Large Animal Theriogenology Service. She is an MSU native with a Bachelor of Science (B.S.) in Animal Science, Master of Science in Large Animal Clinical Sciences, and a Doctorate of Veterinary Medicine from MSU. Before returning to MSU as an instructor, Dr. Strachota worked for four years in a progressive, equine-exclusive practice, which is where she developed a strong interest and skill set in equine reproductive techniques. Besides her passion for theriogenology (a branch of veterinary medicine focusing on reproduction), Dr. Strachota is developing an equine primary care service for clinical veterinary students.
Dr. Carleton is a graduate of the Kansas State University CVM. She was the equine theriogenologist at MSU's CVM for more than 30 years. In addition to her decades of dedication to theriogenology, she served for years on the exam committee as president of the American College of Theriogenologists and founded Diplomate of the American College of Animal Welfare. Both specialties are AVMA recognized. Dr. Carleton continues her work globally.
Dr. Ronan Eustace has a Doctorate of Veterinary Medicine from the University of Saskatchewan, Western CVM. After three and a half years at Potawatomi Zoo, Dr. Ronan Eustace came to Potter Park Zoo. Before coming to Potter Park Zoo, Dr. Ronan worked at practices ranging from sizeable multi-doctor specialty practices to small rural mixed clinics for four years before he became a zoo veterinarian.
Pat Fountain is the Animal Care Supervisor at Potter Park Zoo. He received his B.S. in Zoology in 2006 from Michigan State University. Pat has cared for Doppsee since she arrived in 2011. Pat said, "Soon after arriving, it was apparent she [Doppsee] was a special rhino, and we have formed an incredible bond over the last eight years."
"Doppsee is almost always willing to train and has helped us accomplish much more in her time here than we ever thought possible. We are eagerly anticipating the birth of her first calf, and we are hopeful she is going to be a great mother."
To find out more about Potter Park Zoo, ways that you can support Doppsee's pregnancy and the other animals at Potter Park Zoo, you can visit their website.
If you're interested in talking about your MSU research on the radio or nominating a student, please email Chelsie and Danny at scifil[email protected]. You can ask questions for our future episodes here. Check The Sci-Files out on Twitter, Facebook, Instagram, and YouTube! You can read the transcript of this episode here.