Concert Review | Kanye's Sunday Service
On Friday, Sep. 27, Kanye West took his Sunday Service ritual to Detroit, Michigan, featuring a church choir performance, renditions of a few hit singles, and previews of tracks from his then-unreleased project Jesus is King.
As of last Friday, Oct. 25, the album finally released. But when Maddie Chaffer, Impact's graphics director, went to the Aretha Franklin Amphitheater about a month ago, nobody knew what to expect. Read below to hear about their experiences.
---
"Being a Kanye fan is self harm." This was the text I received at 10:45 in the morning, 45 minutes after tickets to Kanye's Sunday Service were supposed to be released. My partner and I had been glued to our screens since 9 a.m., refreshing Ticketmaster and digging into Kanye Reddit threads, hoping to beat out bots and scalpers for a pair of free tickets.
The release had been postponed by two hours, reportedly due to "holdups with Kanye's team." As a seasoned Kanye fan, I know what "holdups" usually mean (I was living in Inglewood when the Pablo tour fell apart, Yandhi was supposed to be released on my birthday last year, etc.). I was skeptical whether the show would happen at all. But by some arbitrary miracle, I secured my tickets — the rest of which sold out within two minutes.
Kanye's Sunday Services have been popping up all over the country and remain mysterious despite their frequency. The Kardashian-Wests originally held services in their Calabasas home, but have since expanded to Salt Lake City, Chicago, small-town Cody, Wyoming, and recently, Detroit. Typically, it's a call for local choir members that alerts fans to that week's location; there is rarely any formal advertising from the service itself. On the Tuesday of the Detroit service, a limited number of locals registered to attend secret choir rehearsals. Tickets were released to the public on Thursday, the day before. It's an operation that is fueled by its own ephemerality. Tickets are always free, venues are usually small, and the whole thing is gone in a flash.
On Friday (yes, a non-Sunday Sunday Service), I camped out in line amidst Yeezy bros, family members of the choir and curious Detroit locals. Doors were supposed to, but did not, open at 11 a.m., so there was a lot of mingling. A common conversation starter was, "How'd you get your tickets?" People had generally paid $80 to some out-of-state scalper. Several had gotten scammed. One guy paid $300. Some good-hearted lady gave a ticket away to the girl next to her in line.
After a 90-minute delay, the gates finally opened and the Aretha Franklin Amphitheater flooded with bodies. A large percentage of the crowd was dressed for a Kanye show: tour jackets, sequined skirts, meticulously torn jeans, color contacts. I overheard an older man behind me comment to his wife, "I don't think these kids know what they're getting into. I don't think they're ready to be in a black church."
I admittedly dismissed the guy at first. Yeah, Kanye was doing a gospel choir thing, but this is still Kanye we're talking about. But I was quickly proven wrong.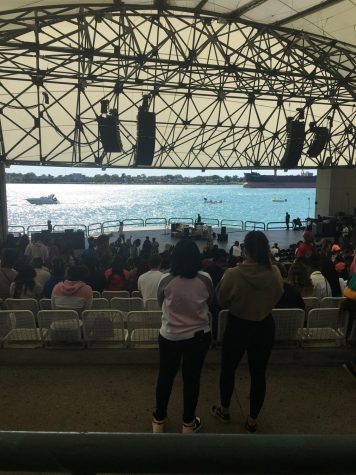 The stage filled with choir members – dozens of them –  completely blanketing the stage area in no particular formation. They were four minutes into a song ("How Great is Our God") before there was any murmur of Kanye. He stood near the back of the group, wearing a hoodie and sunglasses, singing along with everyone else. A few minutes later, Kim Kardashian was also spotted, and then the kids, North and Saint, running between the legs of the adults. All of them were with no announcement, no presentation whatsoever.
Instead, it was choir director Jason White who ran the show. Between gospel songs, he made a thoughtful tribute to Detroit's rich musical history and encouraged people to open their hearts to whatever they may encounter during the service. Interestingly, Kanye didn't speak once.
The service seemed to be designed for church-goers to show off. People belted out familiar gospel songs, harmonies and all, as if they'd been practicing along with the choir. We nonbelievers sang along as well we could, caught up in the shamelessly joyful energy filling the theater.
The service came and went with only a few references to Kanye's work: a brief rendition of "Ultralight Beam," "Father Stretch My Hands," and some new tracks (allegedly) off the new Jesus Is King record. But by and large, it was a black choir singing gospel songs. As the choir left the stage and Kim and Kanye carried their kids to the car, I couldn't stop thinking about the Yeezy bro who had paid $300 for his ticket. I'm sure it's not what he was expecting.
---
Kanye's new record Jesus is King is available on streaming platforms now.