No. 4 Ohio State overcomes slow start, rolls in victory over No. 25 MSU
Hang on for a minute...we're trying to find some more stories you might like.
COLUMBUS, Ohio — No. 25 ranked Michigan State came into Columbus with a season on the line. And Ohio State came in facing their best competition of the season in the team that arrived from East Lansing.
When faced with the gravity of tonight's game, the Spartans went all in, and even after a slow start by the No. 4 ranked Ohio State Buckeyes – 16 total offensive yards in the first – the Buckeye offensive came alive in the second, helping wrap up a homecoming night 34-10 victory for OSU.
"Motivation, that's all it is," said Darrell Stewart. "We shot ourselves in the foot."
MSU opened the game with two fumbles on their first two offensive drives."
"We did some good things to try and get back into it," said Mark Dantonio after the loss. "But I don't think anyone plays the blame game in that (MSU's) locker room."
Ohio State got out to the lead early, after blanking on a 37 yard attempt, Blake Haubeil nailed a 39 yard attempt to put OSU up 3-0 with 8:04 left in the first. 
And after nailing that field goal, the Spartans began to punch back, even after giving up a 60 yard catch and run touchdown to Binjimen Victor in the opening three minutes of the second quarter.
That punch came in the form of five plays and a 75 yard drive that lasted less than two minutes. A 13 yard run by Brian Lewerke, then a 23 yard scamper by Elijah Collins, 19 yard catch by Seybert before Stewart finished off the drive with a 20 yard touchdown catch in the middle of the endzone.
The score put MSU down three points, trailing 10-7 with 10:36 left in the first half.
And then OSU and their offense came alive.
Shortly after that MSU drive, OSU's Luke Farrell came down with a 21 yard touchdown catch, Matt Coglin knocked in a 39 yard field goal, then J.K. Dobbins rattled off a 67 yard touchdown run, weaving in and out of what would be MSU tacklers on his way to the endzone. 
Just as MSU thought they were back in the game, it was swiftly taken back away from them as OSU took a 17-point lead into the break.
In football many say the fourth quarter determines the game, but tonight a second quarter that saw 27 total points between the two teams was the difference. 
Ohio State moves to 6-0 with the victory and MSU suffers their second loss of the season and move to 4-2 on the year.
"They're a really good team," said Brian Lewerke postgame.
Offense, defense struggle down the stretch
In a game where the offense was going to be asked to put the ball in the endzone as much as it could, the Spartan defense faltered just as much. 
A run defense as heralded as MSU's, gave up 172 yards to Dobbins in the game. 
"Again, J.K. Dobbins is a good running back, he's physical, he's durable," said Dantonio after the game. "Somebody said he got a little slower when he went to 215 (pounds), I didn't see that. Guess that's not verified … cash that in as a rumor."
On the other side, two turnovers on the first two opening drives of the game put a defense that was visibly tired it seemed back out on the field against a dominant run game and dual-threat quarterback.
Lewerke made throw after throw in the first half, going 11-of-19 in the first half, only taking one sack. A 13 yard pass to Trent Gillison on third and long, converting for first down on the play was reminiscent of how the senior played for much of the game.
Then, the wheels began to fall off. MSU was only able to muster the Coglin field goal after later in the first half they were sparked to their own 45 yard line to open a drive with 8:42 in the second. 
A drive helped by two OSU penalties during the kickoff that pushed MSU to the edge of Buckeye territory.
The Spartan offense struggled for much of the third quarter and the final frame of the ball game, only totaling 285 yards after getting 178 in the first half alone.
Ohio State finished off the scoring in the game with a one yard rushing score by Fields after Dobbins' thought-to-be touchdown was called back in the third quarter.
Up next: Spartans travel to Madison
No. 25 MSU will travel to Madison next weekend to take on the Wisconsin Badgers on Saturday, Oct. 12, the game will kickoff at 3:30 p.m.
"Getting back to it," said Stewart on playing Wisconsin the week after the loss. "That's all it is … that loss was nobody else but us."
"No turnovers, no penalties, just big explosive plays." Stewart said on how the team can get back to it with Wisconsin awaiting the team.
The Badgers defeated Michigan in week 3 35-14 at home. MSU last played the Badgers in East Lansing in 2016, losing that game 30-6.
You can follow Joe Dandron on Twitter @JosephDandronMI and email him at Dandronjoseph@gmail.com
Tune in each and every week to hear our broadcast in the Greater Lansing of MSU football on the airwaves of 88.9 FM
About the Contributors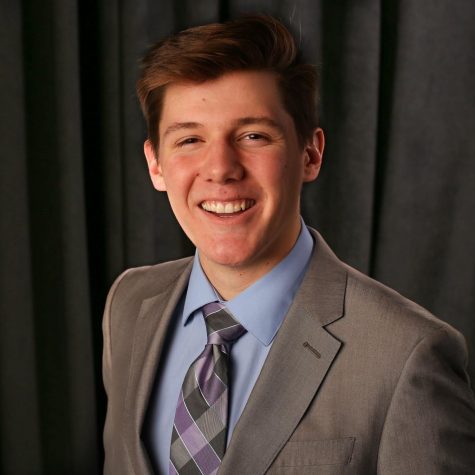 Joe Dandron, Sports Director
Joe is a junior journalism student from Montague, Michigan. Joe serves as the Station Manager for Impact 89FM after spending his sophomore and junior year as Sports Director. Joe covers primarily MSU football, cross country and track and field but fills in covering men's and women's basketball. Joe also broadcasts these sports and has a degree focus in writing, editing, and reporting.  Joe currently works at the Lansing State Journal as a news assistant covering prep sports in the Lansing area and...

Alex McRae, General Assignment Reporter
Alex is a senior communications major who covers baseball and football for Impact 89FM. He also contributes to professional sports coverage and occupies the role of Impact's NFL Draft expert.