Hunt: Michigan State needs to keep its foot on the gas
Aidan Hunt, Football Beat Reporter
September 27, 2019
EAST LANSING, Mich – As Michigan State prepares for its homecoming weekend game against Indiana, plenty of Spartan fans are riding the high from last Saturday's emphatic 31-10 win against Northwestern. 
It's easy to look at the game in Evanston, Illinois as a step forward from where Michigan State was just two weeks ago, when they were embarrassed 10-7 by Arizona State. Big performances from key players on the offensive side of the ball indicated this step.
But the true tests for the Spartans haven't even begun.
It's difficult for teams like Michigan State not to look past Saturday's matchup with the Hoosiers and instead look at the daunting task ahead of them next week, a road trip to Columbus to take on No. 5 Ohio State; but if the Spartans want to keep rolling like they did against Northwestern, their focus and energy has to go into not only beating Indiana, but making a statement.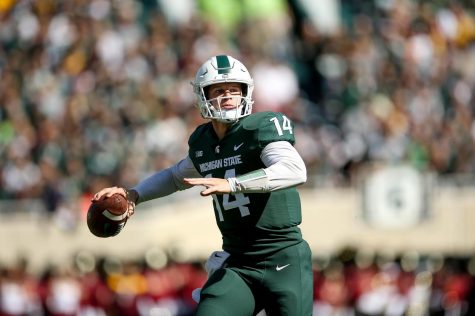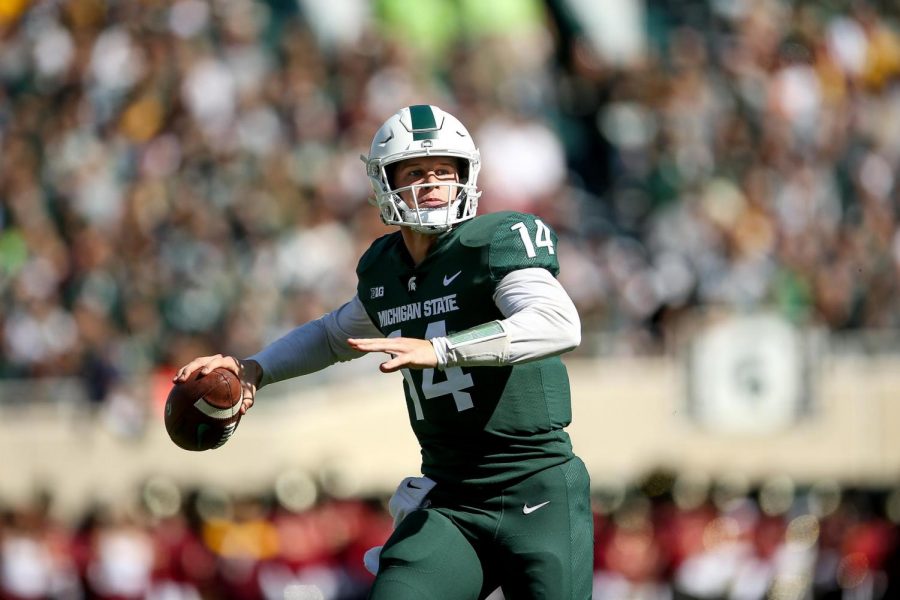 Through four games, Michigan State looks good on both sides of the ball. Brian Lewerke leads the Big Ten in completions and is second in passing yards, and his favorite target Darrell Stewart Jr. is the conference leader in both receptions and receiving yards.
Since his breakout game against Western Michigan, redshirt freshman Elijah Collins is third in the Big Ten in rushing yards, trailing only J.K. Dobbins and Jonathan Taylor.
The Spartan defense still looks strong, currently allowing the third-fewest yards per game in FBS. Joe Bachie was named Big Ten Defensive Player of the Week due to his strong showing against Northwestern, and the three interceptions against the Wildcats was the response Michigan State needed to the defense's turnover woes.
The defense will look to contain running back Stevie Scott III this weekend, who will have his work cut out for him against the Spartan front seven.
Despite this strength, however, the Spartans cannot allow themselves to let up this early.
The Spartans cannot afford to have another game like Arizona State, regardless of their opponent. Offensive inconsistencies, defensive lapses and special teams blunders littered that game and can still be seen in parts of this team.
Lewerke needs more time, either to scramble or make a pass from the pocket, and only the offensive line can give that to him.
The linebackers and safeties can't keep letting opposing receivers burn them on short slants up the middle, especially with all that room behind the defensive line.
Matt Coghlin needs to recover his form from last season. He has missed four of his last five field goal attempts, which is very concerning considering he was a short-listed candidate for the Lou Groza Award at the start of the season.
The return team needs to get its act together, at least until Jalen Nailor returns from injury. Cody White fumbling two punts against Northwestern was Michigan State's biggest concern, and having him and Stewart Jr. as kick returners is dangerous considering they are also the team's top two receivers.
The Spartans find themselves in a gauntlet over the next four weeks. After Indiana, Michigan State faces Ohio State on the road before traveling to Madison to take on No. 8 Wisconsin on Oct. 12. A bye week will then ensue before No. 12 Penn State comes to East Lansing on Oct. 26.
Big yikes.
If Mark Dantonio's team wants to have any shot at reaching the Big Ten Championship game, the next month is where their season will be defined. Going on the road against two top-10 teams back-to-back is about as trying and difficult as the Spartans could ask for, especially for the offense.
Remember how Michigan State's defense is allowing the third-fewest yards per game in FBS? No. 1 and No. 2 are Wisconsin and Ohio State.
Michigan State doesn't just need to win on Saturday; they need to dominate Indiana. The Spartans need all the momentum they can get rolling into Columbus next week and Madison the week after. If there are any questions about this team after facing Indiana, the rest of the season could look pretty rough for Michigan State.
But for now, let's keep the focus on the Hoosiers.
Contact Aidan Hunt at [email protected] Follow him on Twitter at @TheAidanHunt.