Beach Bunny Interview from Impact's 30th Birthday
Podcast: Play in new window | Download
Subscribe: Apple Podcasts | RSS
On Thursday, Sep. 12, Impact 89FM hosted a concert at the Breslin Center in celebration of its 30th anniversary. With musical guests Grey Matter, Beach Bunny and The Front Bottoms, Michigan State's student radio station received a special celebration fit for its special 30 years.
Above is the interview with Beach Bunny, an indie pop band from Chicago, Illinois. The band, which started in 2015, is comprised of Lili Trifilio on vocals and guitar, Matt Henkels on guitar, Jon Alvarado on drums and Anthony Vaccaro on bass. They dropped their fourth EP Prom Queen last year. They performed second at the Birthday Show, providing direct support to The Front Bottoms.
About the Writer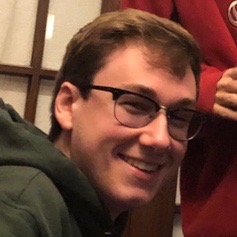 Josiah Leach, Managing Editor/Writer
Josiah was the Managing Editor of the Content (Entertainment) Team, helping to produce and delegate writing projects for the Impact 89FM website. They are from Commerce, Michigan and now live in East Lansing. In addition to their journalism/media experience they are majoring in Comparative Cultures & Politics. Some of their favorite artists include (Sandy) Alex G, Big Thief, Talking Heads, Roy Ayers, Fishmans and Standing On The Corner. They can be reached at their school email, [email protected],...