Impact's 30th Birthday Show
Podcast: Play in new window | Download
Subscribe: Apple Podcasts | RSS
On Thursday, Sep. 12, Impact 89FM hosted a concert at the Breslin Center in celebration of its 30th anniversary. With musical guests Grey Matter, Beach Bunny and The Front Bottoms, Michigan State's student radio station received a special celebration fit for its special 30 years.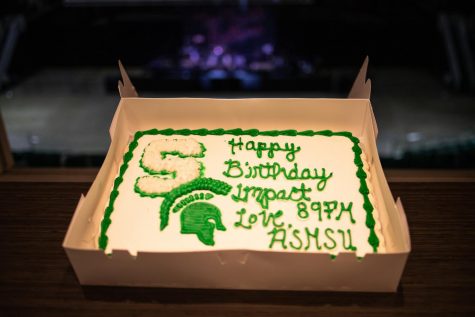 Featured in this article are photos from the event, taken by Andrew Herner, Impact's Video Director. Also included are interviews conducted with each band.
From Maddi Farrell, Impact's Events Coordinator:
"Overall, the show had a fun atmosphere and the crowd seemed to be big fans of the bands.
"Grey Matter was definitely in their element, starting the show loud and energized. Beach Bunny, an up-and-coming band, played catchy songs and had a strong crowd presence. They loved seeing the crowd get amped up and mosh to their melodic beachy tones.
"It was The Front Bottoms' first show since April and they were glad to be back in Michigan for their first ever college show. They played a hefty set list, filled with fan favorites that spanned their whole discography. Many people in the crowd were clearly there for the Front Bottoms and it showed through people's knowledge of the lyrics. Their stage presence is untouchable, and really showed bandmates, Mat and Brian's friendship.
"Overall, it was a fun birthday show that came together nicely."
Grey Matter
Grey Matter is a self-described "emotional ska-core" band from nearby Lansing, Michigan. Their sound also includes elements of punk, experimental, noise and post-hardcore. Grey Matter is a large unit with lots of members: Mack on vocals, Nick on drums, Jake on bass, Pip on trumpet, Dom and Elliott on sax, Emma on guitar and Kenny on trombone. They cite Minor Threat and Bomb The Music Industry! as their music influences. They performed first at the Birthday Show.
Our full interview:
Beach Bunny
Beach Bunny is an indie pop band from Chicago, Illinois. The band, which started in 2015, is comprised of Lili Trifilio on vocals and guitar, Matt Henkels on guitar, Jon Alvarado on drums and Anthony Vaccaro on bass. They dropped their fourth EP
Prom Queen
last year. They performed second at the Birthday Show, providing direct support to The Front Bottoms.
Our full interview:
The Front Bottoms
The Front Bottoms, from Woodcliff Lake, New Jersey, are a folk punk band with elements of indie rock and emo. The band consists of Brian Stella (vocals and guitar), Mat Uychich (drums), Tom Warren (guitar and vocals) and Erik Kase Romero (bass). They headlined the Birthday Show.
Our full interview:
Featured image is Maddi Farrell, Impact's Events Coordinator and Michael Suarez, Exposure Director, with Beach Bunny.