Audrey Alford and the remarkable journey that brought her to Michigan State
The word "home" takes on a different meaning for just about everyone, depending on factors such as where a person permanently resides or feels the most at comfort. Sometimes one's home remains constant over time, while others have traveled a long road to arrive at the place they take pride in calling home.
For Michigan State volleyball player Audrey Alford, the location of "home" has been expressed over the years as many pins on the expansive map of America. The graduate transfer from the University of Oklahoma has occupied many landscapes over the course of her young life. 
"I lived a lot of places growing up, I moved around a lot," Alford said. "Ohio, Alabama, California, Texas, Oklahoma, and now Michigan."
Many average people cannot claim to have visited more states than Alford has lived in, from the expansive midwest, to the steamy south and now the place many famously call "the Mitten State."
In search of her next home, Alford redshirted during her senior year at Oklahoma and gained the eligibility to transfer to Michigan State. The decision to go from a Sooner to a Spartan was fueled by her passion for volleyball and ambition to join one of the premier conferences for a sport she's been invested in for her entire life. 
"I definitely knew I wanted to play in the Big Ten, it's the best volleyball conference," Alford said. "In order to be the best, you have to play with the best. I loved the girls and the coaches right away, that's what brought me here."
But it wasn't just the lure of high-level volleyball that ultimately attracted Alford to East Lansing, the proximity to her family in nearby Mount Pleasant made the transfer choice an easy decision and a perfect fit.
"One of the reasons I chose to come to Michigan State was to be close to my family," Alford said. "It's nice to have my sisters be able to come and watch me play for one last year. That was definitely something that attracted me here as well."
Audrey's father, Michael Alford, was named athletic director at Central Michigan University in 2017. His stops with the University of Oklahoma, ABC and the NFL's Dallas Cowboys and Cincinnati Bengals, just to name a few, have fueled the movement of his family around the country.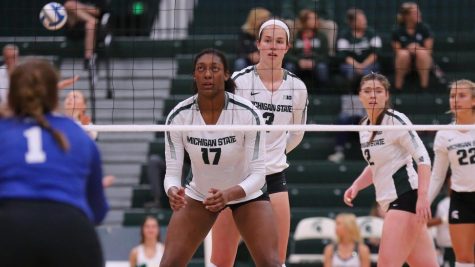 Of the many places where Alford has lived over the years, none have presented the potential of an extreme winter like Michigan. The weather that gives Michigan its identity is one of the many new experiences she's witnessed since arriving on campus.
"I've never lived this far north, it's definitely different in the winter," Alford said. "I've never lived anywhere this cold. I've got my puffy coat though, which is exciting."
Alford has taken notice of some classic Michigan quirks as well, such as the use of the word "pop" instead of "soda" to describe carbonated beverages. But even though she calls Michigan her new home, she's not sure about adopting one of the most distinguishing phrases of Michiganders. 
"I've definitely heard it, but I haven't started saying it yet," Alford said. "It makes me laugh every time."
Deadly winter storms and popular beverages aside, Alford is just happy to be back in her natural environment on the court with her new teammates after a season free of competition last fall at Oklahoma. 
"It's good to be playing again, it's good to be back on the court with a great team," Alford said. "We've been working hard so it's great to finally get in action.
"The whole team worked so hard this summer on our chemistry and building our team, it's been awesome, the transition here has been super easy."
Cathy George, the veteran head coach in the midst of her 15th season leading Michigan State volleyball, sees value in Alford as an experienced and athletically-gifted player with many years of competitive experience under her belt. 
"Audrey is very experienced, she's played in a lot of high-level matches," George said. "She's bringing experience, know-how, and an athletic background from her family. I've noticed a calmness about her."
Besides her skills on the court, George was quick to point out Alford's invaluable leadership and communication skills, noting that she brings the team together as one both on and off the court. 
"She's been valuable to our team, she's a very cohesive person," George said. "She wants to bring people together. She knows what it takes for a team to have a great culture and good chemistry. She brings the team together."
Transitioning to a new program and school may be hard for the average college athlete, but Alford has thrived in her new environment, surrounded by a team that acts as a second family, even though her actual family resides just about an hour up the highway.
"I love the team, I'm surrounded by a great group of people," Alford said. "It was easy to come into this program and be accepted right away. The girls are super nice, the coaching staff is awesome, it's my favorite thing about being here."
The location of "home" has been in all corners of the country over an expansive journey for Alford, but her long-awaited Michigan State home, possessing a close distance to her family and an accepting new volleyball family, has made the journey a rewarding one.
"I'm excited to play in front of Spartan fans and just be home. This place feels like home already."