Ward hires agent and declares for draft, Winston stays for senior season
It's everyone in college basketball's favorite time of the year, the offseason.
There may be no basketball left to play, but there are still moves being made by players that can have a huge affect on teams before things tip-off in November. On Friday, two Michigan State players made their announcements as to whether or not they would be entering the NBA draft for this upcoming season or staying in East Lansing.
The bad news came first for Spartan fans, as junior forward Nick Ward announced that he would enter the draft with an agent. Now under the current rules, Ward can return to East Lansing for his senior season, but the school announced he plans to end his Michigan State career.
"After talking things over with my parents and Coach Izzo and the staff at Michigan State, I've decided to take the next step in my career and enter my name for the NBA draft," Ward said. "I've learned so much at Michigan State and am thankful to the coaches and my teammates for helping me become a better player and a better person and reach a lifelong goal of getting to a Final Four. Based on the feedback I got last year and discussions with Coach Izzo, I'm ready for this challenge and look forward to this next chapter. I am a Spartan for life. Go Green!"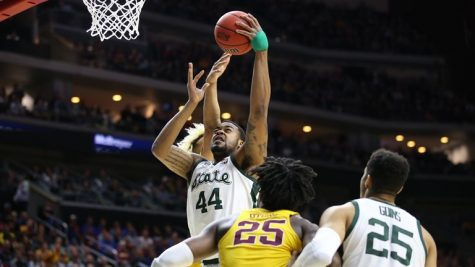 A year ago, Ward tested the draft process, but after being evaluated decided to come back to Michigan State. In his third season in the green and white, the junior averaged 12.9 points and 6.1 rebounds per game while shooting 58% from the field. His play earned him a spot on the All-Big Ten third team by the coaches and media.
"Nick went through the draft process last year and gained some valuable information,"  head coach Tom Izzo said. "When he made the decision to return for his junior season, I made one request that he be fully committed to our team and program. Nick did everything I asked and more, improving as a player and becoming a better teammate. I was impressed with his attitude and commitment as well as the way he grew his game throughout the whole year. I also knew Nick's desire to begin his pro career following his junior season, and I'm fully supportive of his decision. He has worked very hard over the last three years to put himself in this position and I look forward to helping him reach his dreams."
The loss won't hurt too much for Michigan State, as sophomore Xavier Tillman will return, along with incoming freshmen Malik Hall and Julius Marble.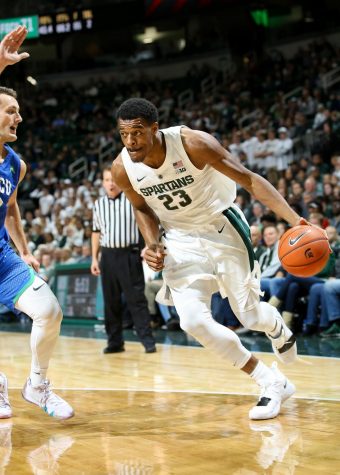 Tillman assumed the starting position when Ward went down with a broken hand, missing the last five games of the regular season. He did not relinquish that spot throughout the rest of the postseason.
In his 104 career games played, Ward amassed 1,359 career points, a 13.1 per game average, good for No. 26 all-time at Michigan State, and connected on 60.5% of his field goals, good for fifth all-time.
Just minutes after Ward made his announcement, junior guard Cassius Winston told the world that he would be returning to Michigan State for his senior season.
After earning Big Ten Player of the Year honors this season and putting together tremendous performances en route to a Final Four, Winston turned the heads of scouts everywhere. However, after being knocked out in the semifinal by Texas Tech, the Detroit native feels there is more work to be done.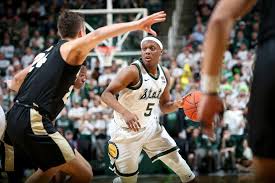 "Playing in the NBA has always been my dream. But I have other dreams as well. This was an incredible season with an amazing group of teammates, but I believe there is still more to accomplish. From the moment the season ended, I started thinking about what else I could do and how I could improve, to help us reach the goals we want to reach. It was surreal to be compared to some of the all-time great Spartans during the tournament because in my mind I still have something left to prove," Winston said. "Those goals will motivate me throughout the offseason. It will always be my goal to play in the NBA, but that's a dream that can wait a year. I look forward to improving as a player and continuing to get stronger. I know my teammates are equally committed to improving and I can't wait for what our future holds."
A consensus second-team All-American, Winston put together an incredible year, averaging 18.8 points and 7.4 assists, propelling the Spartans to a 32-win season.
"Cassius and I had some great talks after the season. Our relationship has grown throughout his career, and this process has only taken it to another level. I was in full support of Cassius entering his name in the NBA draft process, because I know that's his dream. But I've come to understand that he also has some other dreams," Izzo said. "Since the Final Four, he's been talking about the goals he has both for himself and the team. Cassius is an unbelievably smart player, so he knows that there are no guarantees. But he's willing to work to improve and better himself and his team for next year and beyond."
Ward's loss definitely hurts the Spartans, as they will miss a talented player like him, but keeping Winston at the helm is the biggest key. The point guard will be considered a favorite for the National Player of the Year award next season and hopes to lead Michigan State to the mountain top.