Spartans drop game two despite Tyranski's strong performance
MSU only able to manage three hits in loss
EAST LANSING, Mich. – Similar to game one of this weekend's series between Michigan State and Indiana State, it was excellent starting pitching that dominated most of game two. However, it wasn't extra inning heroics that decided the contest, the difference actually came from the first three hitters of the game.
On the heels of Mason Erla's and Triston Polley's sensational pitching duel under the lights Friday night, MSU's Mitchell Tyranski and ISU's Collin Liberatore's encore Saturday evening was almost equally as impressive. Unfortunately for the Spartans, it was Liberatore who came out victorious, as Indiana State won by a score of 2-1.
BOX SCORE: Indiana State 2, MSU 1
Indiana State jumped on Tyranski early, as the second hitter of the game, Clay Dungan, tripled to deep right center field scoring Luke Fegen from first base. Dungan later scored on a ground ball by Jake Means.
Tyranski settled in excellently following the triple, pitching six straight scoreless innings and only giving up two hits. Boss was proud of how the junior lefty bounced back and threw one of the best games of his career.
"He got a lot better as the game continued to wear on, aside from the first two hitters of the game I thought he was really good. They never really threatened past that."
Unfortunately for Tyranski, the the MSU offense couldn't provide much run support as, Tyranski picked up his sixth loss of the season.
"He deserved better." Boss said simply.
Liberatore was nearly impossible to hit for the first six innings of the game, as the Spartans were only able to manage one hit, a single by Nic Lacayo. Royce Ando opened it up for the Spartans in the seventh inning, doubling down the left field line. He was immediately scored by a Dan Chmielewski single to center field.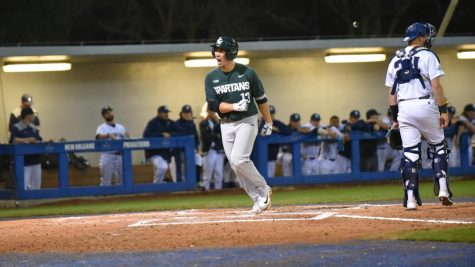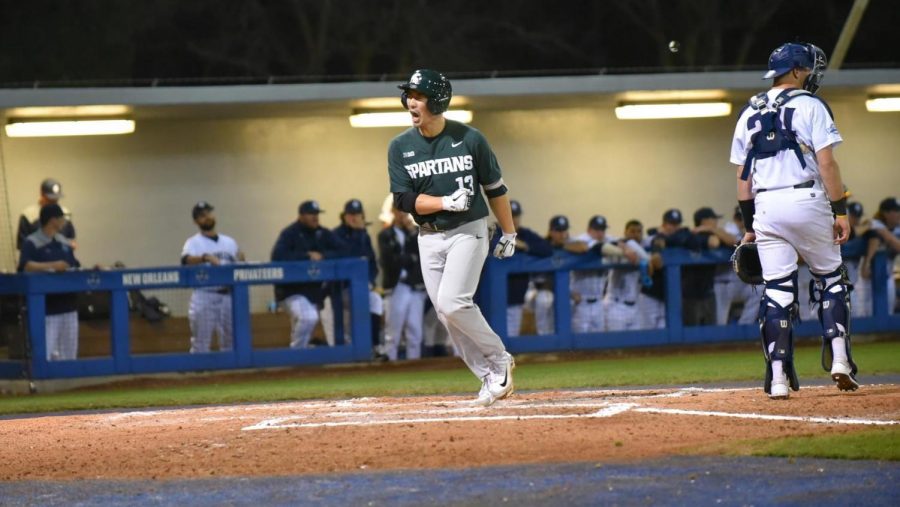 Liberatore was eventually taken out in the eighth and was replaced by Tyler Grauer. Grauer picked up where Liberatore left off, recording the four-out save, his fifth of the year. Liberatore improved to 5-0 on the season.
Boss noted poor approaches at the plate and a little bit of bad luck as for why the Spartans struggled to score runs off the Sycamore pitching staff.
"A few times we hit the ball hard, they seemed to be right at guys, that's kind of the way the games go. We lost some of the technique and fundamentals. Approach wasn't what it should of been early in the game."
Michigan State will face Indiana State Sunday at 1:05 p.m. for game three, the rubber match of the series. The Spartans will not only need another strong outing from the pitching staff, but more importantly more runs on the scoreboard.
"We have a chance to come back and win the series tomorrow. We need to be able to be more threatening offensively," Boss said.