Who will Talladega Superspeedway Bite?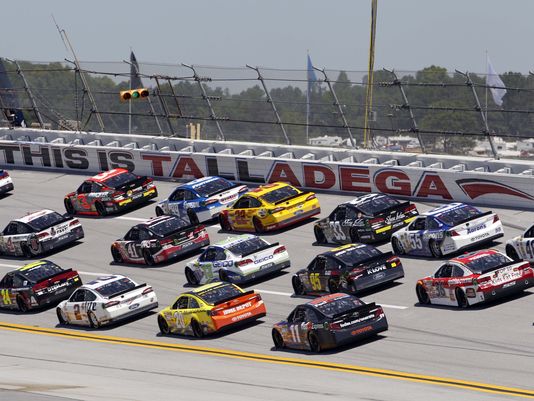 Talladega Superspeedway, according to legend, was built on an ancient burial ground. Perhaps that is why, whenever the NASCAR circuit comes to the Lincoln, Alabama in the fall months, some Chase contenders get bitten by the monster.
Superspeedways, due to the high speeds, close quarters and precision required, aren't the ideal place to pay another driver back for a previous incident. I bring this up because we all remember what happened last week between Matt Kenseth and race winner Joey Logano in the last laps of the Hollywood Casino 400 at Kansas Speedway.
To think that Kenseth would pay Logano back wouldn't be a crazy thought. But at Talladega, I wouldn't expect it to happen. Especially when you factor in the circumstances surrounding both drivers: Kenseth needs to win the race to advance to the next round and Logano could theoretically not even make a full lap in the race and be fine, as his past two wins in the past two weeks secure his spot in the next round.
Logano is the only driver that is locked into the round of eight thanks to his wins in this round. Kenseth and Dale Earnhardt Jr. both need to win to get into the next round. There are some scenarios where they can mathematically advance, but the chances of those scenarios happening are slim-to-none.
Junebug is the king of superspeedways right now. If your name is Earnhardt, you're good on them. NASCAR.com did a special story this week on Dale Earnhardt Sr.'s final win in his career that occurred 15 years ago. The No. 88 car is the hands-down favorite to win Sunday, but the only question is that if he will? Talladega throws stuff at you when you least expect it, but Jr. is always ready.
In round one, we saw a huge name in Jimmie Johnson get eliminated after his Dover misfortune. But this weekend, Kevin Harvick, Kenseth, Brad Keselowski, Kyle Busch, Denny Hamlin, Carl Edwards and Martin Truex Jr. could be gone after the race. Look back at last year, when Busch was sitting pretty, but after a huge wreck and contact from behind, Busch's championship hopes went by the wayside, and he was eliminated due to no fault of his own. Will that happen to an unlucky driver on Sunday?
One driver that I left out in that aforementioned list was Jeff Gordon. Gordon has yet to win this season in his "farewell tour", as this is his final season. But Talladega, a track that Gordon has had much success at, could be the place where he gets a win and advances to the next round. And if he does, watch out, because Martinsville, Texas and Phoenix are great tracks for the No. 24 legend.
Gordon will start from the pole when the green flag drops. However, qualifying doesn't really matter that much on superspeedways due to the drafting, and the fact that drivers can theoretically go from the mid-20's to the lead in under five laps.
One more thing to watch for is the fact that NASCAR reduced the number of green/white/checkered finishes from three to one for this weekend for safety concerns.
Will there or will there not be "the big one"? Who will be eliminated? Who will end up in victory lane? So many questions with many answers to be given.
Make sure to tune in on NBCSN at 1:30 p.m. (2:30 p.m. approx. green flag) for the CampingWorld.com 500 at Talladega Superspeedway. Three wide, ten deep, 200 MPH: count me in!