Spartans fall to Badgers in physical battle
Luke Sloan, Assistant Sports Editor
February 3, 2019
Hang on for a minute...we're trying to find some more stories you might like.
EAST LANSING, Mich – Looking for a series sweep of Wisconsin, Michigan State encountered increased physical play and a barrage of offense, falling in a shootout one night after cruising to a 4-1 victory.
The emotional contest was tied up at two following the first and second overtime periods, with Wisconsin's Max Zimmer sneaking a shot through the five-hole of MSU goaltender Drew DeRidder in the ensuing shootout to take home the extra point.
Opening the shootout, Taro Hirose attempted to slide one between the pads as well but was denied. The Spartans hoped for a second chance to take home the win, but DeRidder couldn't provide the opportunity, the only blemish on an otherwise fantastic performance in net.
The freshman goaltender dazzled, compiling a season-high and career-high 56 saves while battling heavy traffic in front of the net almost the entire night. His previous high came on Dec. 31 in the GLI against Michigan, when he made 45 stops.
"I don't really think about that stuff," DeRidder said when asked about the large number of shots he faced. "It's just about going out there and stopping the next shot."
Michigan State now falls to 1-1 in games decided by the shootout this season, grabbing four points on the weekend. The Spartans entered the contest on a three-game win streak, adding to a 4-1-1 mark over the previous six games.
"Getting four out of six points is a step in the right direction," Hirose said. "In that aspect, we are happy, but we need to be a better team and pick up those two wins on the weekend."
Mitchell Lewandowski and Hirose both extended their point streaks to eight games in the second period when Hirose beat Wisconsin goaltender Jack Berry with a wrist shot on an assist from Lewandowski. The eight game streak is now a new career high for Hirose, while Lewandowski continues to add to his personal best, which was established at seven games with a goal and assist in the first matchup of the series.
A physical style of play was established early and sustained until the conclusion of overtime, as players on both teams had to be separated after nearly every whistle and bone-crushing hits were aplenty. The chippy play reached its peak in the second period, when a confrontation between Cody Milan and K'Andre Miller led to two roughing penalties for each team.
"That's what we expect from them," Hirose said on Wisconsin's physical play. "They feed off energy after the whistle and in the first two periods I think we got a little too caught up in that."
Wisconsin drastically outshot the Spartans throughout the contest, holding the advantage 39-12 after two periods and 58-33 overall. The 58 shots surrendered mark a new season-high, besting the previous record of 45 in the second round of the GLI against Michigan.
"They (Wisconsin) were doing a good job of pressing the issue and putting pucks on net from all over," MSU head coach Danton Cole said. "I don't think we defended poory, but I didn't think we did a good job deflecting the rush tonight."
The Spartans continued their success on the penalty kill, not allowing a power play goal on the night and for the entire series. Wisconsin (9-12-5)  didn't score with the man advantage for the fifth consecutive game, going 0-of-3 and 0-of-4 in each game of this series, respectively.
The "KHL" line only complied one shot on goal in the first period, a redirect attempt from Hirose in the final seconds that was stopped by Berry in mid air. That surprising cold stretch wouldn't last long, as MSU's first goal of the game was accounted for by Hirose and assisted on by Lewandowski just moments into the second.
"In the first period I might have been gripping my stick a little bit too tight," Hirose said on the slow start offensively. "Things then started opening up for me, I think I had a lot of chances tonight, I wish I could have buried more of them."
Wisconsin's leading goal scorer Will Johnson netted his eighth of the season at 3:29 to open the scoring, giving his team a 1-0 lead after a first period of play that saw a much more aggressive effort from the road team. The effort was lackluster the previous night for the Badgers, who are led by former Detroit Red Wings assistant Tony Granato.
The second period goal from Hirose evened the score, but not for long, as Linus Weissbach buried a shot off a rebound past DeRidder at 9:36 to give the Badgers a 2-1 lead headed into the third.
Just like at the start of the second period, the Spartans struck early, this time at 00:37 on a Lewandowski goal from Khodorenko to tie the game at two. MSU had two golden opportunities to win it in regulation on the power play when a redirect from Khodorenko was saved by Berry and Milan chipped a shot wide off a nice feed from Lewandowski at 7:00.
Despite the chances, the contest remained knotted at two following regulation. Michigan State dominated the first overtime period, outshooting Wisconsin 6-1, but Berry stood strong, and the game moved to 3-on-3 overtime. It was then Wisconsin's turn to apply pressure that was countered by DeRidder, who continued his stellar play and forced a shootout.
Johnson's goal was assisted by Peter Tischke, while Wisconsin's second goal from Weissbach was helped by Miller and Ty Emberson. All six of MSU's goals in the series were scored by members of the KHL line, with each player lighting the lamp twice.
Lewandowski's goal was number 13 on the year, Hirose's was number 15.
Michigan State now sits at 10-13-5 on the season and 6-8-4-2 in Big Ten play. The Spartans will next face Michigan at Yost Ice Arena on Feb. 8, a matchup that will surely be just as physical as this contest.
"The Big Ten has been a grind," Cole said. "It's been a battle, I think every weekend gets you ready for the next weekend. We'll take a couple days to rest up, and on Tuesday we'll start getting ready for Michigan week."
About the Writer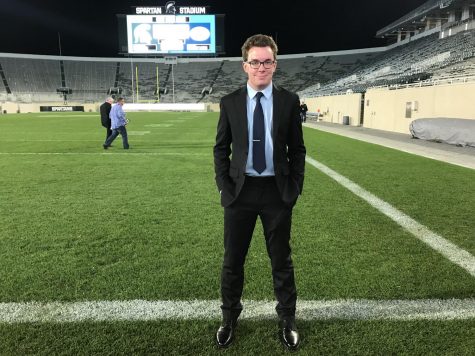 Luke Sloan, Sports Editor
Luke is a sophomore journalism major who currently serves as Sports Editor for Impact 89FM. As Sports Editor, Luke refines the articles our volunteers produce and helps them grow as writers. He also assists with day-to-day functions of the sports team while covering a variety of sports across campus.