Impact Presents | Melancholic Youth: The Honest Beauty of Snail Mail
The roots of indie rock are engrained in brutal honesty- stories of love, pain and loss have become the B-sides to sex, drugs, and rock and roll. It is rare, however, that acts come along with poignant expressions of these emotions. Baltimore Indie Rock band Snail Mail is a leader in the renaissance of emotionally honest groups emerging across the nation. Snail Mail first came to my attention during their 2017 tour with Waxahatchee and Cayetana. Opening Chicago's Thalia Hall, I quickly realized that the group's technical mastery of their instruments, as well as 19 year old singer and guitarist Lindsey Jordan's deeply personal lyrics, would find them destined for something much greater.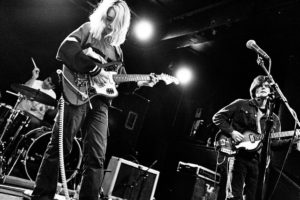 Rooted in their 2016 EP Habit, Snail Mail grew from the Baltimore, Maryland scene that included East Coast bands such as Priests and Sheer Mag. Jordan recorded and released the EP from Priests' Label Sister Polygon while she was still in high school, often saying that she never expected the record, or the band, to go anywhere. Jordan has been releasing music since 2014, first publishing covers of songs on YouTube such as Slowdive's "Alison" and Mac Demarco's "Still Together". Prior to Habit came 2015's Sticki, a four-song EP that highlighted Jordan's DIY sensibilities.
As the band began playing small house shows in the Baltimore area, Habit began to gain coverage from music press nationally. These small beginnings eventually lead the band to open for nationally touring groups, such as Girlpool, and playing major events, such as 2017's South by Southwest in Austin, Texas. This performance caused the group to receive major mainstream attention, which was followed by a rigorous tour of the United States, including a highly-viewed performance on NPR's Tiny Desk series. In late 2017, Snail Mail signed to the infamous Indie label Matador Records. The group would spend the next few months touring with groups such as Beach Fossils and Ought, until in early 2018 the band embarked on their first solo tour. In March of 2018, Snail Mail's Debut Album was announced for a June 8 release, quickly becoming one of the year's most anticipated releases.
With their debut LP "Lush", Snail Mail has firmly planted themselves as an emotionally aware and genuine Indie Rock group. Receiving universal critical acclaim, including "Best New Music" from Pitchfork, Lush is latent with the mood swings of love in youth. The album's second single "Heat Wave" perfectly encapsulates these tribulations, with the opening line "I'm so tired of moving on." Throughout, the album flows among the triumphs and pitfalls of relationships; moments of desolation and desire. Hopelessness, however is the emotion at the forefront of the album's fifth track, Stick. The song encapsulates brutal self-consciousness, and Jordan's immensely self-aware lyrics bring any listener to reflect on lost love- "Did things work out for you? Are you still not sure what that means?"
While Jordan's lyricism is consistently impressive, the groups musicianship constantly shines at the forefront. Jordan's distorted, technically sound guitar style combined with impressive rhythm section work from drummer Ray Brown and bassist Alex Bass make every song groove, despite how destitute the songs' subject matter can be. The beauty of Snail Mail is best seen in this juxtaposition- the group's melancholic lyrics combined with guitar riffs reminiscent of 90's alternative create the dreamy, emotional album that Lush is.
Impact 89 FM will be presenting Snail Mail at the Pyramid Scheme in Grand Rapids this Friday, July 27th. Tickets are still available! Keep an eye out for our coverage of the event on Instagram!