Sandyland Music Festival 2018
In its third consecutive season since its revival in 2016, the Sandyland Music Festival shows no signs of losing steam.
A Brief History
The outdoor music venue – one of Michigan's oldest – is located in Nashville, MI in Barry County – almost 45 minutes west of East Lansing. In the 1970s and 80s, Sandyland Park featured performances by rock and country musicians all across the country, including The Everly brothers, Chubby Checker, Loretta Lynn, Waylon Jennings and countless more. The rural M66 community quickly became a hotspot because of the concerts. In more ways than one, Sandyland was to Nashville what Common Ground is to Lansing today.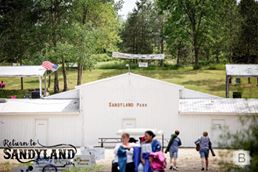 Eventually, the park closed, and the property has since been used by the family of the founder, Sandy Salyers, for hunting and farming. However, local community members and business owners – who had previously consolidated into the Nashville Route 66 Business District, a non-profit organization – began discussing options to revive the venue in 2015.
"At first, we were just going to rent a stage and have the nostalgia of the past fill the area," said Kimberly Rodriguez, the proprietor of Step N' Time Dance Studio and a founding member of the Business District. "That was until we went back to actual site … [we realized] it was possible to bring this site back to life. A venue like this could do so much for our community."
Indeed, Sandyland truly is a unique location. The center stage – complete with accompanying sound stages, booths for merchandise and concessions, and a closed-off backstage to house the talent – rests at the bottom of a tall hill, all shrouded by shade from surrounding pine and oak trees. The sound quality is pristine. Hearing the cathartic croons of the Ragbirds, Pam Tillis and Matt Giraud pairs beautifully with the rustic aesthetic, while the blasts of drums and rhythms from Matt Williams, Global Village and Wayland bring groupies of all ages rushing to the stage.
As a small town, we are always searching for ways to attract families and business to town", Rodriguez commented. "All proceeds of the concerts go back into the community and all of the work and managing of the venue is done by volunteers."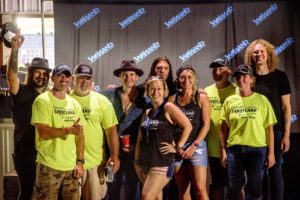 Sandyland is completely managed by volunteers, most of whom are either business owners, employees or community members eager to lend a hand, all for the sake of promoting music, artistry and Nashville itself. From fundraising and concessions – featuring one of Michigan's top auteurs of ice cream and dairy, Mooville – to production and marketing, Sandyland is a true labor of love and grassroots effort for the community at large.
Where Country Meets Rock – Year Three
Despite the constant threat of heat exhaustion last Saturday, June 30, the contagious enthusiasm of the crowd, juxtaposed with the energy and talent of the performers, marked another successful event in Nashville.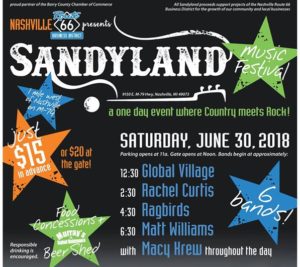 Kicking off the festivities for Sandyland was Global Village, who immediately got the audience grooving with their throwback covers, such as "September, "Sweet Caroline," "Play That Funky Music" and more – many of which can be streamed on their website. Almost immediately, Global Village's charisma and charm elicited a strong response from the crowd: whoops, cheers, and "ba-ba-bas" – in the case of Sweet Caroline – filled the hill, and set the tone for the rest of the festival.
Macy Krew, a talented up-and-coming local artist, performed acoustic sets in between each band and was a bundle of joy and enthusiasm every time she took the stage. She debuted one of her original songs, "Take a Shot," which should be coming out within the coming weeks. To keep updated on Macy's upcoming shows and songs, follow her on Facebook and Instagram.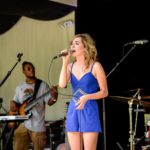 Next was Rachel Curtis, a Lansing based musician who was recently a contestant on this year's season of American Idol! Rachel performed numerous covers and original songs with her band. She captivated the crowd with her thoughtful lyrics and musicianship – all while carrying her group in a poignant and beautiful performance. You can find Rachel's EP, Senses, on Spotify and Apple Music.
The same praise can be attributed to the Ragbirds, an established folk group operating out of the Ann Arbor area. The Ragbirds captured the alternative, indie aesthetic of David Byrne and Leonard Cohen while presenting their own unique sound and musicality: specifically, traces of a self-described Gypsy-esque Americana, which may be one of the most interesting genre labels. Lead singer Erin Zingle, debuted one of the band's new releases by describing how she conceived it in a dream and went on to cowrite it alongside Paul Simon. If you like their sound, consider checking out their Patreon!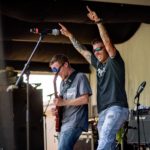 Soon after, Matt Williams returned to Sandyland for his third consecutive season. Williams, a West Michigan native and veteran, is best known for his hard rock and country dynamic – which immediately caught the interest of the Sandyland crowd. Matt proved himself to be a crowd favorite during his earlier performances, specifically when he headlined a country-sentric during Sandyland's second year. His crowd pleasing rock songs, such as "American Made, Southern Raised, and his more somber reflection pieces, like the viral hit "You'll Make Her Cry" act as a testament to his versatility as an artist. For more on Matt, check out his music on his website!
As the sun began to set on Sandyland, the stage lights lit up in dim neon colors: Wayland took the stage, as dozens of loyal groupies and Sandyland fans approached the stage in anticipation. Wayland, a group named for the Michigan city of the same name, tours around the country and has a dedicated fan base. Boasting the loudest sound of all the groups that night, Wayland had the crowd cheering almost through their entire adrenaline-pumping set. Additionally, the band debuted some never-before-heard singles, which are anticipated to arrive on their next studio album. Be sure to check out their touring schedule!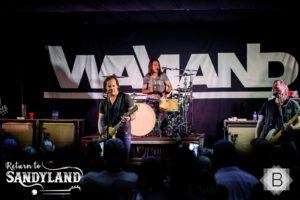 —
What is arguably most impressive about Sandyland Music Festival is how such a wide variety of sounds, styles, and musicianship can be supported by a smaller venue. Each performer had a unique sense of cadence and variations of lyrical motifs, but each created a clear transition into the next. The whole event was planned, produced and supported by small town families, shop owners and volunteers. That, in itself, makes Sandyland an event to be at for years to come, especially if you're from the area.
For a complete list of upcoming Sandyland events, follow Sandyland on Facebook – and check out the Route 66 Business District's Facebook for more on behind-the-scenes production of the event!