S5E17: It's Time
Hang on for a minute...we're trying to find some more stories you might like.
Podcast: Play in new window | Download
Subscribe: Apple Podcasts | Android | RSS
It's time. It's March. Big Life. Big Stage. Big Apple. Big Ten. Say what you will, this week's Impact Izzone podcast is loaded with excitement as the calendar turns to Tom Izzo's favorite month. Ryan Cole and Davey Segal break down the outright Big Ten champs' win over Wisconsin (2:45) before honoring the Spartans' All-Big Ten honorees and award winners (19:59). Then, they discuss the off-the-court news surrounding the program regarding the FBI, agents, and much more (29:40), including Tom Izzo's comments Wednesday on the matters (37:18). Finally, they get to previewing the Big Ten tournament in New York City (51:44), which they will be attending and reporting from throughout the weekend.
About the Writer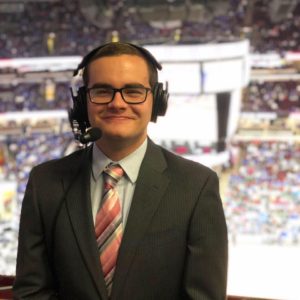 Ryan Cole, Author
Ryan Cole was the Sports Director at Impact 89FM. He was promoted from Assistant Sports Director in December 2016. He graduated with a degree in journalism from Livonia, Michigan. He covered MSU club football in Fall 2015 and was the lead men's basketball reporter for Impact. He co-hosted the MSU men's basketball podcast, Impact Izzone, with Davey Segal. Ryan also interned for Spartan Sports Network.