S5E16: Will Tieman joins the Impact Izzone
Podcast: Play in new window | Download
Subscribe: Apple Podcasts | RSS
The Michigan State Spartans are Big Ten champs! Ryan Cole and Davey Segal dive into the historic accomplishment for the Spartans, made possible after a monster comeback victory over Northwestern and a Senior Night dub against Illinois. They look at the ceremonies that followed at the Breslin and hear from Gavin Schilling, Ben Carter and Tum Tum Nairn. Then, they're joined by the voice of Spartan men's basketball, Will Tieman of the Spartan Sports Network. They discuss the Spartans' season before having some fun with a bet Will hadn't paid off with Ryan. Finally, they look ahead to the final regular season game at Wisconsin.
PROGRAMMING NOTE: Will Tieman, as of Friday morning, did in fact pay off his debts with donuts for Ryan.
About the Writer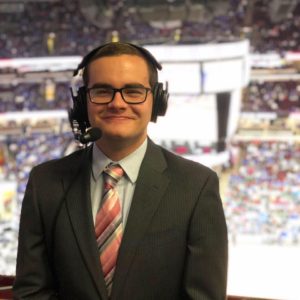 Ryan Cole, Author
Ryan Cole was the Sports Director at Impact 89FM. He was promoted from Assistant Sports Director in December 2016. He graduated with a degree in journalism from Livonia, Michigan. He covered MSU club football in Fall 2015 and was the lead men's basketball reporter for Impact. He co-hosted the MSU men's basketball podcast, Impact Izzone, with Davey Segal. Ryan also interned for Spartan Sports Network.