The end of an era: Vans Warped Tour done after 2018
After cropping up in 1995 as an alternative-rock music festival and transforming into the skinny-jean flocked, punk-rock bash fans know it as today, Vans Warped Tour has decided to cancel the traveling tour after thriving for 24 years.
Kevin Lyman, the founder of the festival, wasn't a virgin to the festival scene before starting the Warped Tour, but after countless summer vacations on the road — which includes the three years he worked and toured with Lollapalooza — he had tired himself out. Lyman confirmed he isn't leaving the music industry by any means, but still noted that "traveling around the country with a tour this size in the landscape that we're in is… to be honest, I'm just tired," he told Billboard in a recent interview. Lyman also put out a statement to fans on the festival's website.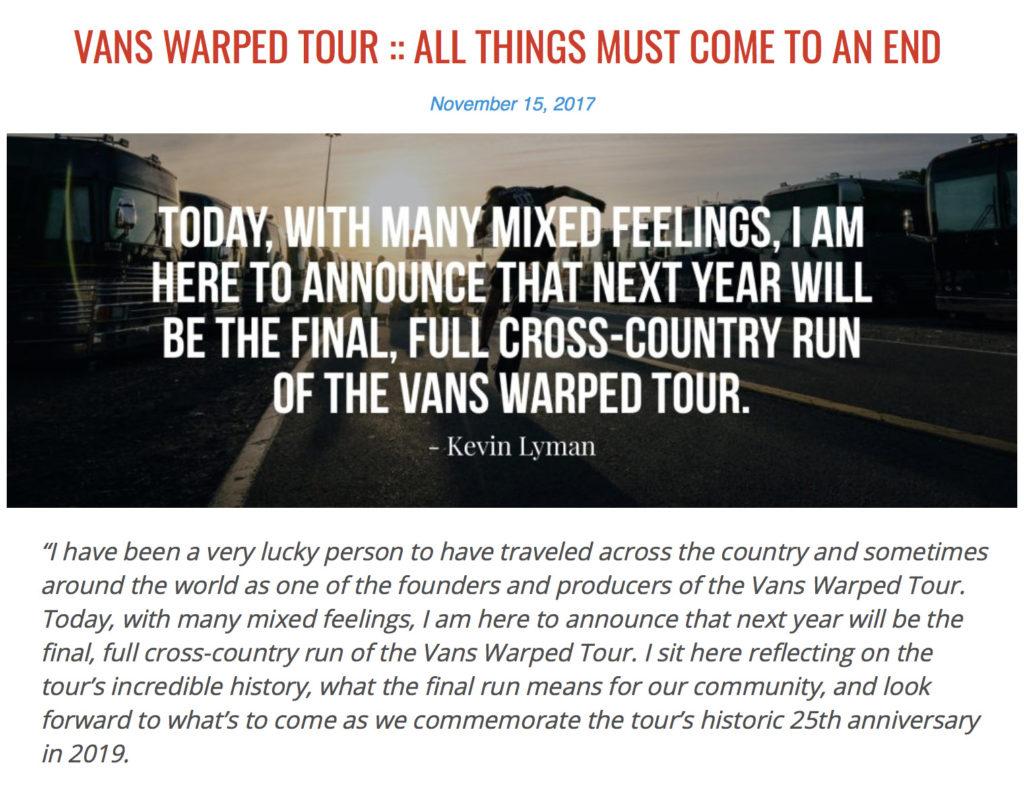 This wasn't the only factor that played part in the festival's demise though. A few years before making the ultimate decision, Lyman started seeing a decreasing pool of credible artists and bands to fill the festival's slots, as well as competition with other summer tours like Lollapalooza, Bonnaroo, and Governor's Ball and decreasing sales among its target teen demographic. Considering the tour's colorful history of artists and culture, as well as where the music industry has come to today, and you get an event that's played out its time well.
Though it started in 1995, it was initially donned as simply the "Warped Tour." The next summer, Lyman reached out to Vans, knowing he needed a sponsor to forward his vision. With Steve Van Doren, Vice president of the present-day sneaker empire, loaning Lyman some money and Lyman pushing the idea of wearing America's coolest sneakers, a match made in punk-world heaven came to be, and has been in matrimony ever since.
Outside of the festival's influence on consumer culture and the punk-rock aesthetic, Van Warped Tour also served as a huge platform for budding bands and artists to bloom into household names. Lyman and his tour were paramount in helping to foster the successful careers of bands like Blink-182, NOFX and A Day to Remember. Others who found their route to success in some part through Vans Warped Tour include Avenged Sevenfold, Modern Baseball, Neck Deep, Paramore, Katy Perry, Eminem, Kid Rock, The Black Eyed Peas and G-Eazy.
In regards to the finale of Warped Tour, expect to see nothing but the absolute best, the classic staples who gave the tour the credibility its' name holds today. While no acts have been confirmed as of yet, Lyman is determined to make the last tour as authentic as it was during the summer of '95. "You're gonna see a big mix of bands I felt really embraced the Warped Tour lifestyle," he told Billboard in an interview. "I don't want to say a 'mature' lineup, but bands that I think could use one more big push of Warped Tour to help further their careers." When Warped went punk in 1996, headliners consisted of artists like Blink-182 and Beck. Will they get the call from Lyman and confirm like we're all hoping for?
The final Vans Warped Tour begins on June 21 in Pomona, California, and ends on August 5 in West Palm Beach, Florida. Find more information and buy your tickets here.