Chris Farren started out his musical career playing in small bands as a teenager before he decided, at 18 years old, to hit the road and take his band, Fake Problems, on tour. "That was my main entry point into music" remarks Farren. "I was 100 percent focused on that band until I was 26. That laid the groundwork for the rest of my career:"  The four-piece punk band, signed by SideOneDummy, eventually split up after many years of touring, but after the split, Farren said he still wanted to be involved in making music.
"There's no slowing down for me, he said.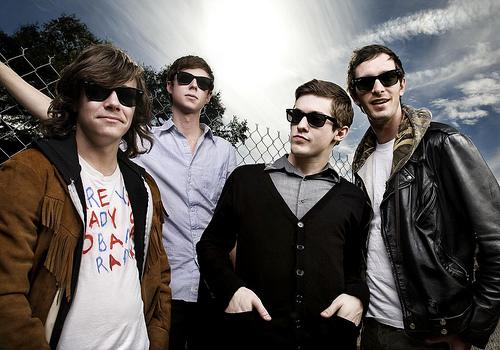 Fake Problems went on hiatus since releasing their last studio album in 2015. He met and befriended Jeff Rosenstock and formed the band Antarctigo Vespucci. Antarctigo Vespucci "reformed my passion for touring and making music" Farren said.
While working with Rosenstock filled a necessary void in his life, Farren also fueled his passion by touring solo with an acoustic guitar, playing songs from his various bands as well as others he'd been working on. After a while, however, he decided to step away from using the acoustic guitar during his set, explaining that "it doesn't sound good when you describe your act to people. It's embarrassing." Farren's switch from acoustic guitar to electric guitar also included the addition of synthesizers, drum loops and backing tracks to create a fuller, more resonant sounding performance.
"I was always afraid to use [the drum loops and backing tracks] live because they might just stop working during my set," Farren said. However, the more shows he played, the more comfortable he became with the technical sides of his performance.
This confidence lead him to start working on a full length album, but he knew he'd need to enlist the help of his friends to see the project through. After Fake Problems split, Farren kept in close contact with the folks at SideOneDummy, and while he was tossing around the idea of releasing a record, they said they wanted to help him. Farren spent the following months revising his list of 50 written songs to condense them to 12. Later, Chris released a full length studio album entitled Can't Die with SideOneDummy Records in September 2016.
Most of Farren's songs in his solo debut album deal with depressing themes with an upbeat synths and catchy hooks. "My music is like this sound of [pop] music and my mind is focused on darkness," Farren remarks. "I don't want to make music that is depressing, but there can be a cathartic feeling when the audience can relate to a song. Having the nature of the song be bright, it gives you a feeling of hope." That feeling of hope resonates throughout his album.
Chris' wife is also mentioned or alluded to frequently throughout the album. Candidly, he explains she's one of his biggest creative influences in his songwriting process. "Most of my songs are about wanting to be better for her," Farren said. He strives to be a better person which is something everyone could do.
As our conversation was wrapping up, Chris talked more about his personality, spontaneity and overall appreciation for his fan base. At a recent show in Boston, MA, Farren strutted around the venue, eventually making it to the the stage where he reportedly sang the rest of the song on his back. "I wanted to make the concert experience fun and interesting." Chris also brings a 50 ft mic cable, a light up microphone and glitter to his performances.
Happening Now – Chris Farren playing his last song via a 50ft mic cord, on the floor, in the back of The Middle East pic.twitter.com/cLOUsDfMPR

— Ken Reid (@KennethWReid) October 21, 2017
One of the most humbling traits Farren left me with was how dedication he is to his fans. Farren stays extremely active on social media, using Twitter to communicate to his fans the most.
"The thing about Twitter is that I can easily reach out and connect with my fans". There's no doubt Farren has found a lot of success through this platform. He's found ways to  break the barrier between artist and fan through social media.
Farren's musical journey has certainly been a long one, from taking the leap and taking his band on your to coming into his own as a solo artist. He's recently finished playing his midwest tour and is about to play the Masquerade in Atlanta, Georgia this week. Farren also plans to play three shows on the east coast with Jeff Rosenstock as well as play his original Christmas album in full. There might even be a possible Antarctigo Vespucci reunion — who knows. All we know is Chris Farren won't be going anywhere anytime soon.