King Gizz and Brockhampton: The Masters of Faster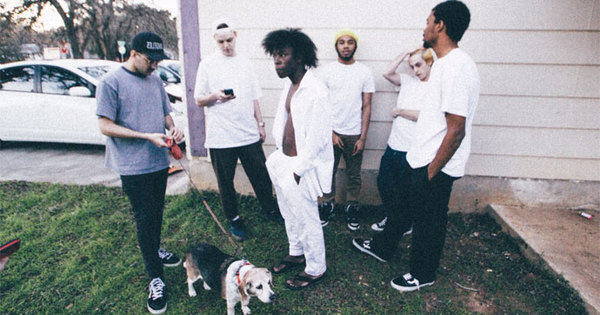 Since the days of early 2010s garage-psych and the peak of artists such as Thee Oh Sees and Ty Segall, the genre prides itself on consistency and high-volume output. While it's not uncommon to see artists sit on an album for a couple years, modern rock acts releasing multiple albums a year became par for the course in recent years. This brings us to 2017, where Australian psychedelic rock band, King Gizzard and the Lizard Wizard, have promised us five albums in 2017, including a collaboration with Mild High Club and a movie to accompany last year's record, Nonagon Infinity. The group works at breakneck speeds under frontman Stu Mackenzie, making sure to stay relevant and put a unique conceptual and musical twist on every different project they undertake. It's nearly impossible to bring up King Gizz without mentioning the perceived insanity it must take to put out five good records in a year while touring full-time and collaborating with other artists regularly. Unfair.
Let's come back to that in a second. As far as mobilizing the cultural revolution goes, hip-hop remains king of innovation in terms of style and influence. With that responsibility comes some truly unrealistic expectations from its most loyal fans, especially with the internet age coming to an apex. There is a palpable impatience when it comes to rappers putting longer than a year into a project, save a few household names or underground legends (Kendrick Lamar, MF DOOM and so on). Mixtapes, playlists, singles- an artist can have 300 minutes of listenable music before they release their "debut album." This ultimately begs the question, "when will you be satisfied?"
The answer seems to lie in a Los Angeles collective and self-proclaimed boy band, Brockhampton. After releasing their first full-length album mid-June, Saturation put these young guns on the map for their boyish charm, versatility, and stellar production. The hype behind the Kevin Abstract- fronted crew isn't entirely musically based, however. Brockhampton announced their second album, Saturation 2, before Saturation was even released, claiming they hadn't even started the first album until after the lead single was released. Well, here we are-Saturation 2 just came out, and Brockhampton has already dropped a single from Saturation 3. Sheesh.
As far as fandom goes, people seem to eat up the "'multiple albums in a short amount of time"' trend. Look at Future's last pair of albums, which made back to back number 1 debuts when released within a week of each other. While it wouldn't be hard to chalk up a couple of King Gizz's records as a little gimmicky, the people want what the people want, and evidently they want sheer quantity. Same goes for Brockhampton. No one seemed too torn up about more music from one of the most exciting groups out of California since Odd Future.
Now don't get me wrong, King Gizzard and Brockhampton have very different origin stories. While King Gizz had proved themselves long before they went on this album release tear, Brockhampton only had a mediocre mixtape under their belt and there was uncertainty that they would even live up to their potential, let alone exceed it like they have. But both bands are moving in a remarkably similar trajectory as of summer 2017. Announcing albums and tours, collaborations and videos, it's regular band stuff! The only difference is they are doing it three times as fast as their contemporaries without missing a beat quality-wise. Sure, there are guys like Viper and Buckethead, releasing hundreds of albums a year, but the cultural impact they have is entirely cult-based fascination and not at all in their songwriting ability. Instead, the Brockhampton/King Gizzard and the Lizard Wizard race against time will slowly become more and more common once artists have more access to audio production resources, like-minded bandmembers, and high-speed internet across the globe. There won't be a stone left unturned.