Steve Lacy: 2017's Most Promising Hired Gun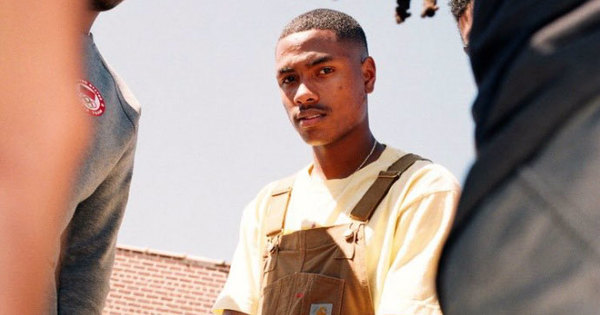 Steve Lacy is a solo musician, member of R&B outfit The Internet, and frequent collaborator with some of today's top hip-hop musicians. At only 19 years old, he has produced tracks for Kendrick Lamar, Tyler, the Creator, and Isaiah Rashad. Oh, and he records everything with a free copy of Garageband on his iPhone. Self-describing his music as "plaid," a Steve Lacy cosign in 2017 is the Midas touch. His style is distinctive and fresh, and the amount of attention he is getting from established, popular artists is indicative of his skill at such a young age.
Nominated for a Grammy at age 17, The Internet is where Lacy first caught the attention of other musicians. Producing a good number of tracks from their critically acclaimed album Ego Death, Steve laid down his simple guitar melodies that float over slightly distorted drum beats. While The Internet's frontwoman, Syd, took a big portion of the band's spotlight with her sweet voice and poetic, cautionary tales of love, Lacy had laid the groundwork and made the right connections to take off before he even graduated high school.
Lacy decided to take matters into his own hands early this year with a six track EP titled Steve Lacy's Demos. Taking cues from slacker indie that has taken over the airwaves the past couple years, Steve flexed his ability to write cohesive and great songs. "Dark Red" has a floating hook that features the same chords from the verse, but Lacy's voice is surprisingly great and he gets creative with haunting harmonies and very thought-over synth use.
While Demos definitely got some well- deserved attention— more than Lacy might have expected—he had yet to produce the biggest track of his life thus far. Featured on Kendrick Lamar's DAMN., Lacy laid down the eerie, Pink Floyd stylized instrumental for "Pride." Thought by many to be the best track from the album, the song gets close and personal with Kendrick's ego and identity. A dream come true for Lacy, he posted on Ttwitter that he got his copy of Good Kid, m.A.A.d City signed by Kendrick at a promotional event years before.
It's now July and Lacy's latest work of art is Tyler's brand new track "911/Mr. Lonely." Hopefully this track is indicative of what's next for the young musician, and his future is bright if he's already worked with one of the world's best rappers and countless other superstars.