Hip-Hop's newest boy band picks up where Odd Future left off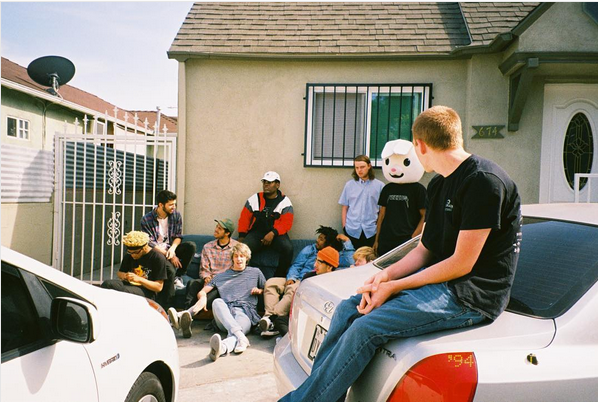 Since the official break-up of Odd Future in 2015, the industry's favorite radical rap group, hip-hop has been clamoring for the next zany, carefree collective to obsess over. Tyler, Earl Sweatshirt, and Frank Ocean have gone on to make extremely successful solo careers after Odd Future took off, effectively dissolving the group and leaving a gaping hole for young, talented musicians to become famous for having way too much fun. Some argue The Internet has already taken the mantle, as Syd and Steve Lacy are getting tons of popularity in their own right this past year, but they have taken a different lane, in viewership and musicianship alike. What made Odd Future so surprising was their grit and genuine peculiarities, their flaws were put on full display. BROCKHAMPTON is no different. They acknowledge their wacky characteristic and youthful naiveness, and they aren't afraid to put it under the spotlight.
BROCKHAMPTON is a hip-hop collective out of South Central, Los Angeles, California. Featuring budding rapper/director/actor Kevin Abstract, the group features about 7 rotating rappers and singers, a couple producers, and one friend's mansion where they all live when they aren't in the middle of the street shooting a music video. After dropping their debut mixtape, All-American Trash, last year, the self-proclaimed 'Boy Band' is gearing up to drop their second full-length project. The project's singles have thus far shown us a newly versatile depth to the group. "HEAT" is a downright scorching track that's way too hard for its own good; "GOLD" features a bouncy, danceable beat, with a great verse from band member Matt Champion; and "FACE" is a melodic track showcasing Joba's glossy falsetto. All accompanied by music videos directed by Kevin Abstract, the group finds a nice balance between gritty color corrections and ingenious concepts, painting low-budget pictures in luxury and style.
So what do these guys have that no one else has? Why do these guys seem like the next big collective since Tyler and the gang broke up? Being a young rap crew from southern California doesn't automatically make you the next Odd Future. Having a couple weirdos doesn't necessarily make you special. What BROCKHAMPTON does right is play to their strengths musically and stretch their weirdness into a shade of individuality and style that works for them. On top of having an incredibly stacked group of kids, talent wise, they don't have empty talent either. Being a part of diverse, marginalized communities gives them amazing perspective even as young, seemingly carefree men who are probably floored by how much they've blown up lately. This is a group of visionaries with talent beyond music, yet with an utter disregard toward the traditional industry, a quirky fashion sense, and divisive lifestyle choices, the parallels to Odd Future write themselves. However, one big difference BROCKHAMPTON has over Odd Future is they seem to actually work better as a team. BROCKHAMPTON is a whole that is greater than the sum of its parts, a well-oiled machine that has given us no reason to doubt their next release. I have a feeling that Romil, one of the group's producers,  is hiding something important up his sleeve, and if Kevin Abstract's VICELAND series, "AMERICAN BOYBAND" is any good, BROCKHAMPTON will be all over the airwaves in less than a year.
All we can say is, It's about time.