Run For Cover Records
What is it?
Run For Cover Records is an independent American label based in Boston, Massachusetts. Since founded by Jeff Casazza in 2004, it has declared itself as a label that houses artists ranging from indie-rock to emo, and everything in between.
Who's a member?
Despite being a label that originates from Boston, there aren't any bands on their roster that are from the city. However, their list of current artists is relatively stacked and includes names such as: Modern Baseball, Alex G, Tigers Jaw, and Citizen. The list of past members doesn't disappoint either, featuring bands such as LVL UP, Title Fight, Man Overboard, and Whirr.
A complete list of Run For Cover bands can be found here.
Why is this label so cool?
In an act to make music accessible to all, Run For Cover made the entirety of their digital catalog available as "pay what you want" on their bandcamp site. In addition to this, the label declared that they will be donating all of the proceeds from the bandcamp site to Planned Parenthood, as well as matching the proceeds to up to $5,000.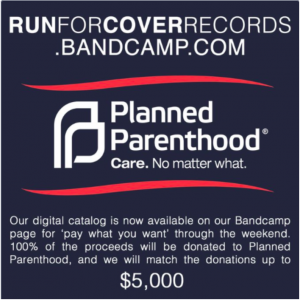 Aside from their act of charity, Run For Cover hosted their very own "festival" featuring artists from their label, which took place at Webster Hall in New York City. On December 14th, the label hosted their inaugural "Something in the Way" festival, which was comprised of three stages and 15 RFC bands all in a 5 hour time slot. The lineup included co-headliners: Modern Baseball and Basement along with performances from Turnover, Alex G, and many more.
Their Mission Statement:
Run For Cover Records website says: "This label is the product of common interests connected by wide-range discovery and a wholehearted commitment to establishing young artists from the ground up. While purist ambitions have led way to cracking the Billboard charts and being humbled by critical praise, Run for Cover gets its biggest endorsements in its role as the bridge between new bands and listeners."
Social Media:
Twitter: @rfcrecords
Facebook: Run For Cover Records
Instagram: @runforcover