Every year, thousands of people gather in Downtown Detroit to share a common love for one thing: Japanese Popular "Pop" Culture. This year Youmacon was hosted at Cobo Center & Detroit Marriott at the Renaissance Center from November 3rd to 6th in Downtown Detroit. From Main Events to Tabletop Games to Vendors Hall, Youmacon brings yet another fantastic year of fun and new treats for con-attendees. This year, we had the pleasure of attending and getting to know people who immersed themselves into a culture across the Pacific Ocean from Michigan. It was phenomenal witnessing people try to learn about Japanese culture through different mediums of entertainment. It was also refreshing to hear K-POP blaring in the crowds as well as some J-Metal. Overall, it was a spectacular weekend. We hope to see you all again next year! Stay tuned for AMM every Monday at 8:00PM to 10:00PM on Impact 88.9FM
Our Top 5 Most Common Cosplays:
Tracer from Blizzard's Overwatch video game
Cloud from the Final Fantasy series
Silent Hill Nurse from the Silent Hill series
D.va from Blizzard;s Overwatch video game
Pokemon Trainer/Pokemon
Our Top 5 must do at Youmacon:
Attend!
Visit the Vendors Hall
Play a Tabletop Game
Check out a Main event (Youma Idol, Dance, etc)
Check out a panel (91.8 THE FAN – Bad Direction, Horrible Scriptwriting)
Our Top 5 tips for Youmacon:
Stay hydrated! (There's a lot to do in so little time!)
Maintain a good budget (even though you want everything)
Stay safe (respect the rules!)
Tape (for cosplay mishaps)
Extra shoes (because heels were a good idea 3 hours ago)
We decided to try a new thing this year by having a highlight of a vendor we interview at Youmacon this year:
YOUMACON VENDOR HIGHLIGHT
Elderwood Academy 
Elderwood Academy is a Michigan-based company founded by Quentin Weir and Dan Reiss. We had the pleasure of talking to Quentin about the company and his passion for tabletop games and how it turned into his business to making gaming gear. Find out more about Elderwood Academy by visiting their Facebook page or following them on Twitter @elderwoodboxes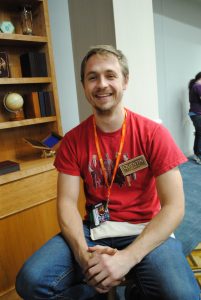 Interview with Quentin Weir, Co-founder of Elderwood Academy is currently unavailable at this time.
If you missed Youmacon this year or feeling post-con blues. We've got you covered: