What You Need to Know About Leicester City's Unprecedented Rise to the Top of English Soccer
One year ago, with 29 matches played in the English Premier League, Leicester City was in last place. Seven points from getting out of the bottom three and avoiding relegation, it looked bleak for the Foxes in their first season back in the Premier League. What happened next kick-started a rise to the top unprecedented in the modern era of English soccer.
Leicester recorded six wins from their last nine matches, enough to push them out of the bottom three "relegation zone" and up to 14th place at the end of the season. Before the start of the season, fans and experts alike were unsure what to make of Leicester. Not many gave them a chance at avoiding relegation for a second straight season, and famously, the Foxes were given 5,000-to-1 odds to win the league.
Coaching Turnaround
Even after an unprecedented season finish, Leicester's problems did not end. To make matters seemingly worse, a month after the season ended, manager Nigel Pearson was fired due to a breakdown in relationship with the team's Thai owners. The details of what went down are shady, but involved a racist sex tape that involved Pearson's son, who was later released from the club.
This move to release Pearson, while probably made for the right reasons, was still highly controversial within the Premier League media. Pearson had just pulled off one of the greatest escapes in English soccer history, and within a month was out of his job while casting doubt over the club's chances in the upcoming season.
In stepped Claudio Ranieri. Ranieri was most famous in England for managing Chelsea from 2000 to 2004, where he built them into a force within the English game. While Ranieri's best result with the London club was runner-up in 2004, he had a large part in building the team to the wealthy contender they have been since the turn of the century.
However, the Italian's stock had definitely dropped since he left Chelsea. Stints at Juventus, Roma, and Inter Milan, three of the more famous clubs in Italy, produced no championships and, in most cases, disappointing results.
The low point came in 2014 when he was hired as the national coach of Greece. Taking over after the World Cup in Brazil, Greece played four games and went winless in qualifiers for the 2016 European Championships. He was fired in November 2014 after their humiliation by the Faroe Islands, a team that at the time was ranked 187th in the world out of 209 countries.
A Roster Coming Out of the Shadows
Ranieri was not the only part of the Leicester setup that people had doubts about. The same team that suffered through most of the previous season's campaign needed an overhaul just to avoid relegation. Ranieri picked up some of the best value transfers of the season and mixed them in with some underperforming players to create the Foxes' squad.
Central midfielder N'Golo Kante was signed from French team Caen for just 5.6 million pounds, and has been the workhorse in the Leicester midfield. Running and tackling for 90 minutes match after match has been the standard for Kante, who is now courting interest from the biggest clubs in Europe. Kante's role has been described best by London newspaper The Daily Telegraph, where legendary Manchester United manager Sir Alex Ferguson called Kante "by far the best player in the Premier League this season".
Besides Kante, Austrian left back Christian Fuchs (four assists this season) was a free transfer from the German league, and English center back Robert Huth (four goals) was picked up on the cheap from Premier League team Stoke City. Their play has not been flashy, but the Leicester defense has conceded just 33 goals in 35 games, third best in the league. The defense has been important, but where Leicester have really caught the eye this year is with their attacking play.
English forward Jamie Vardy has been described as a "fantastic horse" by Ranieri, and his play this season has been the stuff of dreams. Vardy has almost literally gone from rags to riches through the English divisions, as just four years ago he was playing in a semi-professional league. Imagine Stephen Curry playing in the D-League four years ago, and you may get an idea of how far Vardy has come.
[su_quote]Imagine Stephen Curry playing in the D-League four years ago, and you may get an idea of how far Vardy has come.[/su_quote]
The 28-year-old moved to Leicester in 2012, and after serving in the backup role last season and scoring five goals, he has burst onto the scene in a big way. This season he scored 22 goals (good for third in the league) and picking up six assists. Notably, Vardy also broke the Premier League record for consecutive games with a goal, scoring in 11 straight games and breaking the record against Manchester United in November.
Highlight-reel goals against Liverpool and West Brom have been the norm for Vardy, whose performance this season has earned him a likely call-up to the England national team squad for this summer's European Championships. That said, the player providing Vardy is perhaps the most important piece of the puzzle for the Foxes.
Algerian Riyad Mahrez was named PFA Player of the Year last Sunday, and along with Vardy, Kante, and defender Wes Morgan, was also named in the PFA Team of the Year. Not many would have guessed that Mahrez was destined for the top individual prize in English soccer when he was signed in 2014 from second division French club Le Havre for just 400,000 pounds. Mahrez worked his way into the lineup, and this season his creativity and dribbling has produced 17 goals (fifth best in the league) and 11 assists (third) in the Premier League.
Leicester has taken advantage of troubles with the traditional powers and put themselves in pole position to win the league. Defending champions Chelsea started the season slowly and fired their manager in December. The two Manchesters (United and City) have struggled with consistency. City at present is in the Champions League, clinching a top four position in third, while United are five points behind in fifth.
It was thought, with their hot start to the season, that it would finally be Arsenal's year, and a dramatic win over Leicester on February 14th brought them within two points of Leicester. However, disappointing results down the stretch have put the Gunners in the familiar position of late-season collapse, currently languishing in fourth place.
The Unlikeliest of Champions on the Grandest Stage
Their London neighbors Tottenham Hotspur have been the only real challengers to the top spot since late March. Featuring PFA Young Player of the Year Dele Alli and 22-goal forward Harry Kane, Tottenham have made the leap this season from typical fifth and sixth place finishes to title challengers. A 4-0 win on April 18th against Stoke City brought Spurs within five points with four matches left, but a 1-1 draw with West Brom on Monday night has put Leicester within touching distance of their first Premier League title.
A 2-2 draw with West Ham the weekend that the Spurs thrashed the Stoke raised a few doubts about Leicester's ability to keep their hold on the top spot, as Vardy was shown a red card for diving and earned a two-match ban for his conduct. However, a 4-0 win over Swansea City last Saturday coupled with the Spurs draw has put them seven points ahead of Tottenham with three matches left:
| | | | | | | | | | |
| --- | --- | --- | --- | --- | --- | --- | --- | --- | --- |
| Pos | Team | GP | W | D | L | GF | GA | GD | Pts |
| 1 | Leicester | 35 | 22 | 10 | 3 | 63 | 33 | 30 | 76 |
| 2 | Tottenham | 35 | 19 | 12 | 4 | 65 | 26 | 39 | 69 |
This sets up a scenario no one saw coming at the start of the season: Leicester travel to Old Trafford, the home of Manchester United and one of the most famous stadiums in world soccer, needing just one more win to secure the unlikeliest of championships.
The Foxes will be without Vardy, who is serving the second of his two-match ban, but judging by the performance against Swansea, Leicester City could make history on Sunday morning at 9 a.m. EST on NBCSN.
About the Writer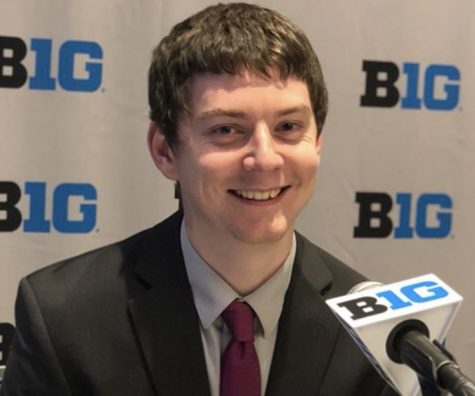 Kyle Turk, Author
Kyle is a recent graduate who last served as WDBM's Sports Editor, a position he had held since December 2017. A Lake Orion, Michigan native, he covered MSU football for the past two years as well as fill-in duty for men's basketball in that same stretch. He will also wake up on weekend mornings to watch English Premier League soccer. Hire him.