Oakland Upsets Spartans Despite Gonzalez Performance
With a result that not many would have predicted pregame, the Oakland Golden Grizzlies grabbed a narrow 3-1 victory over an unfocused Michigan State ballclub Tuesday afternoon.
While the tying run did come to the plate in the bottom of the ninth for MSU, Oakland looked in control from the start.
Left fielder Zach Sterry was the standout batsman for OU and continued the hot hitting that got him the Horizon League Batter of the Week award last week. The junior notched two doubles, including a shot off the left-center wall in the top of the sixth, and ended up scoring the game winning run later in the inning on a Ian Yetsko single.
Sophomore righty Andrew Gonzalez was the bright spot for the Spartans, as his pitching through five and one third strong innings kept MSU in the game. Despite finishing with his first loss of the season, Gonzalez picked up a career high six strikeouts, walked none, and scattered just five hits across those innings. Gonzalez left the game after throwing 72 pitches, and was relatively positive about his outing postgame.
"I thought I threw the ball pretty well. They made pretty good swings when they needed to, but I felt like I hit spots," Gonzalez said after the game. "I had to focus in [after two base hits in the first inning] a little bit more and compete a little bit harder early on."
Head coach Jake Boss was less than impressed with his team after the game.
"We needed to play harder than them and we didn't," coach Boss said. "Our effort at the plate was not good today at all and that's on me, I need to do a better job getting these guys ready to play."
A normally solid MSU offense was held largely in check by Chris Van Dyke and the OU pitching staff. Van Dyke, normally a reliever, kept the Spartan bats largely in check, going four innings and giving up just two hits. After MSU's lone run came via a Zach McGuire double in the bottom of the fifth. Logan Sparkman, Jake Lee, and Nate Green surrendered just two hits out of the Golden Grizzly bullpen.
For a team coming into the game ranked eighth in the nation in batting average, seven hits and one run was not the expected offensive outcome.
"Our approach at the plate today was just horrendous," Boss said. "We put bad swings on hittable balls, we chased balls out of the strike zone, overall very disappointing offensively."
While infielder Marty Bechina made a rare start in center field and picked up two hits, the middle of the order wasn't able to produce runs. Left fielder Taylor Grace went 0-4, first baseman Jordan Zimmerman 1-4, and right fielder Kris Simonton was 1-3, which wouldn't cut it against an Oakland team that came ready to play.
Coach Boss was adamant on his team's failure to play up to standards.
"We knew they would be highly motivated, and we needed to play harder than them and we didn't," Boss said.
It took until the ninth inning for anything resembling a comeback to surface for MSU. Oakland closer Nate Green attempted to pick off MSU second baseman Dan Durkin, who had singled earlier in the inning, and bounced his pickoff attempt towards the OU bullpen. Durkin took third on the play. However Grace struck out, and Zimmerman's fly ball to right couldn't score the runner.  Simonton grounded to short to end the game.
The loss moves the Spartans to 18-4 on the season before a three-game home series with the Pac-12's Oregon Ducks. The series will start Friday, April 1 at 3:05 p.m.
About the Writer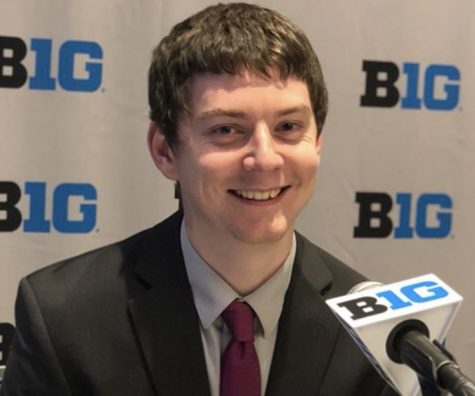 Kyle Turk, Author
Kyle is a recent graduate who last served as WDBM's Sports Editor, a position he had held since December 2017. A Lake Orion, Michigan native, he covered MSU football for the past two years as well as fill-in duty for men's basketball in that same stretch. He will also wake up on weekend mornings to watch English Premier League soccer. Hire him.