Sufjan Lightens Up in Cincinnati
Hang on for a minute...we're trying to find some more stories you might like.
"Well you do enough talk my little hawk, why do you cry? Tell me what did you learn from the Tillamook burn? Or the Fourth of July? We're all gonna die" – Sufjan Stevens, "Fourth of July"
Sufjan Stevens writes about all things sad, focusing on themes from abuse and abandonment to death and the devil.  I saw him at the beginning of his Carrie & Lowell tour back in April, and back then he fully embraced his persona as a master of sorrow, opening his encore to talk about "cosmic companions" staying with those that have died. But, on November 13, Sufjan performed at the Aronoff Center in Cincinnati, Ohio and broke away from his mournful new album, apologizing for having to sing lots of "songs about death." In between ballads about self harm and growing up, he cracked jokes and da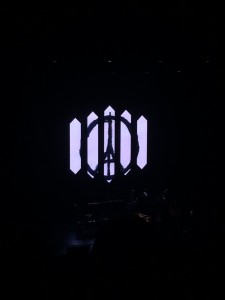 nced, offsetting the melancholy lyrics and creating a much different environment than the earlier show I saw.
As Stevens performed, home movies were projected on thin, dismembered screens. They showed Stevens
as a playful kid surrounded by his once-in-love parents. Throughout the performance, the display turned into scenery of oceans and forests, and eventually exploded into an electronic fueled disco light show. He also flashed a Paris peace sign as an act of solidarity with the nation.
Along with playing the majority of Carrie & Lowell, he also played "Vesuvius" and "Futile Devices" from his 2010 album Age of Adz, his most electronic-based record yet. This mix of genres allowed for a lot of artistic play when it came to the set and is what offsets Stevens as an artists — he's not just a folk artist or an electronic artist. He writes songs that defy genre and are based in what he's interested in at the time.

Cincinnati marked the last stop on his 93-show-tour, and it was easy to see the sentimentality he had with his band members. For his encore, he strapped on a trucker hat and did an old-style Acoustic jam session. The encore was laced with Stevens forgetting some of the words and laughing it off. No one in the audience cared; everyone excited to hear songs that dated back to the early 2000s. He played over five songs including "Heirloom," "John Wayne Gacy, Jr," and "For the Widows in Paradise, For the Fatherless in Ypsilanti," ending it all with "Chicago." I never thought I'd hear the acoustic version of "Chicago," and I am oh-so-glad I got to. As corny as it sounds, seeing Sufjan Stevens was a transformative experience. But, then again, Stevens is the king of corny, so I'm in good company.