Common Ground Music Festival | Wednesday Recap
I stood at the far corner of Common Ground Music Festival in Lansing on Wednesday, July 8, confused and sporting a press photography pass. Another with a matching pass asked me, "What are you shooting with?" I paused, looked down, and replied, "My iPhone?" This goes to show just how inexperienced I was covering music festivals, with Common Ground being my first.
The day was all uph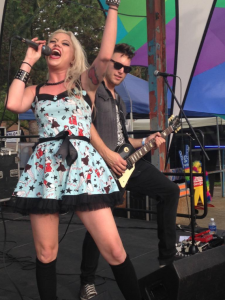 ill from there, featuring a wide variety of dad-rock, metal, and good old fashioned rock and roll with highlights such as Jane's Addiction, Here Come the Mummies, In This Moment, and Kaleido.
The first group I saw was Detroit-based Kaleido, full of sass and spark and led by a strong female musician who refers to her bad side as "Jane".
Let me tell you, she had pipes.
Kaleido flaunted strong crisp and surprisingly poppy vocals with a nice classic rock backing band. The show was early in the day but still extremely high energy and exciting, with a smattering of fans dancing enthusiastically. There were minor technicalities with the mic volumes but it didn't interfere too much with the quality of their set.
Definitely check this group out if you are a fan of badass female vocals, Paramore, or having fun.
I meandered over to the main stage to catch most of In This Moment, an electronic metal band that embellished their set with samples from popular movies and hip hop influence. They were also fronted by a female lead, but this time done with a wide range of set pieces and theatrics.
A big misconception people have is that metal music can't boast a positive message, but In This Moment proudly and loudly preaches acceptance, when it comes to sexuality, being a woman, or just being outright weird.
As I left this show I noticed for the first time just how many different types of people attended Common Ground Wednesday. I saw groups of teens and preteens of all different social groups, as well as families and even gaggles of children.
I noticed a lot of those people were dressed in makeshift toilet paper outfits with white face-paint as a nod to the band Here Come the Mummies. This was the most enjoyable show of the evening. I was completely blown away by the huge crowd the band drew, even though they hailed from Tennessee and weren't a headlining act.
The band members were mummified from head to toe in gauze, face paint and stylish accessories. They consider themselves to be a funk group and are known best for their live performances, which comes as no surprise considering it was phenomenal.
I closed out the night with Jane's Addiction, surrounded by die-hard fans.
Overall, Common Ground was a great excuse to enjoy a day outside in one of Lansing's most beautiful parks, experience brand new music, and a wacky group of folks.