Tyler, the Creator at The Fillmore
A Tyler, the Creator show located right in the heart of downtown Detroit, and a four-hour wait outside on the concrete: it should come as a surprise to few that during my experience there on May 9 at The Fillmore, eccentric activity was thriving.
One of the first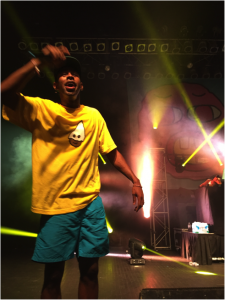 things I noticed that night before I started my wait for the Tyler show was the plethora of dedicated fans already waiting. Almost every other person was wearing OF merch, blasting Cherry Bomb, or gushing about their eagerness for the show. I spotted an OF donut tattoo on the thigh of the person sitting next to me (this is notable because, damn, getting an artists' symbol or logo tatted on your body shows some dedication if you ask me), a poster or two, and a cute stuffed horse the girl next to me in line had in the intention to give it to Tyler. I have waited ridiculous amounts of time before concerts for quite a few shows, and I have never experienced the sense of community as I did here, which was aweing and inspiring. The excessive amount of free Jimmy John's subs that were passed around by other fans made my wait more pleasant, too.
Why the hell am I still rambling about my pre-concert experience, you may ask? I think it is important to note the raw, passion and connection that a majority of Tyler's fans feel for his music in order to further comprehend the physical intensity of the crowds at his shows. Others may view it as mindless, drugged up moshing, but personally, I see a much different picture here.
Out of breath after running to the barricade (after sternly being asked to slow down…sorry), I anxiously clutched to my future haven: the metal barrier that I would later hold onto for the life of me. A security guard minimized the painful misery of the unknown when he informed us that Taco was scheduled to perform a 9:15, and Tyler at 9:35. To my surprise, Taco stormed the stage at 9:15 on the dot, and vamped up the energy of the crowd immediately. His set was composed of the perfect array of hip hop hits, and his dance moves were more than enough to rouse up anyone in preparation for Tyler's set. I was thoroughly impressed with his ability to energize the crowd, as it is a huge challenge as an opener, even if they are as closely affiliated with the main act as Taco is to Tyler. The length was short, but sweet, as Tyler emerged onto the stage a near 20 minutes later, with a surprise addition of Jasper Dolphin, another Odd Future member. Catering to the presence of his co-performers Jasper and Taco, the first song performed of the show was an oldie from Goblin, "B**** Suck D***," that the two are both featured in. Upholding the reputation of knowledgable, diehard fans, it seemed everyone in the house was familiar with this high tempo song with ridiculous, obviously satirical lyrics, and boy, was the energy ridiculously high. From there on out, Tyler integrated songs from Cherry Bomb, Wolf, and even a few from Goblin. New or old fan: you could not be disappointed by the variety in the set list.
Tyler's interaction with the crowd consisted of a few light-hearted flicks of his middle finger to fans and a handful of eccentric conversations. A few "I hate yous" were given by Tyler in the crowd, also un-surprisingly. Hey, its a pleasure to be told "I hate you" by Tyler, The Creator according to a sum of people. Tyler was thrilled by the gift of the plush horse, and declared her name to be Tiffany, before making many comments to the plush toy, consistently checking on her to see if she was "okay" with the upcoming song. In my opinion, it always makes concerts so much more enjoyable when you feel like the ar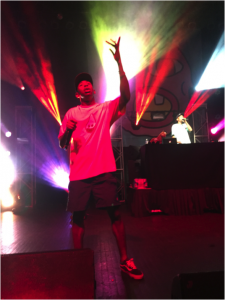 tist is actually mentally there and with you, and Tyler succeeds at this so well. He makes fans feel like he, well, actually gives a sh*t about them, in a twisted, weird way of flicking them off and telling them he hates them with other teasing. It is all part of his persona, as many of his fans know, and people knew to not take it seriously. His incredible energy in  songs like "Tamale" and "Rella" is contagious, and accounts for the crazy crowds at his show. To see a performer with that kind of adrenaline and passion for performing resonates with you.
I can say that after the massive pressure from the humans behind me pushing me into the barrier, all the standing for hours, the sweat and overall stench of humans next to me that was passed onto my clothing, and the countless numbers of elbows shoved onto my head/back/other body parts, my experience was more than worth it.
Tyler's insanity is something that cannot be equated in a Youtube video. A handful of bruises on different spots of my body a day later, I am still dreaming about my sweaty, elbowy, yet high-powered, euphoric, and intensive front row concert experience at Tyler, The Creator.