EAST LANSING – Michigan State women's basketball  hosted its third of four straight home games to begin the season on Thursday night against the Detroit Mercy Titans. 
The Spartans have handled the Titans in the past, winning the last 19 matchups. The last time Detroit Mercy beat Michigan State was back in 1994. 
Moira Joiner came out hot for the Spartans, scoring their  first four points. She finished  the game with 17 points along with 4 assists.
The Titans were successful offensively in the first quarter, answering all of MSU's runs. Detroit Mercy made seven field goals and only trailed by three after the first 10 minutes. 
However, from the second quarter onward it was all MSU. DeeDee Hagemann started the second quarter strong by drilling a three-pointer to set the tone and finishing with seven points in the quarter. Hagemann finished the game as the leading scorer with 24 points. She has led the team in scoring in all three games this season.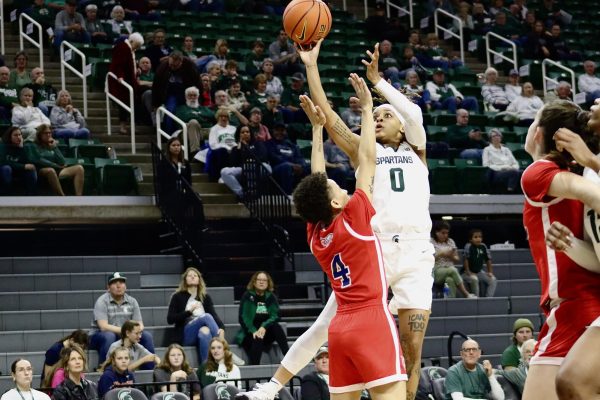 In the second half, MSU defended well as the Titans struggled to make shots, only shooting 28 percent from the field. 
The Spartans connected on 14 of their 19 threes from behind the arc, shooting 73 percent.  MSU head coach Robyn Fralick joked about the performance after the game.
"I was teasing them, I was saying we shot threes better than we shot free throws," Fralick said. 
After scoring 99 points in the exhibition game against Davenport and also 99 against Wright State, Fralick said the team was happy to score triple-digits.
With a final score of 105 to 44, this was the largest margin of victory of the year for the Spartans. 
"We were at 99 twice so, we were excited but we know but it's a long season," Fralick said. "You got to savor the moment and savor good things but you can't sit on them for too long." 
Michigan State is back at the Breslin Center this Sunday, Nov. 19, to take on Evansville before they head to Mexico for Feast Week.