Harm's Way, the straight edge hardcore band from Chicago, is currently on their record release tour for their 2023 album Common Suffering. They announced this tour following the release of their single "Devour," an incredibly emotional track which captured my attention and only made me more excited for the album. So, when I saw that Harm's Way was touring with Ingrown, JIVEBOMB and Fleshwater, I just knew I could not miss out on this show. So, on Oct. 22, I packed my bags and departed from East Lansing to have the night of my life. 
When my friends and I arrived at the venue, I was ecstatic. We were lucky enough to meet and take a picture with the Running Man himself, James Pligge, lead singer of Harm's Way. I was way too excited to meet him, and I will never forgive myself for ruining our picture together by smiling. I was simply way too giddy in the moment, which you can't blame me for. Pligge was running the merch table, so I absolutely had to spend my money on a t-shirt that I couldn't afford, although I have no regrets in doing so.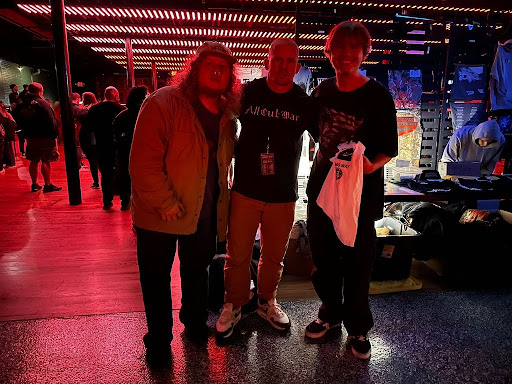 Three familiar faces also made an appearance at the show. Airstaff coach and Thee Hourz O' Power host Nick Sanchez, media librarian Shay Gale and video editor Ana Wagen were there representing the Impact. It was also such a treat to see a bunch of my friends from back home who I had not seen in a long time. This only added to my excitement for what was to come. 
Doubt It!, a Detroit hardcore band, was added to the bill a couple days beforehand, and they were the first band to perform. When the music was just about to begin, I was still on the fence about whether or not to join the pit. I was given a media pass for the show and wanted to write about my experience and how the bands performed. But when Doubt It! began playing, something came over me. If I was planning on writing about my experience at the Harm's Way show, then I had to "experience" a Harm's Way show. So, into the pit I went. This was the best decision I could've made. Doubt It! absolutely killed it, setting a high bar for the bands to follow. Don't sleep on Detroit hardcore.  
Following Doubt It! was a Maryland hardcore punk band called JIVEBOMB. JIVEBOMB came out with an energy that took the venue by storm. The air was charged with raw fury as lead vocalist Kat Madeira poured pure anger into their microphone. The pit went crazy for JIVEBOMB. Windmills were thrown and asses were beaten, and as a man with asthma, I did my absolute best to match that energy without collapsing. 
At this point in the show, my adrenaline was pumping hard. I did not want the music to stop. The 20-minute breaks in between sets felt like hours to me. All I wanted was more, and more is what I received. Ingrown stunned me with a blitz of unapologetic intensity which can only be described as thunderous. This Idaho-based band left a staple in my mind and instantly made me a fan. 
Fleshwater dropped one of my favorite albums of 2022, so I had been greatly anticipating their performance. What a pleasure it was seeing them live. People were stage diving left and right, and I made sure I was at the forefront of the chaos. Beforehand, I heard from friends who had seen them before that they are incredible in person, and I couldn't agree more.
Up next was our final act. The room went dark, and Harm's Way took the stage, opening with their track, "Silent Wolf." This opening had the possibility to be one of my favorite openings I had ever seen. The building was trembling as Harm's Way unleashed an onslaught of aggression, and Pligge put on an absolutely amazing performance.
There was only one thing holding it back, and it was something that the band could not control. The crowd had to have used all of their energy during the openers because the Harm's Way pit was honestly pathetic. During many of their tracks, there were maybe two to three people moshing, maximum.
I tried my best to enter as much as I could, but my asthmatic lungs were having trouble at this point. I didn't see a single stage dive, which is rare for a band like Harm's Way. It did not diminish the performance to me, but we could've shown out better for Harm's Way. The next time Harm's Way comes to Detroit, I will be there because Oct. 22, 2023, was a night I will remember for days to come.