EAST LANSING – The Michigan State women's basketball team hosted the Wright State Raiders at the Breslin Center on Sunday afternoon in their second game of the season. The Spartans started slow, but pulled away, winning 99-55
Sunday was a family reunion for Michigan State guard Jocelyn Tate, who faced her older sister, Jada, a forward for Wright State.
Wright State hung in with MSU early, shooting 50% from the field, and held the Spartans scoreless from three-point range. The game was tied at 19 through the first quarter.
Early in the second quarter, senior guard Gabby Elliott made the first three for the Spartans, which opened up the floodgates. Elliott led the way in the second quarter, where her team outscored the Raiders 30-5.
Michigan State's relentless pressure on defense gave the Raiders fits. The Spartans forced 18 turnovers and took advantage of them, scoring 19 points off the turnovers.
Graduate student Moira Joiner finished the game with 13 points, which included a smooth euro step in transition that brought the crowd to its feet early in the second quarter.
"I was going through my mind how am I going to score this ball and the two people split, so it was kind of natural," Joiner said.
Once again, DeeDee Hagemann was the leading scorer for the Spartans. The sophomore guard finished with 17 points and 8 assists. On the defensive end, she was even more impactful by pressuring Wright State's guards and diving on the floor for loose balls.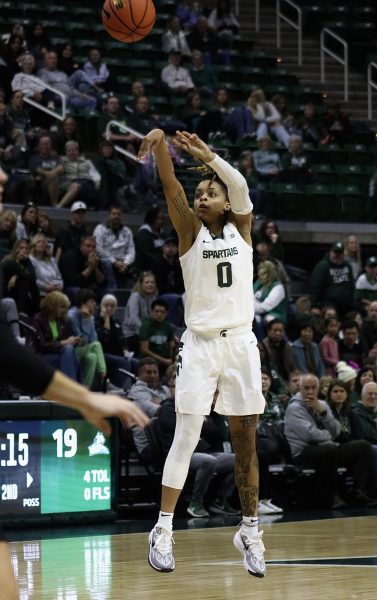 "She was dynamite, to be a really, really good player you have to be a two-way player. You have to play on both ends of the court," MSU head coach Robyn Fralick said.
In the waning moments of the game, the Spartans led by 40 points and rested their starters. Freshman guard Bree Robinson got a chance to score her first points as a Spartan, as she was able to drive to the basket and score, which led to an eruption on the bench by some of the veteran players, including Joiner.
"We were trying to set up a play for her, to get her a bucket, and she ended up taking it to the hole, so we were very excited," Joiner said.
Michigan State will be back at the Breslin Center for its next game against Detroit Mercy on Thursday, Nov. 16 at 6:30 p.m. It will be the third of four home games to start the season.