EAST LANSING – Coming off a full week of rest, the MSU women's soccer team settled for a 1-1 draw against Ohio State in their first match of Big Ten play. 
 The draw is MSU's second in a row, sending them to 5-2-2 on the season, while Ohio State goes to 4-2-2.
This game was highlighted by missed goal opportunities for both sides. The second half felt like it was dominated by Michigan State, as they had five shots and constantly kept the pressure on Ohio State's back line. A few miscues on the MSU strikers just not quite lining up shots would prove to be the deciding factor in the draw. 
"We have got to finish our chances better," said Michigan State head coach Jeff Hosler. "We're just not efficient in front of the goal. All of the information we get from the scout and how we're going to score against goalkeepers are just totally ignored. The scout was hard and low, and we shot everything high and right."
 The scoring was opened in the 15th minute by freshman Bella Najera, who continues to prove that she is Michigan State's most efficient player. Last week, Coach Hosler spoke about Najera being the best player on the team right now, and he reiterated  that this week. 
"She scores goals the way we talk about in the scouting report," said Hosler. "Bella has just been incredibly committed to everything in this process. When she puts herself into situations in front of the goal, she's quality."
Ohio State's Peyton McNamera took a shot to the top right corner, only to have it saved by MSU's Kaitlyn Parks. Just 30 seconds later, defender Sophia Louder capitalized  on her opportunity, and that was  the equalizer for the Buckeyes.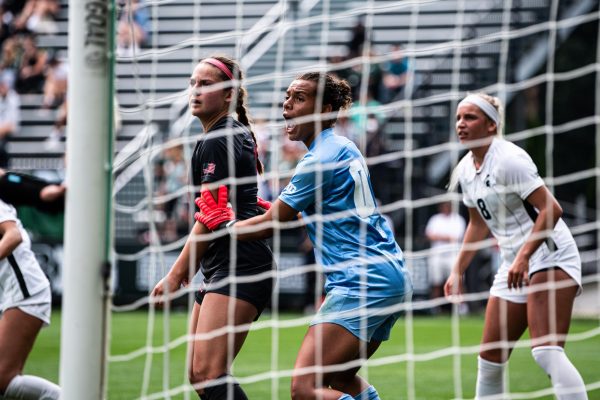 The Spartans' keeper Kaitlyn Parks was very impressive in the draw, saving 9 of the 10 shots on goal from Ohio State. 
Afterwards, Hosler expressed his disappointment in Sunday's loss. 
"I think the mood here at the end of the match says a lot," said Hosler. "They're (Ohio State) walking away pretty thrilled with a point, and I think our group is a little disappointed to potentially drop two points. When you don't win games that you are in a position to win, it's really hard to win a championship."
Michigan State continues conference play on Thursday, Sept. 21, taking on Minnesota at 7 p.m. on the road.