The Eras Tour Experience | Taylor Swift at Ford Field
I grew up listening to popular Taylor Swift songs on the radio, so I was always familiar with her work. I never dug deeper until I listened to Folklore last spring, which is when I really became a true fan and dove into her discography. This made me realize I needed to see her live and in concert. Fortunately, I had friends who also wanted to see her when she announced the Eras Tour. Ticket sale day came. We all had our laptops ready and got lucky. Within 30 minutes, Eras Tour Tickets were ours.
On Friday, June 9th, I attended Taylor Swift's Eras Tour in Detroit, Michigan. The energy inside Ford Field was electric from the moment I stepped in. Everybody was dressed up in their favorite Taylor era — I specifically had my Lover era button-down shirt on. Merch lines were some of the longest I have ever seen for a concert. Many people had the number 13 written on their hand. Left and right were people trading friendship bracelets. 
I got to my seats with my friends, and we waited for Taylor. The time came. She emerged from below the stage on a platform singing "Miss Americana & The Heartbreak Prince." I have never heard Ford Field so loud in my entire life. She started with Lover songs, and "Cruel Summer" was my favorite from the bunch. The crowd screamed the lyrics along with Taylor after she said, "I personally would prefer for us to cross this bridge together, and by cross it, I mean scream it!" We listened and screamed the bridge of "Cruel Summer" back to her. 
Following Lover was the Fearless era. This era brought me back to my childhood, and as for Taylor, she said, "Let me take you guys back to high school." As a kid, I never imagined being in a sold-out stadium screaming the lyrics to "Love Story," "You Belong With Me" and "Fearless," but here I was having the time of my life, in my own little world. 
After Fearless, we transitioned to Evermore. The performances from the Evermore setlist were simply beautiful. Taylor's pure vocals were on display, and the crowd was once again putting on their own show for her. One of my favorite moments of the whole show came after her performance of "Champagne Problems." Taylor was smiling at the crowd as she stood up and stepped away from the piano. The crowd went nuts. Everybody was cheering and screaming for her. You could tell she was just taking in the moment and loving every second of it. An icon was before me. 
Next up in our journey was Reputation, which was probably the most electric stretch of the night. The songs Taylor chose were perfect. The upbeat pop, hip-hop songs were so captivating, and she killed it. The combination of flashing lights and bass drop on "Ready For It," the vibes during "Delicate," the ultra-high notes during "Don't Blame Me" and the crowd singing back during "Look What You Made Me Do" made it an era to remember forever. To top it off, her black-sequined catsuit shined on the big stage.
"Enchanted" came next, the only Speak Now song, which was followed by Red. Here, once again, I felt like a little kid jamming out to Taylor in the car, shouting classic lines — "I don't know about you / But I'm feeling 22," "I remember when we broke up the first time / Saying, 'This is it I've had enough,'" and " Now I'm lyin' on the cold hard ground." Lastly, the grand finale of Red was "All Too Well." I sang the whole 10 minutes, word for word, with the rest of the crowd. It felt like a scene right out of a movie.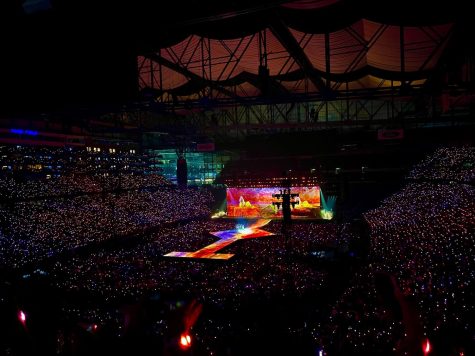 My favorite Taylor album, folklore, was next. The highlight here for me was "betty." I have loved "betty" from the second I listened to it last year, and the live performance was everything I expected and more. It is one of my favorite Taylor songs ever because it tells a relatable love story of a guy losing his girl after cheating on her. "august" was probably the most beautiful stage design of the whole night. Ford Field lit up like a sunset as the crowd's bracelets lit up in full rainbow colors. The image I captured of the moment is now my computer background. One of my favorite things about listening to music are those certain lyrics that make you fall in love a song. "the last great american dynasty" has a lyric like that: "Filled the pool with champagne and swam with the big names / And blew through the money on the boys and the ballet." Although this album was calmer than most Taylor albums, it was very much a staple of the whole night.
1989 absolutely stole the show for me. Reputation was the most electric, but 1989 was the most fun. Personally, I never find myself going back to the popular 1989 songs besides "Style," but the way these songs were performed excited the crowd. All I wanted to do during this whole set was dance. "Style," the perfect summer concert song, was first. Screaming the bridge of "Shake It Off" was very satisfying to say the least. During "Bad Blood," fire ignited from the stage. My adrenaline was through the roof after the 1989 set, and my voice was officially raspy. 
Before Midnights, we got the most unique part of every Eras concert:  the surprise songs. Everyone was on the edge of their seats. What was Taylor going to play that she had not played yet? The crowd was tense and anxious. Then, Taylor started singing "Haunted" off of Speak Now. People screamed, and like every other song that evening, everyone knew the lyrics. Next up was "I Almost Do" from Red. During this song, Taylor played the piano instead of the guitar, and it was angelic. 
Last but not least, we made it to Midnights, Taylor's latest release to close the night. "Lavender Haze" is such a vibey song, and I loved it live. I also really would not mind owning the purple fur jacket she wore during it — very stylish. "Anti-Hero" is the most streamed song on Spotify from the album, but it was a different experience live. It shined. "It's me, hi, I'm the problem, it's me," may be one of the most relatable lyrics to sing for many people, and it was delivered perfectly. My favorite song from this era was "Bejeweled." Taylor wore a sparkling top and teased the audience, using the TikTok dance move when she sang "shimmer." I cannot speak on the Midnights set without mentioning the dancing and Taylor's moves during "Vigilante Shit." Taylor and her crew danced on chairs, asserting dominance as she sang about seeking revenge. "Karma" was the last song of the evening, and once it was over I had to sit down and reflect.
Choosing favorite songs is such a hard decision because I'm biased towards my personal favorites, but the live performances gave me a new perspective on other songs. I would like to say my top five performances of the night were "betty," "Don't Blame Me," "Style," "champagne problems," and a tie between "Cruel Summer" and "Enchanted." Honestly, every song was perfect in its own way, and I am not sure what could have made any of them any better. 
This was easily the best concert I have ever attended, and I am not sure when or if it will be topped. Between Taylor's vocals, piano playing, guitar strumming, the dancers' choreography, the stage design, the costumes and the whole energy Taylor's fans brought to Ford Field, everything together made the concert one I will never forget. Thankfully, I took plenty of videos to help me remember the magical night. If you have tickets for the Eras tour and are waiting for your turn, I guarantee you will have so much fun, so enjoy every minute of it.