Album Review | So Much (For) Stardust by Fall Out Boy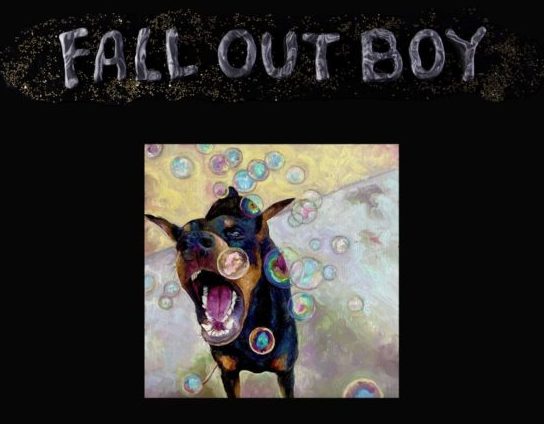 When Fall Out Boy changed their social media profile pictures to a yin-yang-esque smiley face in January, I knew something was up. They didn't do that for no reason: It clearly meant they were up to something. On Jan. 18, they released the lead single off their next album, So Much (For) Stardust, "Love From The Other Side."
This song's powerful guitar and beating drums told me all I needed to know about this next project: Fall Out Boy was back.
So Much (For) Stardust is the eighth studio album from American rock band Fall Out Boy. The album debuted at No. 6 on the Billboard 200 album chart, and peaked at No. 1 on the US Top Rock Albums chart. So far, it's received overall positive reviews from critics.
So Much (For) Stardust has themes surrounding mental health, heartbreak and burnout from the COVID-19 pandemic. This is probably the first record I've heard that effectively discusses the pandemic without sounding cheesy and cliché.
After receiving mixed reviews for 2018's MANIA, which took a more experimental approach to the Fall Out Boy sound with synth and electronic elements, it appears that they returned to form on So Much (For) Stardust. However, there are still electronic elements throughout the album, showing growth within the return to form.
The theme of mental health on So Much (For) Stardust becomes especially poignant when you look at the band's life outside of performing. Prior to the album's release, guitarist Joe Trohman actually announced that he was taking a break from Fall Out Boy for mental health reasons. Hopefully he'll return for the tour this summer.
My favorite songs off the album are "Hold Me Like A Grudge," "Fake Out" and "The Kintsugi Kid (Ten Years)." My least favorite song is hard to pick because there isn't a song that I dislike; there are just some songs that I like less than others.
Fall Out Boy is known for the theatrics in their music. From their comically long song titles — I'm looking at "Get Busy Living Or Get Busy Dying (Do Your Part To Save The Scene And Stop Going To Shows)" — to Pete Wentz's poetic interludes and their constant references to classic films like The Shawshank Redemption, these guys are serious about their art. That's why I was thrilled to learn that Pete had another spoken-word interlude this time around called "Baby Annihilation."
"An alligator prince with crocodile tears, too many to count /
Permanent head-cold dreams awash in your love, fallin' in and out /
Time is luck, and I wish ours overlapped more or for longer."
This poem absolutely crushed me. That's why I love it. Pete's lyricism is so raw and speaks to the pain that all of us feel at some point or another in our lives.
The other interlude, "The Pink Seashell (feat. Ethan Hawke)," confused me at first. It contains a sample of Hawke's monologue in the film Reality Bites discussing the futility of fighting death and finding comfort in nihilism. After a few more listens, I understood why they put it on the album.
So Much (For) Stardust's heavy orchestral moments, like in "I Am My Own Muse" and the aforementioned "Love From The Other Side," reminded me of their 2008 album Folié A Deux. Interestingly enough, this album and Folié A Deux were both produced by Neal Avron.
One particular song on the album reminded me of their earlier work as well. "What A Time To Be Alive" has some major soul and disco influences. This track instantly reminded me of Patrick Stump's 2011 solo project, Soul Punk. 
The album seems to be a true passion project for the band, with everyone returning to their strong suits — Wentz to his poetry and Stump to his soul. I have been waiting for this album for just about five years, longer than I've been in college. It entirely exceeded my expectations and blew me away. So Much (For) Stardust gets a 9/10 from me. As a Fall Out Boy fan of over a decade, I couldn't be happier with their return to the mainstream.