Takeaways from Michigan State's spring game
EAST LANSING – The Michigan State football team had its spring game on Saturday, April 15 at Spartan Stadium. 
The game featured a 15-period practice session, with scrimmage periods in the second half. 
Here are three takeaways from the game.
The quarterback competition isn't over yet
This spring, there has been an ongoing quarterback competition for who will be QB1. Offensive coordinator and quarterbacks coach Jay Johnson revealed at the beginning of spring football that fifth-year senior Payton Thorne, redshirt sophomore Katin Houser, and senior Noah Kim were the top three prospects. 
MSU head coach Mel Tucker discussed the competition happening throughout the spring that will continue through the summer and fall, when looking at what was laid out on the field at the spring game.
"Today was very different from what we've seen on those guys throughout the spring," said Tucker.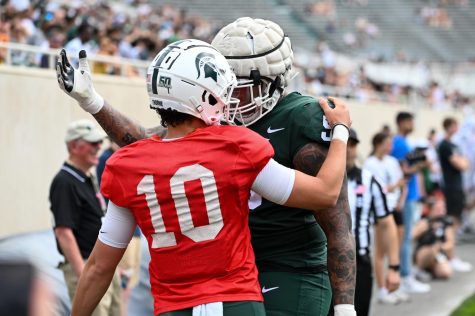 The running game is a must
MSU has five returning running backs, two transfers and one incoming freshman. It was tough for MSU to lose Elijah Collins, but Tucker is confident in transfers Nathan Carter and fifth-year Jaren Mangham.
"Both of those players are going to help us win," said Tucker. 
Mangham is a transfer from the University of Southern Florida. He had previously trained with Tucker at Colorado as a true freshman. 
"He's a smart player, really good ball skills, catching the ball out of the backfield and he understands pass protection as well," said Tucker. 
Carter is a junior transfer from the University of Connecticut.
"He's got really good explosiveness, good vision, and he runs with a lot of toughness. He also has really good ball skills," said Tucker. 
Every position is up for grabs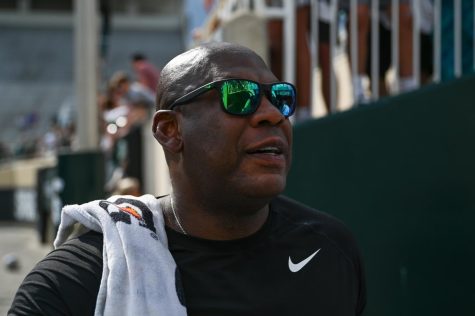 With every player on the field receiving reps, players who weren't quite yet on anyone's radar had breakout plays. 
Tucker discussed that he and the coaching staff feel every player understands the expectations and standards they are putting forward.
"I think every position has had a really good competition," said Tucker. 
In the final seconds of the spring game, Kim completed a stellar pass to redshirt sophomore Anotonio Gates Jr. Additionally, junior kicker Stephen Rusnak completed a 43-yard field goal attempt. 
"We're just going to focus on getting better every single day," said Tucker. "We have quite a few workouts and practices before our first game, so we've got a lot of opportunities to improve.