Spartans edge out Hawkeyes in another close contest, 63-61
EAST LANSING – The air left the building as the ball left Payton Sandfort's hands.

A wide-open three with the game hanging in the balance. But the Iowa sharpshooter missed and could not break Iowa's shooting drought and Michigan State survived with a 63-61 home victory. 
Any win in the Big Ten is a big one but in a game that started with a 10-0 Iowa run and an MSU scoring drought that lasted nearly five minutes, this one has to feel good. 
"We've lost some games that we deserved to win, but tonight we may have won one that I'm not sure we deserved to win… but an ugly win is better than a pretty loss," Izzo said. 
The return of Malik Hall brought energy to the building, as the Spartan senior scored 11 points including a thunderous dunk towards the end of the first half. Hall missed the last three games and has missed 11 games in total this season after re-injuring his left foot but played 25 minutes Thursday night.
"It's more comforting when he's out there," Izzo said. "He knows where to be, he knows what to do… The guy just does a lot of things. If anyone was wondering why we missed him, we missed him."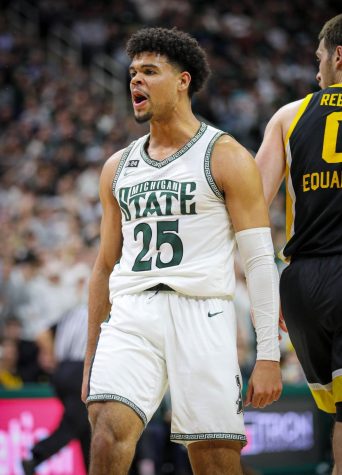 Junior Ahron Ulis led the way for Iowa with a career-high 17 points but missed three free throws down the stretch as the Hawkeyes managed to score just 3 points in the final 5:21 of the game. 
The win over Iowa marked the seventh time this year MSU has been in a game decided by 4 points or less. The Spartans are 5-2 in such games.
Kris Murray, the Hawkeyes' leading scorer at 21.3 points per game, was held to just 11 points which included missing all five of his three-point attempts.  
While MSU fell behind early in the game, the Spartans settled in with a couple of big shots from Tyson Walker and Joey Hauser. Both Hauser and Walker left the game at different points in the second half with injuries but returned to help the team close out the game.  
"Walker showed how much he's grown in the program," Izzo said. "I think he did a heckuva job sucking it up which I'm not sure he would've done a year ago." 
Hauser's second-half resurgence came at a big time for MSU after he left the game with an apparent knee injury. He appeared frustrated and lethargic but returned to hit back-to-back threes and give the Spartans a lift as Iowa tried to pull away. 
Mady Sissoko battled with Filip Rebrača all night long in the post. Sissoko notched his first career double-double with 10 points and 10 rebounds. Rebrača racked up 16 points and 11 rebounds of his own. 
Walker has been MSU's closer throughout the season. When he went down in the final minutes, it looked as if the Spartans would need to go elsewhere with the game on the line. Instead, tied at 59, Walker returned to hit the go-ahead bucket. A long, contested two with 1:24 to play gave MSU a lead it would not relinquish.  
The Spartans are back in action Sunday afternoon against No. 1 Purdue in West Lafayette.