Three takeaways from weekend series against No. 5 Penn State
EAST LANSING – One common phrase heard from Michigan State hockey head coach Adam Nightingale is focusing on the next one – the next game, the next goal, the next shift. After a tough series loss to No. 8 Ohio State, the Spartans had only to look forward to hosting No. 5 Penn State. A five-game losing streak raised a lot of questions about the potential in the second half of the season. 
This past weekend, MSU answered with a resounding sweep of the Nittany Lions with one win in overtime and another in a shootout. 
Here are three takeaways from the weekend.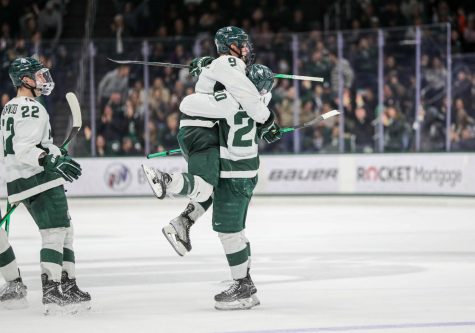 Jagger Joshua does it again
Jagger Joshua has not been short of surprises by any means this season. Not only is the senior left winger leading in goals after this series, but he's also the first Spartan to reach double-digit goals on the season. He now sits at the top of the goal sheet with 11 scored through 14 games. That's three more than his first three years at Michigan State combined.
Joshua, who is 6-foot-3, is no stranger to playing the body in front of the net, and that's what has made him such a valuable player on offense this season.
"I think my body and the work I put in the gym makes it a little hard for the opponents to get me out of the way," Joshua said. "It just comes down to my work ethic and using my body to my advantage."
That physicality in front of Nittany Lions' goaltender Liam Souliere was a crucial part of Michigan State's offense. In game one, Souliere dropped the puck in the slot setting Joshua up to score on his own rebound. Game two saw even more production from Joshua as he scored his second hat trick of the season, the first since Michigan State hosted Long Island University on Oct. 22. That makes him the second player in college hockey to have multiple hat tricks this season.
With a tough slate of games ahead, Jagger Joshua is one player that MSU can look to for offensive production. Expect to hear his name a lot more as the season continues.
Speed kills on defense
PSU is an incredibly fast hockey team, and the Spartans found themselves in trouble on the transition from offense to defense. Dylan St. Cyr is a reliable goalie, but he isn't a brick wall. MSU's defensemen were too often outskated by PSU even when the Spartans had numbers. This gave the Nittany Lions easy breakaways and backdoor looks.
"I thought there were times when we were really good," said Nightingale. "I thought there were other times where they didn't work up the ice and set their gap and then they've got a ton of speed coming at them."
The best example of this came in game two in the third period. Danny Dzhaniyev was able to beat out MSU defenseman Michael Underwood in front of the Spartans' net. All PSU needed was one lateral pass from Ashton Calder to give Dzhaniyev a wide-open shot for the lead.
This isn't to say MSU struggled on defense. In game two, especially, they were able to stick with their opponents for longer, limiting breakaways. However, with two top-ten matchups on the horizon, the Spartans will need their defensemen to skate with some of the best players in the country.
"Munn was electric"
The past few years haven't been the best for MSU hockey to say the least. Last season alone, MSU managed to end the year with a 12-23-1 record, one already surpassed in Nightingale's first season. One of the many reasons for such a sudden turnaround for this program is the energy of Munn Ice Arena. The team shows up to Munn ready to play high-quality hockey against skilled opponents, and the fans recognize the potential. In turn, the players feed off that energy like nothing else, and the cycle continues.
"Munn was electric," said Nightingale. "It's unbelievable."
In December, the Spartans only notched one win against the Michigan Wolverines. That was the last game they played at Munn before returning to host the Nittany Lions over an entire month later. Coming away with an overtime win and a shootout win against a top-ten team demonstrates the importance of Munn's atmosphere to MSU hockey.
"That's really where Michigan State is different. This is a real hockey fan base… our guys feed off that."