Michigan State defeats Michigan 59-53, extends win streak to six
EAST LANSING – The Michigan State men's basketball team extended its win streak to six games after defeating rivals Michigan on Saturday afternoon. Junior guard A.J. Hoggard propelled MSU to a 59-53 victory behind his 15 points and six assists in front of a crowded Breslin Center. 
"That was a tough game to officiate, tough game to coach, tough game to watch, but a beautiful game to win," MSU head coach Tom Izzo said. "I thought both teams played pretty well defensively, but I'm not sure I've seen that many air balls by both teams."
Both teams struggled offensively and shot a combined 36% from the floor. Some of the shots completely missed the basket, which was a rare sight for both teams.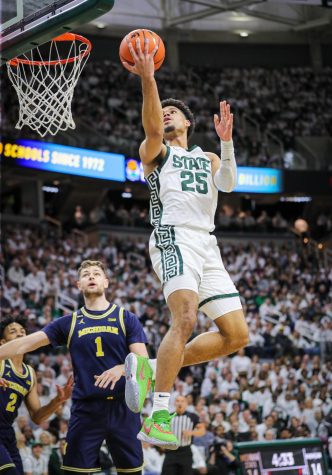 Hoggard, Malik Hall and Tyson Walker combined for 44 of the 59 total points on Saturday. Hall notched his second double-digit scoring game since coming back from injury against Buffalo on Dec. 30.
"He [Hall] communicates, he talks, and he just makes it easier for the other players," Izzo said. "He sprained his ankle and played through it."
After trailing by a 10-point deficit for the majority of the second half, the Wolverines almost sparked a comeback led by center Hunter Dickinson. Dickinson ended with a game-high 18 points and scored 14 in the second half to try to reach the Spartans. 
"We had to get back to where we are as a team," Michigan head coach Juwan Howard said. "We tried to keep A.J. [Hoggard] off the paint, which is tough to do."
Michigan's Kobe Bufkin was second in scoring for the Wolverines with 14 points. The 6-foot-4 guard from Grand Rapids went 7-8 from the free-throw line and was a crucial part of  Michigan's offensive transition.
In a lackluster first half, Michigan State came out on top 27-18 heading into the break. Hall had seven points in the first half to facilitate the lead. 
"I'm really proud of Malik," Izzo said. "Since Jaden and Malik have come back, we're looking better."
The game started with a double technical given to Michigan's Terrance Williams II and MSU's Walker after a verbal exchange prompted a tech. Walker would end with 14 points and two assists. 
"It was a low-scoring game," Walker said. "They played some good defense, but some of the shots we missed. I don't think we've ever hit more than one air ball and we had four today."
Soon after, Hoggard's second assist of the game went to center Mady Sissoko for an alley-oop that had the Breslin crowd on its feet. Hoggard finished with a game-high six assists and made difficult shots down the stretch.
"I think he's [Hoggard] played a lot more under control," Izzo said. "He took one bad shot."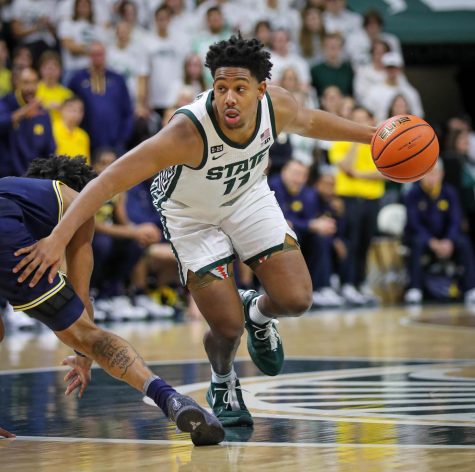 In terms of shot selection, Joey Hauser did not have his best offensive performance against the Wolverines, only scoring seven points on 3-13 shooting. However, Hauser recorded 10 rebounds to help the defensive effort by the Spartans and had one three-pointer.
"A year ago, that [performance] would've put him [Hauser] in the deep freeze," Izzo said. "He took a little encouragement in the huddle, and he played."
A pair of free throws were made with 0.1 seconds left by sophomore guard Jaden Akins, sealing the victory for the Spartans. 
"Our defense has gotten better," Izzo said. "That's the encouraging part."
The Spartans will travel to Wisconsin on Jan. 10 to face the Badgers. Tip-off from Madison is scheduled for 7  p.m.