From bust to buckets: Joey Hauser has become MSU's most important piece
EAST LANSING – When the final buzzer rang at the end of the game against Brown on Friday, Dec. 10, the entire Michigan State men's basketball team crowded over one guy. It's the player who always steps onto the court with a large grin on his face and radiates a positive attitude toward his teammates. 
Forward Joey Hauser notched his 1,000th career point in the second half against Brown and was the center of attention on the court as his teammates hugged and celebrated his scoring landmark. 
"It was a really emotional moment for me," Hauser said on Friday night. "It was a really cool moment but definitely even more special having my teammates surround me and congratulate me." 
Hauser couldn't believe the sound of 10,000 fans singing "Joey, Joey, Joey" around the Izzone once it was announced on the PA that he hit the 1,000-point mark.
"I didn't know where I was at [on points] so it definitely caught me by surprise," Hauser said.
The 6-foot-9 sharpshooter from Stevens Point, Wis. is a fan-favorite for many at Michigan State since he transferred from Marquette in 2019. 
One of his biggest fans is his coach, Tom Izzo. 
"He's [Hauser] been one of my favorites," Izzo said at the Phil Knight Invitational in November. "He just has because I always believed in him. I think he has more to give." 
It hasn't always been smooth sailing for Hauser at MSU. 
Hauser had his fair share of critics since suiting up in East Lansing. Most critics argued over his defensive ability and consistency with his shooting. 
"I don't know why fans criticize him [Hauser]. They work their ass off every day," sophomore guard Jaden Akins said after MSU's win over Kentucky at the Champions Classic. "It's great to see him have a great game and I know he'll have more in the season."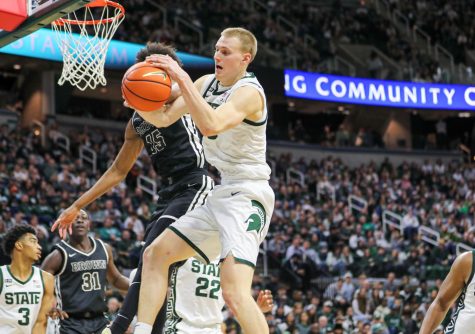 In Michigan State's last stretch of games, Hauser has proven himself to be the go-to player along with senior guard Tyson Walker.  
Going into the final stretch before the New Year arrives, Hauser is averaging 13.9 points and 7.4 rebounds. It was Hauser who led the Spartans with 23 points to upset Kentucky earlier in the season and his 15 rebounds helped MSU to its first conference win of the season against Penn State. 
Last year, Hauser scored 27 points in MSU's 74-73 win over Davidson in the first round of the 2022 NCAA Tournament. 
Throughout his three years at Michigan State, Hauser is averaging 46% from the floor and 38% from three-point range. 
Hauser's workload has also significantly increased since he started playing at MSU in 2020. In his first two seasons, Hauser averaged 22 minutes per game. He's clocking in at 33.6 minutes per game through the first 11 games of the 2022-2023 season.
At this time last year, his success at Michigan State was ambiguous at best. He's taken steps to cement his position as one of Izzo's best leaders. Now, he's arguably one of the most important pieces of this team and their ambitions of a ninth Final Four run. 
"I just try to do as much as I can for this team offensively," Hauser said. "It's pretty clear I got to shoot the ball when I'm open and the guys want me to shoot the ball."
Hauser and the Spartans take the court again on Dec. 21 when they host Oakland University at the Breslin Center. Tip-off against the Golden Grizzlies is scheduled for 6:30 p.m.